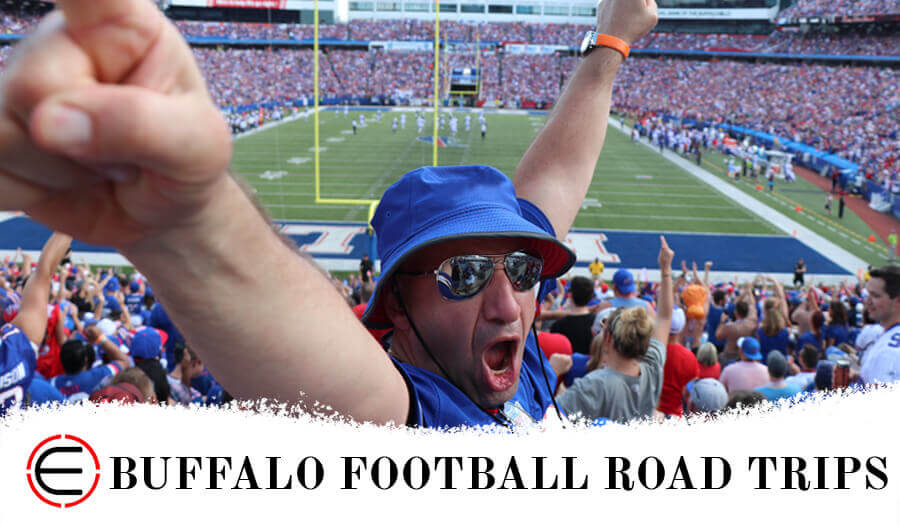 Bus Trips from Toronto
Elite Sports Tours has Bus trips from Toronto. Pick up locations include Whitby, Toronto, Kitchener, Burlington, Vaughan and St. Catharines. Custom pickup locations require a private buses (52 people).

Tickets together at the game
Sit together at the event with other sports fans traveling with Elite Sports Tours. We have large blocks of tickets and can get your entire group seated together at the game.

Tailgate Party
Our Buffalo Bills Bus Trips include all you can eat & drink tailgate party before the game.

BUFFALO BILLS BUS TOURS
BUS PICK UP LOCATIONS:


Whitby, Toronto, Kitchener, Burlington, Vaughan + St. Catharines.

All of our bus trips are guided by Elite Sports Tours representatives who do giveaways, trivia and prizes on the way down. Once you arrive in Buffalo the fun continues! Mingle and party with hundreds of sports fans with a tailgate party including food and beverages served up until the start of the football game! We have large blocks of tickets so we are able to get your entire group together during the football game. After the game the bus will take you back to the original pick up locations with out having to worry about a thing! Elite Sports Tours pre-planned road trips to Buffalo are extremely popular and sell out fast.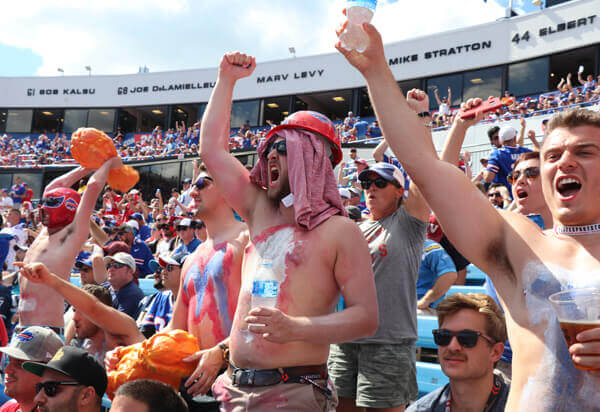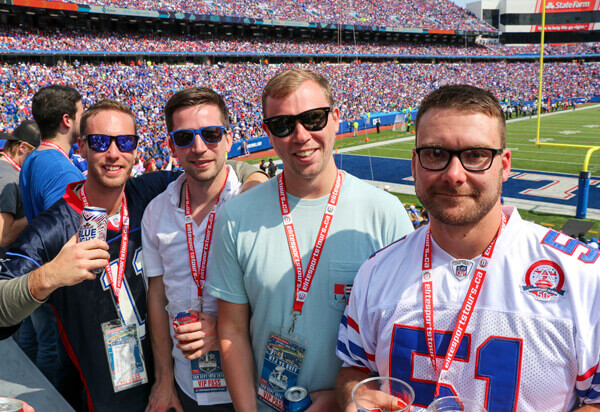 See why Elite Sports Tours is the best in the industry. We send thousands of Buffalo Bills football fans down every season. Travel with other football fans and experience all the action of a live game. All you have to do is show up in the morning and our staff takes care of the entire day! You can join our bus with as little as 1 person or an entire group! We have large blocks of tickets for every Buffalo Bills home game so we can get your entire group together at the game. Our Buffalo Bills bus trips are very popular and the premium games sell out well before the season starts. Pick a game and get your group organized for the upcoming Buffalo Bills football season and let Elite Sports Tours take care of the rest!
The only way to take part in the Elite Sports Tours Buffalo Bills Road Trip is to buy a complete package including Bus Ride, Lower Bowl Ticket + Pre-Game Tailgate Party.

Packages include Lower Bowl Buffalo Bills Ticket (all together), Round Trip Bus Ride & All You Can Eat & Drink Pre-Game Tailgate Party!


TICKETS, BUS RIDE & TAILGATE PARTY!
We have bus pick-ups in Whitby, Kitchener, Toronto, Vaughan (Wegz Stadium Bar), Burlington & St. Catharines.

(Custom pick-ups require a Private Bus 52 People and have to be approved)

BOOK YOUR BUFFALO BILLS TRIP!
Once you book your package you're all set!

New Kitchener Pick Up Location Added!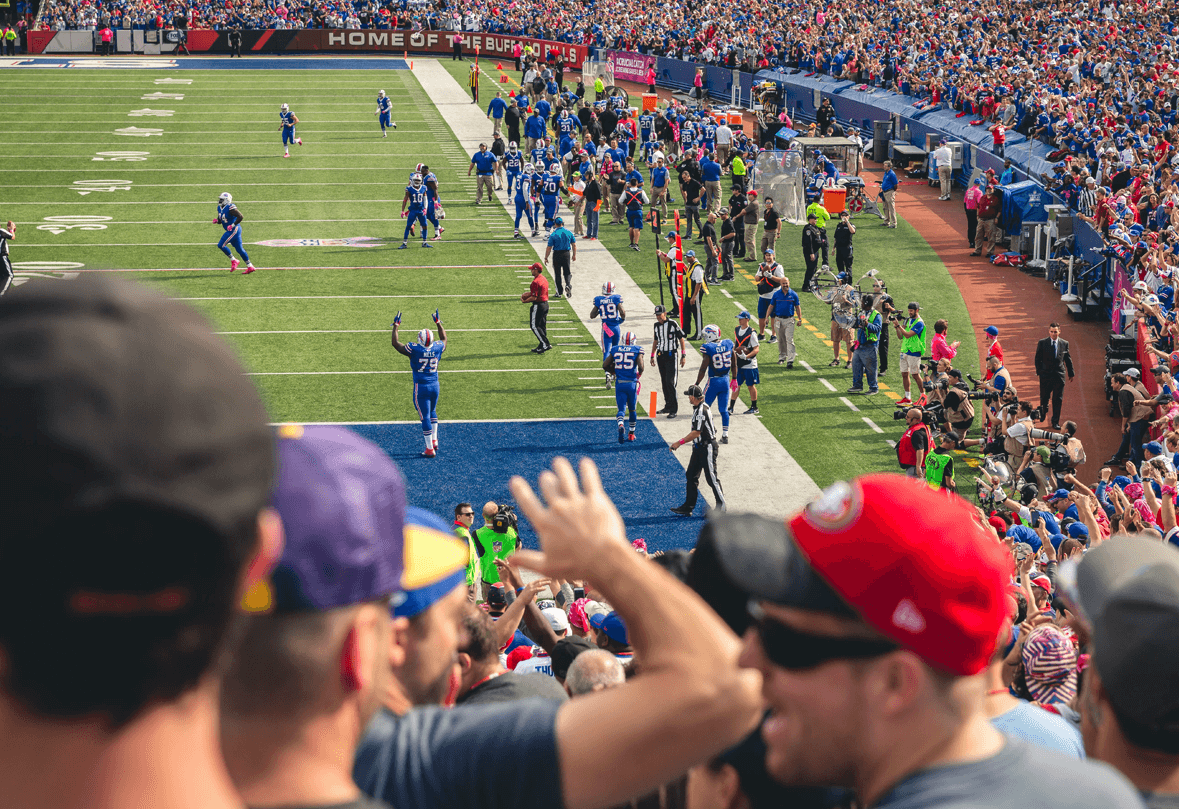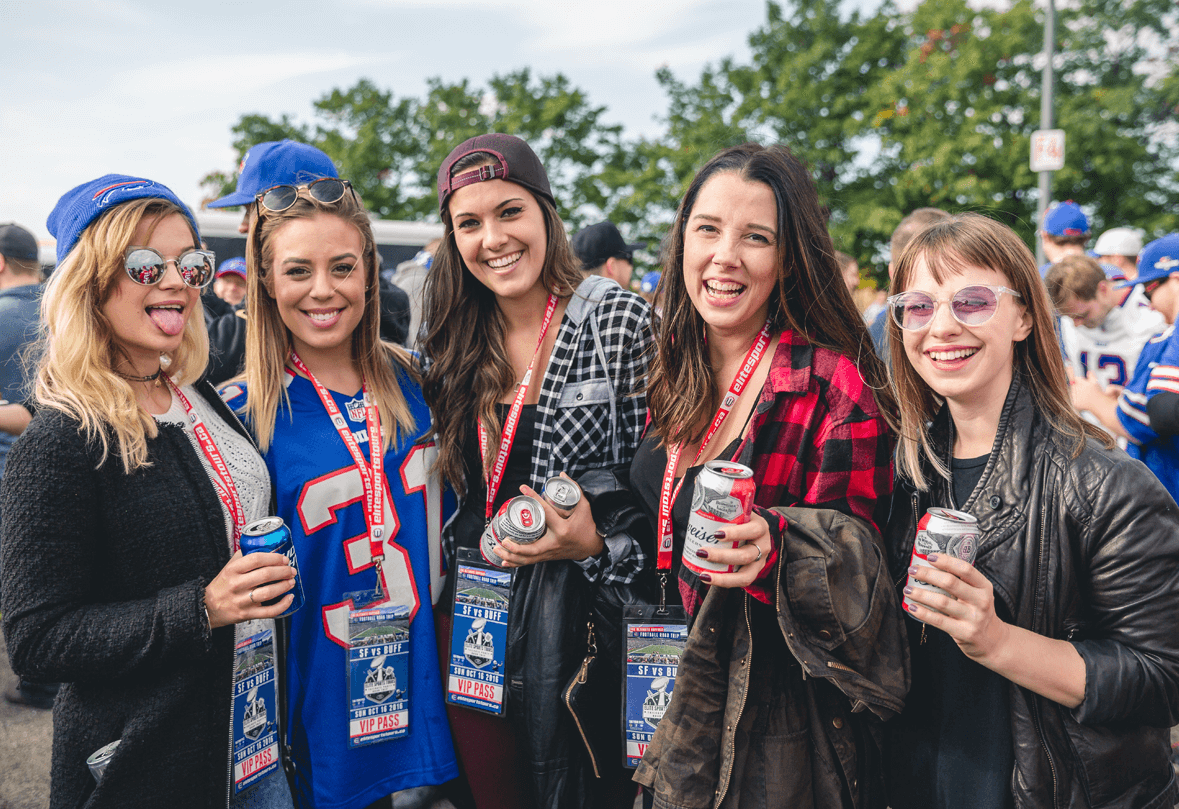 Buffalo Bills Trips with Elite Sports Tours is the only way to go! No hassle of finding Buffalo Bills tickets to the game for your group, finding a ride down to the game and planning a tailgate party. We do all the work planning the trip for your group and making it simple for you! just get your group together and give us a call at Elite Sports Tours.
Book Your Buffalo Bills Trip Now!
BOOK BY PHONE (905)233-4732
We Accept Visa or MasterCard or Email $ Transfer for all orders!
Have a question about our Buffalo Bills Trips? Call our office and we will be glad to help you!

VERY LIMITED NUMBER OF PACKAGES ARE AVAILABLE
BUFFALO BILLS BUS TOURS WILL BE SOLD ON A FIRST COME FIRST SERVE BASIS
BOOK BEFORE WE SELL OUT!

To make a reservation a $100 non-refundable deposit per person is required for our Buffalo Bills Bus trips. Unfortunately there will be no refunds, so we strongly recommend purchasing Cancellation Insurance should you believe there be a significant reason you may not be able to attend this event. For private trips a 50% deposit is required should you be reserving a full bus with the remainder being due 60 days prior to departure.

Elite Sports Tours offers trip cancelation and transfer insurance! For Buffalo Bills Bus Tours Cancelation Insurance is $25 per person. Cancelation insurance is only available when paid in full. Cancelation insurance is not available on packages purchased with just a deposit. - Policy Details
Get notified when we release new trips!
Sign up for our newsletter to be notified when we release future trips. Never miss out on hearing about our new trips when they release!