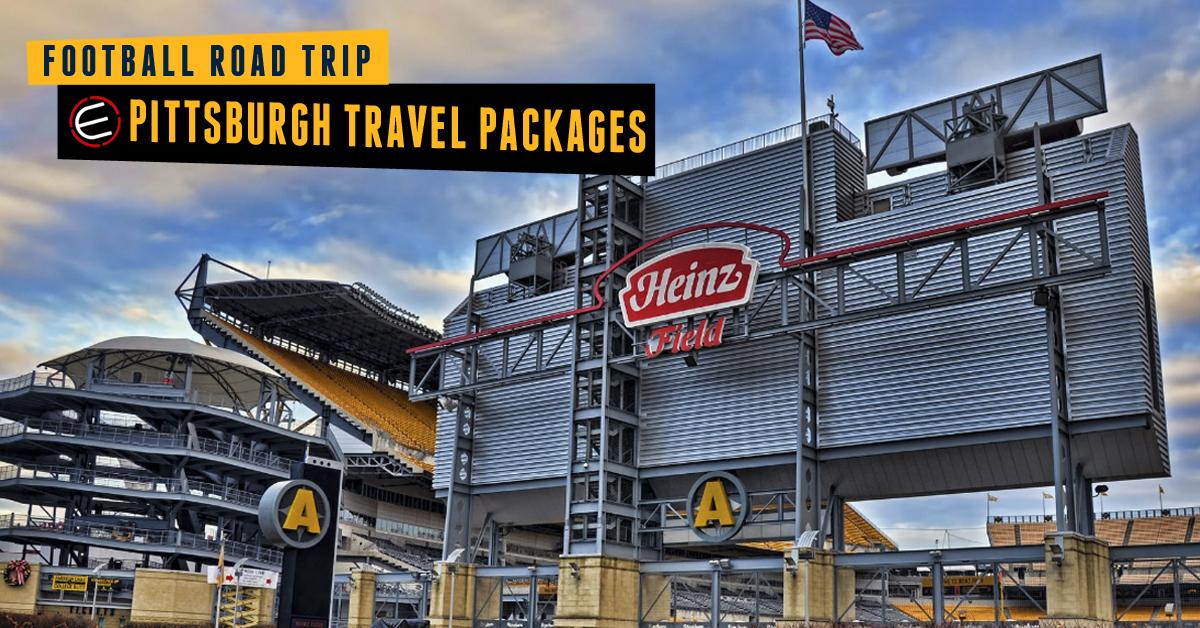 Pittsburgh Steelers Road Trips
Our Sports Travel Representatives are here to help fully customize your dream trip to ensure you have a hotel that is close to the arena and tickets that will ensure you have a great time even if your team doesn't get the win! Fill our a custom sports package request today and let an expert representative put together your dream sports trip!.


Work one on one with a Travel Expert


Hotels close to the stadium


Tickets together for your group
PLAN THE PERFECT ROAD TRIP
TRIP DETAILS
Let us know how many guests will be traveling with you, how many nights stay and what event(s) you want to see. Pittsburgh Steelers Travel Packages can be customized to your schedule.
FREE QUOTE
A travel expert will provide you with a few options based on your trip details. If you want specific seating locations or multiple games provide that information in the request. Packages are fully customizable to your trip details.
BOOK YOUR TRIP
Once you are ready to book, we take care of the rest! We send you your hotel confirmation by email and your tickets are shipped with a tracking number or transfered to you if they are mobile/digital tickets.
FOOTBALL SCHEDULE
1 - Sun Sept 9 - Pittsburgh Steelers @ Cleveland Browns - 1:00 PM
2 - Sun Sept 16 - Kansas City Chiefs @ Pittsburgh Steelers - 1:00 PM
3 - Mon Sept 24 - Pittsburgh Steelers @ Tampa Bay Buccaneers - 8:15 PM
4 - Sun Sept 30 - Baltimore Ravens @ Pittsburgh Steelers - 8:20 PM
5 - Sun Oct 7 - Atlanta Falcons @ Pittsburgh Steelers - 1:00 PM PM
6 - Sun Oct 14 - Pittsburgh Steelers @ Cincinnati Bengals - 1:00 PM
8 - Sun Oct 28 - Cleveland Browns @ Pittsburgh Steelers - 1:00 PM
9 - Sun Nov 4 - Pittsburgh Steelers @ Baltimore Ravens - 1:00 PM
10 - Thur Nov 8 - Carolina Panthers @ Pittsburgh Steelers - 8:20 PM
11 - Sun Nov 18 - Pittsburgh Steelers @ Jacksonville Jaguars - 8:20 PM
12 - Sun Nov 25 - Pittsburgh Steelers @ Denver Broncos - 4:25 PM
13 - Sun Dec 2 - Los Angeles Chargers @ Pittsburgh Steelers - 1:00 PM
14 - Sun Dec 9 - Pittsburgh Steelers @ Oakland Raiders - 8:20 PM
15 - Sun Dec 16 - New England Patriots @ Pittsburgh Steelers - 4:25 PM
16 - Sun Dec 23 - Pittsburgh Steelers @ New Orleans Saints - 4:25 PM
17 - Sun Dec 30 - Cincinnati Bengals @ Pittsburgh Steelers - 1:00 PM