Join Team

Elite Sports Tours
Only a few people can say they truly LOVE what they do for a living. Our employees are some of the lucky ones who get to wake up everyday LOVING their job. When you are as passionate about sports and travel as we are, it hardly seems like a job.
Elite Sports Tours

Sales Representatives
The dream job for sports fans! Elite Sports Tours is always looking for hard working, enthusiastic and committed individuals who love sports and want to work in the sports and tourism industry. The ultimate career for sports fans who love travel and want a rewarding career in helping other fans travel to sporting events.
Build Connections
Meet sports fans like yourself. Build lifetime connections and friends with other sports fans creating memories. Sending clients to see their favourite sports team live!
Travel
Office Staff also get to travel to sporting events around the world. Visit cities across the globe with Tour Groups showcasing the attractions of each city and sports team.
Bucket List
Crossing cities and stadiums off sports fans bucket list is extremely rewarding! Travel with Sports Fans and help them create memories that last a lifetime.
Elite Sports Tours

- Sales Representatives
Elite Sports Tours Sales Representatives are essentially travel agents for sporting events! Managing client inquiries and leads to provide clients with custom travel packages for their group.

Sales Representatives

work directly with the clients to execute take care of their travel needs for their group, no matter the size. Our team is responsible for assisting in the sales process from the first inquiry and even after the trip happens. We want to provide high level customer service to ensure our clients trip runs as smoothly as possible and we address any concerns before, during and after the clients trip happens.
Reach monthly and yearly sales targets while providing excellent customer service to new and existing clients.

Hit daily and weekly client crm targets and input responses into database.

Handle any booking issues with with compassion and empathy. Maintaining patience while rectifying any issues and provide suitable resolutions to clients should any issues arise.

Communicate with potential travellers by phone and email.

Recommend and sell the right trip for the traveller based on the clients quote request. Providing any extra services that may be necessary to give the client the best experience possible.
Maintain and execute the correct booking processes and procedures when reserving client bookings.

Follow TICO industry standards and required guidelines when selling travel including but not limited to offering, quoting and selling Travel Insurance and Cancellation Insurance.

Working with your client to ensure that you provide a package that meets their expectations. Including seating preferences and hotel location.

Maintain Elite Sports Tours team goals and company values as an employee.

Assist Elite Sports Tours team in Tour Excursions.
Job Requirements
Minimum 2 year of sales experience.
Highly motivated by revenue targets and sales goals.
Experience in the travel industry an asset.
Great communication and customer service skills are required.
Ability to recognizing the demands of deadlines and schedules in work.
High level ability to pay attention to detail.
Ability to Listen to your clients needs.
Ability to use different computer systems and applications with confidence.
Strong Microsoft Excel, Email and a variety of Computer Applications a must.
Problem solving/complaint resolution skills.
Highly proficient communication skills (verbal and written).
Ability to work varying shifts and weekends as required.
Willingness to Travel as required by role.
Post Secondary Education.
Ability to assist in crisis management and take responsibility for the safety of others.
Customer service oriented with solid teamwork abilities.
Excellent record of punctuality and Dedicated individuals.
TICO License - (Not Required To Apply, but required if offered employment).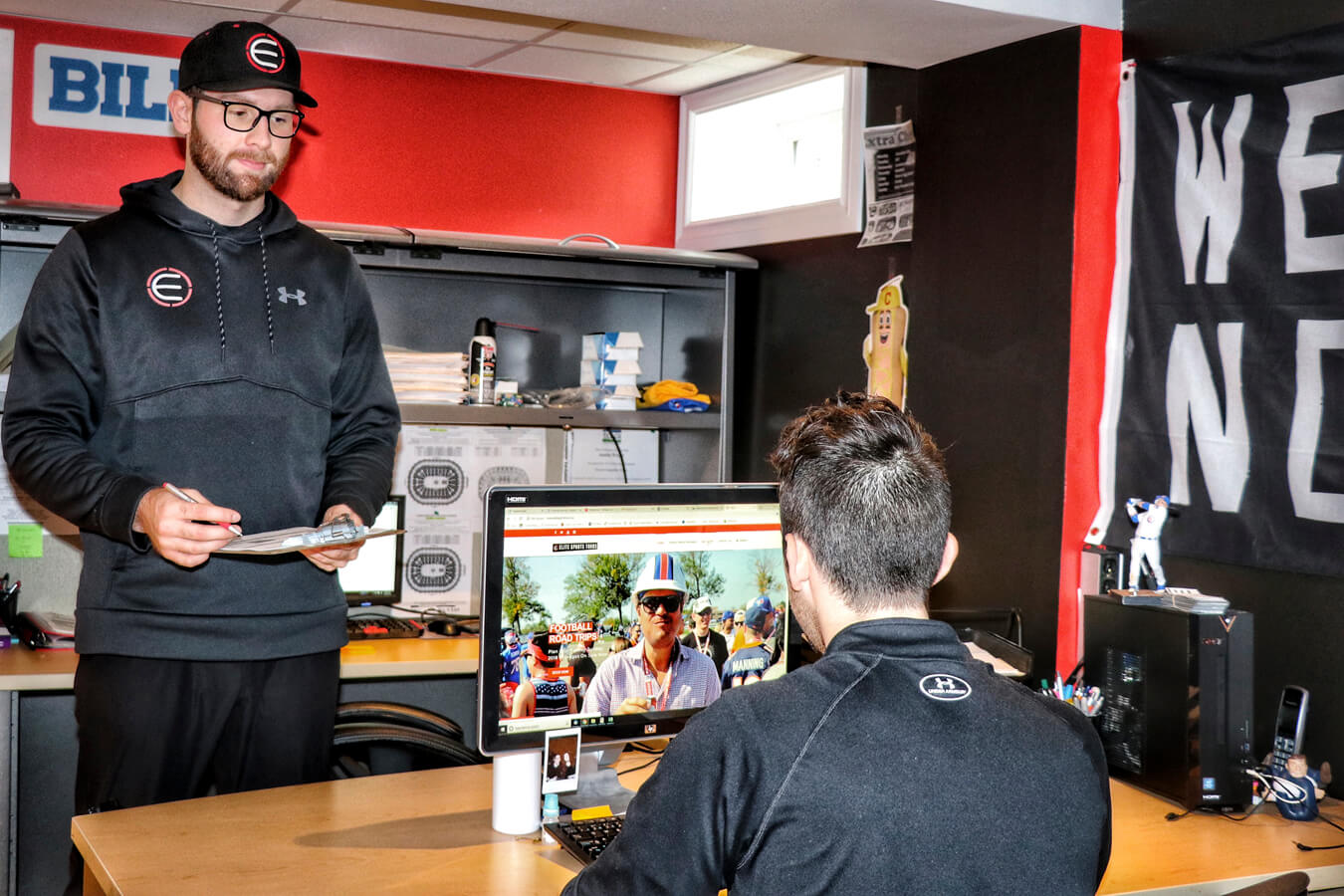 ALL APPLICANTS MUST MEET THE FOLLOWING CRITERIA:

- Valid Passport or Nexus Card.

- Ability to legally enter the United States of America and have never been refused entry into the USA.

- Ability to work legally in Canada.

- TICO License (Not Required to Apply, but will be necessary if you are offered employment)
If you think you have what it takes and want to join Elite Sports Tours team then apply today!


All applicants must hold appropriate citizenship or documents permitting you to reside and work in Canada.
A valid Passport or Nexus card is required by all staff and applicants must be allowed to enter the USA.


Elite Sports Tours thanks everyone who submits an application for their interest. We require individuals who have the ability to pay attention to detail. When filling out the application form below, please insert ONLY your Instagram User Name in the additional information field so we know you read this and pay attention to detail. Applications that do not follow this instruction will not be considered.

Unfortunately we will only contact those selected for an interview.
WE ARE ALWAYS

HIRING
Elite Sports Tours is ALWAYS looking for talented team members. We are constantly hiring new team members to join our team. Please keep in mind we receive hundreds of applications from individuals who's dream is to work in sports.
We appreciate the interest from everyone who submits an application, however our team will only reach out to qualified individuals when we are ready to interview and hire for specific positions. Applying and submitting your information is the best way to be considered for employment.
Please do not call or email our sales office regarding your application.