Top 10 MLB Ballpark Foods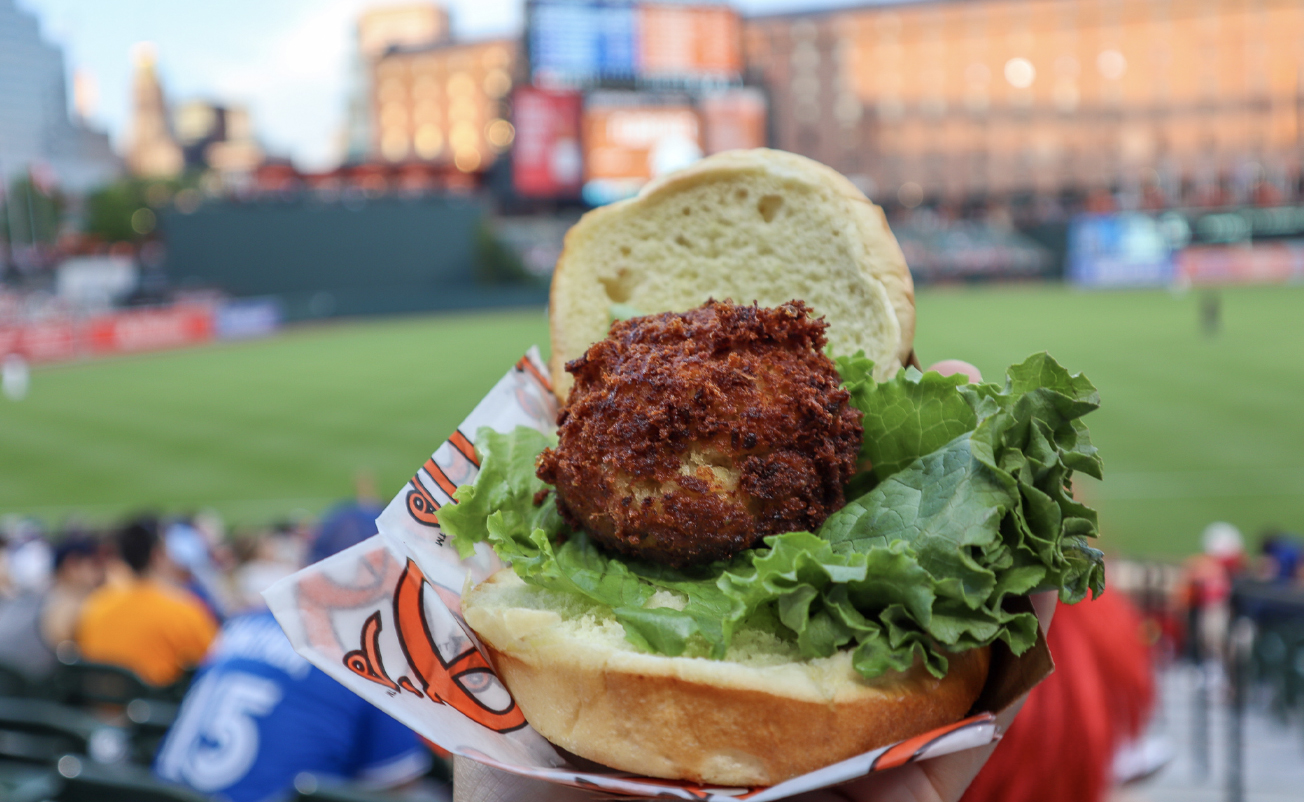 The sights and sounds of a MLB game are so unique and make a game day experience at the ballpark is like nothing else. One of the biggest parts about going to the ballpark is indulging in all the mouthwatering stadium snacks! In fact, for some people the food is just as important as the game itself!

The days of just hotdogs, peanuts and cracker jacks are no more! So many ballpark's across the MLB offer incredibly delicious and eccentric food options. With so many different and spectacular dishes at baseball stadiums, Elite Sports Tours decided to compile the Top 10 MLB Ballpark Foods!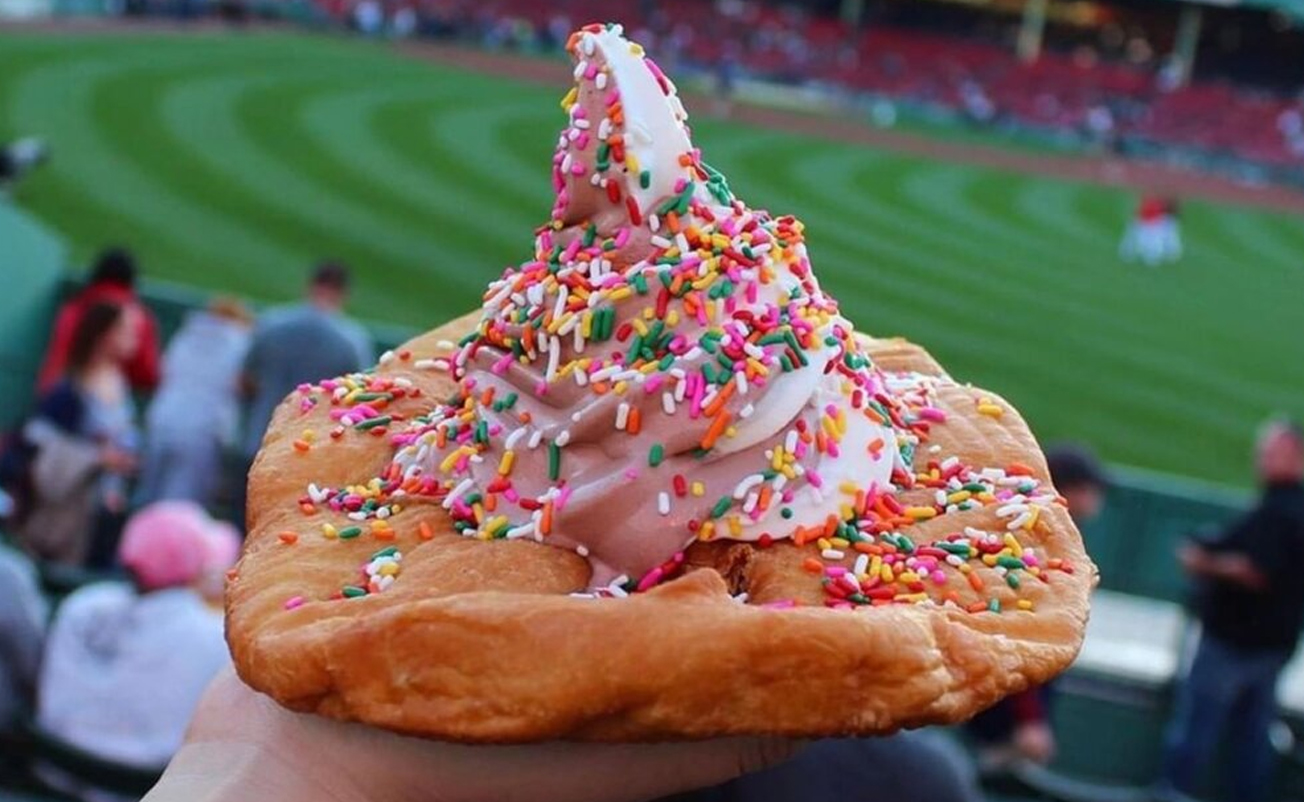 #10 FRIED DOUGH SUNDAE AT FENWAY PARK
If you are attending a Boston Red Sox game you have to get yourself a Fried Dough Sundae. Fried dough, otherwise known as funnel cake, is a very popular dish in New England and Fenway Park does it right. For $7.75 you can get this delicious dish that features a base of fried dough topped with ice cream and an abundance of toppings like whipped cream, chocolate sauce and sprinkles. The ultimate meal at a Red Sox game? Wash down your Fenway Frank with a cold Samuel Adams and Fried Dough Sundae for dessert!
#9 CONEY DOG EGG ROLL AT COMERICA PARK
Whoever said "you can't teach a dog new tricks" wasn't talking about the the Coney Dog Egg Roll! The Coney Island Dog is synonymous with the city of Detroit but this dish has it's own twist on the Motor City classic. The main ingredients are a chilli dog wrapped into an egg roll topped with mustard and green onions. You can get this item for a reasonable $6.50 at the Comerica Bank Big Cat Court in Section 119 located off of Gate A at Comerica Park.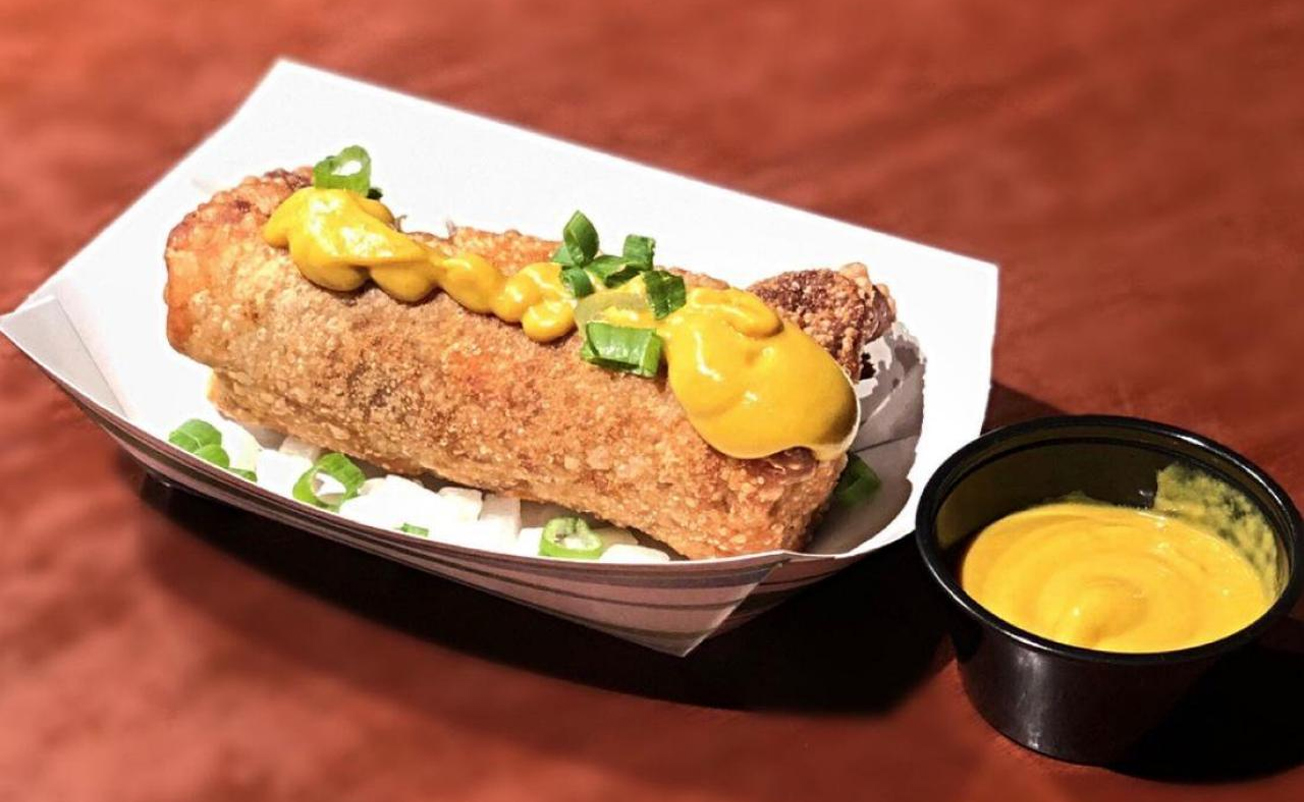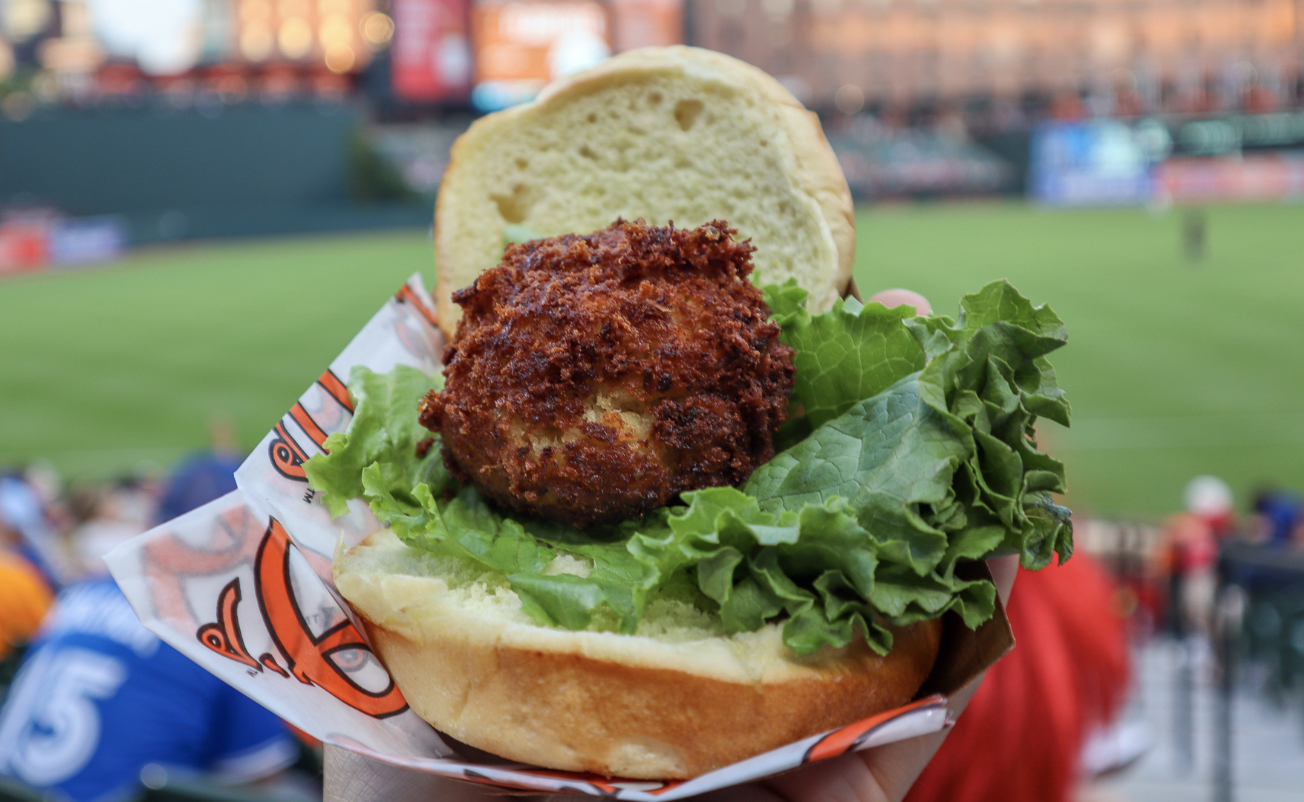 #8 CRAB CAKE SANDWICH AT CAMDEN YARDS
If you are in Maryland then you need to grab some Crab Cakes. Why not kill two birds with one stone and dive into a Crab Cake Sandwich at a Baltimore Orioles game and cross Camden Yards off your bucket list! From the Old Bay stand at Orioles Park at Camden Yards, you can get this seasoned jumbo lump crab served in a sandwich, with waffle fries on the side. For $11 at Orioles home games, this twist on a Maryland classic is worth every penny!
#7 PITTSBURGH CONE AT PNC PARK
The Pittsburgh Cone is a mouthwatering delicacy that perfectly represents the Steel City. Think of a Kielbasa sandwich and swap out the bread for a waffle cone. This dish features Kielbasa, pierogi, Swiss cheese, sauerkraut, Russian dressing and of course the waffle cone. If you are heading down to PNC Park be sure to get yourself the Pittsburgh Cone. You can find The Pittsburgh Cone at Familee BBQ behind Section 132 for a resonable $9.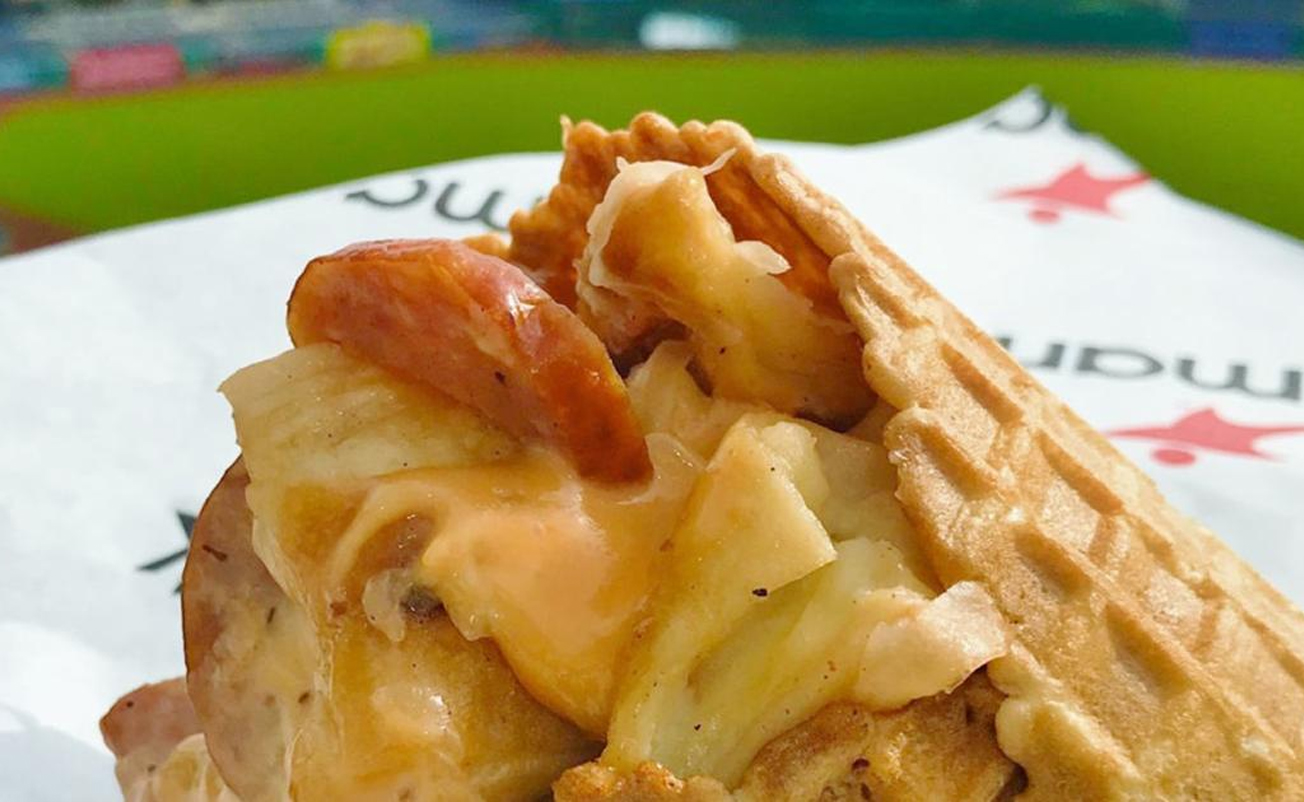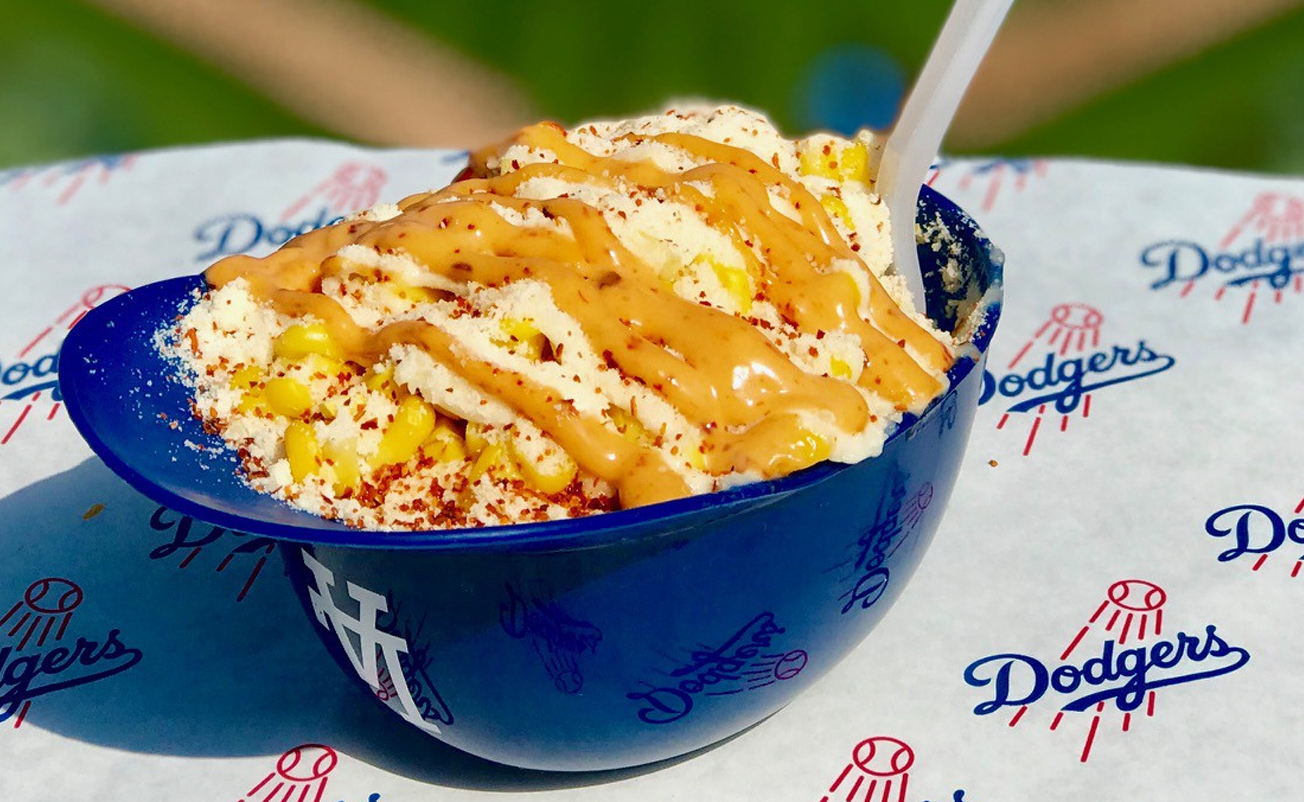 #6 ESQUITE AT DODGER STADIUM
Esquite is a Mexican dish that has become very popular at Dodger Stadium since it debuted in the postseason of 2018. The dish comes served in a mini-dodgers helmet much like the ice cream sundaes do but instead it features street corn, mayonnaise, cheese & spicy aioli. This traditional Mexican dish is flavourful and is a great homage to the hispanic culture engrained into the LA community. Esquite may not be as out-of-the-box as some of the dishes on this list, it is simple and delicious. It isn't You can get the Esquite for just $9 at each and every Los Angeles Dodgers home game at the Elysian Park Grill concession stands.
#5 TRIPLE THREAT PORK SANDWICH AT PETCO PARK
The San Diego Padres are home to one of the best pulled-pork sandwiches in the league. This monster of a sandwich features pulled pork, bacon, pork loin schnitzel, pepperoncini relish, shack aioli all on a brioche bun. The Triple Threat Pork Sandwich is a local favourite from a downtown restaurant called Carintas Snack Shack in San Diego and has recently been brought to Petco Park in 2019.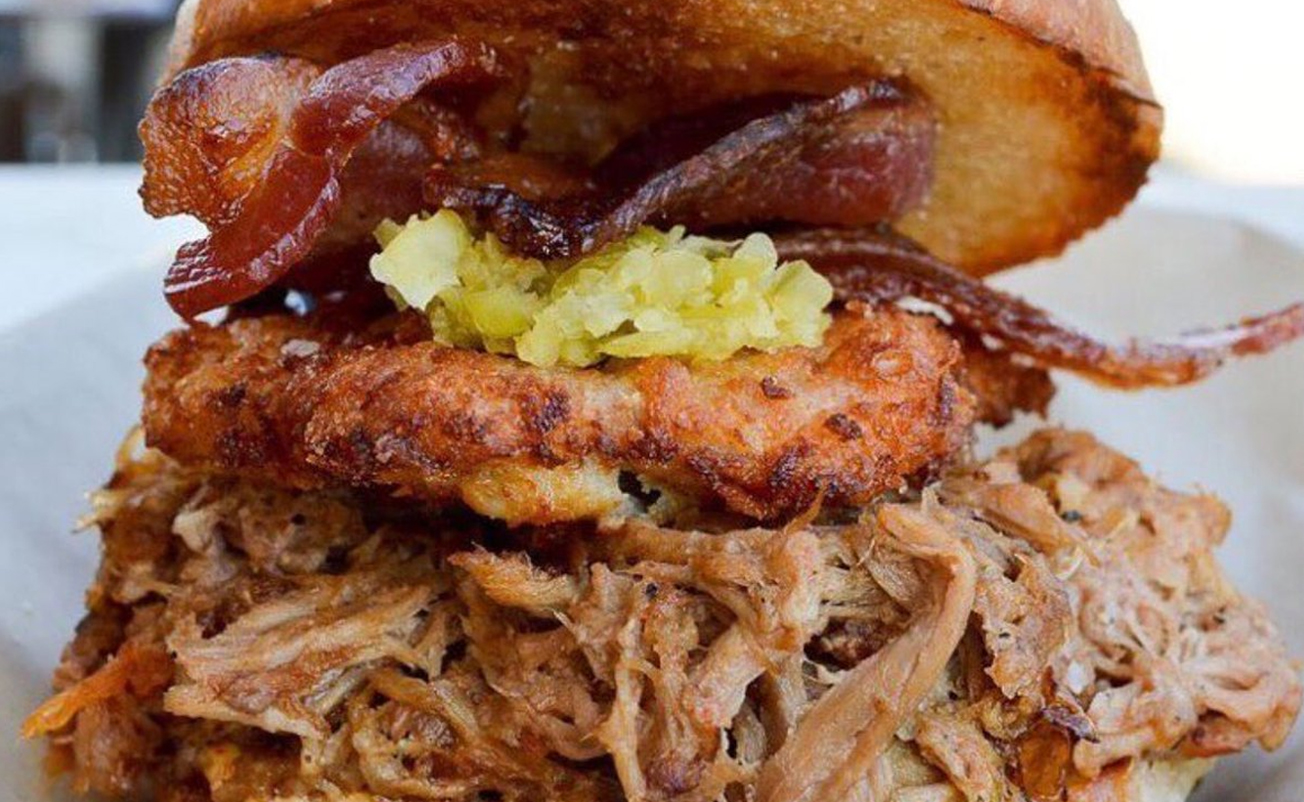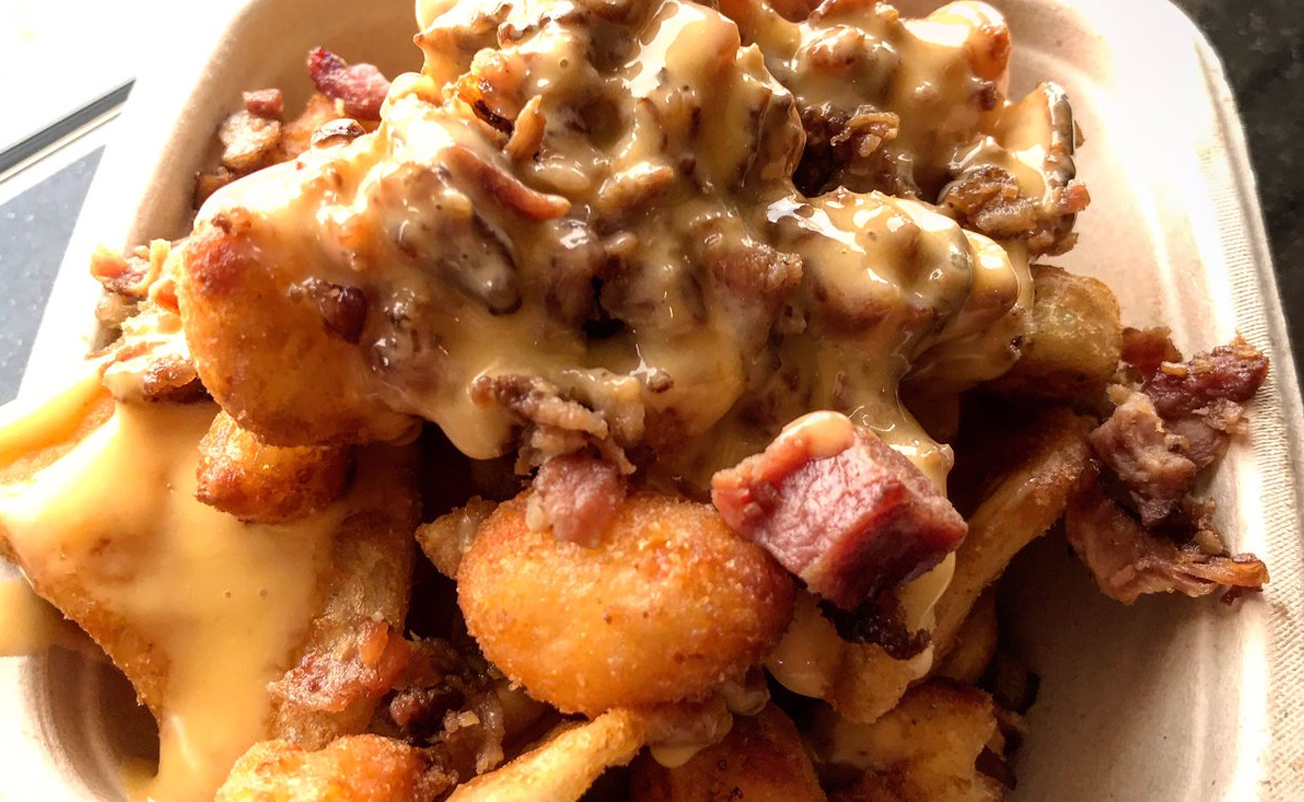 #4 WISCONSIN ULTIMATE CHEESE FRY AT MILLER PARK
Wisconsin is known for its cheese and these cheese fries do not disappoint. The Wisconsin Ultimate Cheese Fry consists of craft beer-battered twister fries topped with sargento cheddar cheese sauce, applewood smoked bacon and a fried sargento cheese curds. If you're looking for a slightly lighter snack, you can get a similar version of the dish just without the bacon and cheese curds.
#3 BAO TO THE PORK AT WRIGLEY FIELD
The Bao to the Pork was introduced in 2017 and was created by celebrity chef Jeff Mauro. It features pulled pork, pickled daikon and carrot, cucumbers and jalapeno relish on a bao bun. This sandwich is one of the most talked about menu items across the league. If you ever get the chance to head to the world famous Wrigley Field be sure to also grab this sandwich. Although this dish doesn't match the classic ballpark vibe Wrigley exudes, the Bao to the Pork is too good to pass up on!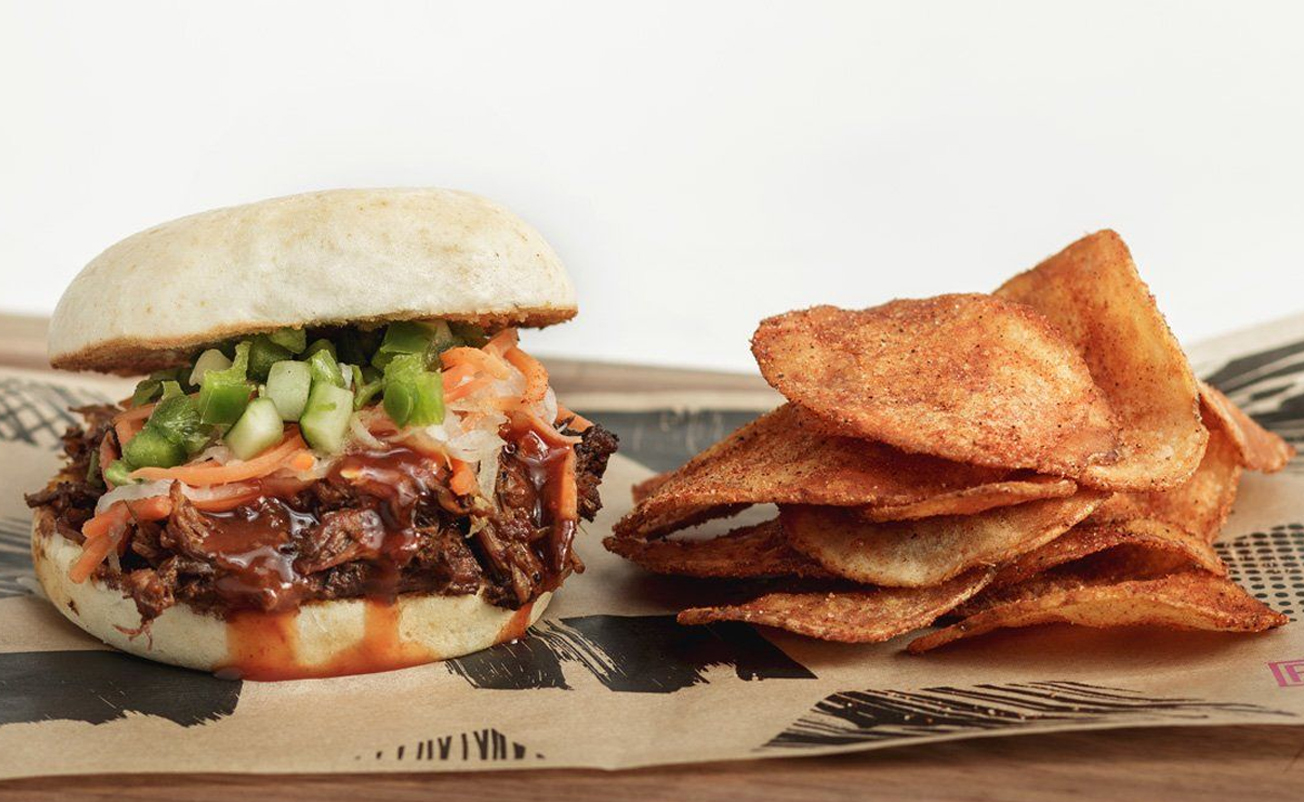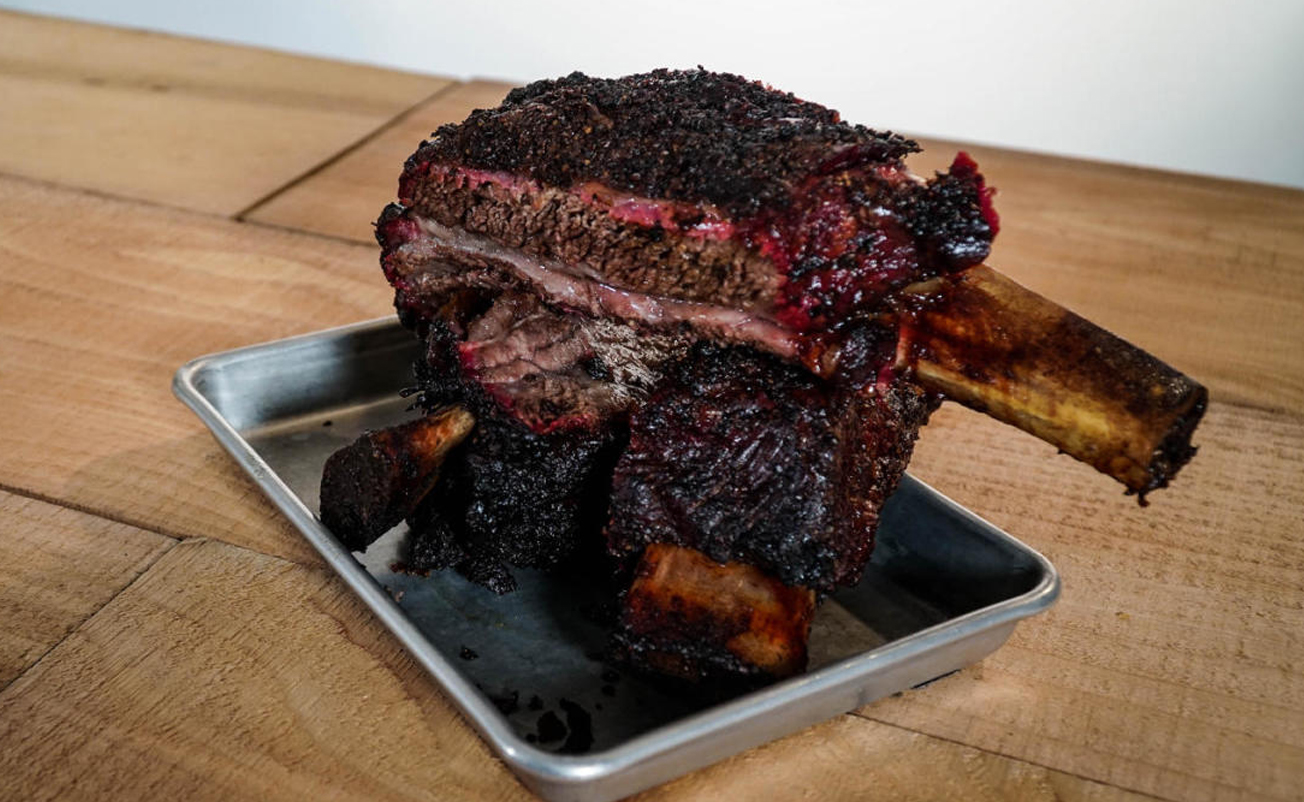 #2 BONE-IN SMOKED BEEF SHORT RIBS AT NATIONALS PARK
This looks like a meal that should not be served at a ballpark but it is and we should be thankful for that! The Washington Nationals introduced this dish in 2019 and was almost as big as of success as their World Series title! The ingredients are simple: Meat. You can find this at the Old Hickory concession stand at section 243 for $18 and it's worth every last dollar! Tackle it yourself or share it with a friend, the choice is yours! We just highly suggest grabbing a few napkins and wet naps before you dive into this meat!
#1 FOWL POLE AT GLOBE LIFE FIELD
The Fowl Pole is the most popular dish in the MLB, and for good reason! The two-pound chicken tender is laid over top of a bed of waffle fries, with a choice of two dipping sauces on the side (barbecue, honey mustard and ranch). If you want to get your hands on the Fowl Pole be sure to get to the ballpark early as they make a limited quantity and they sell out rather quickly. Priced at $27.50, this dish can be split between multiple people or if you're feeling hungry and adventurous you can try to finish it yourself!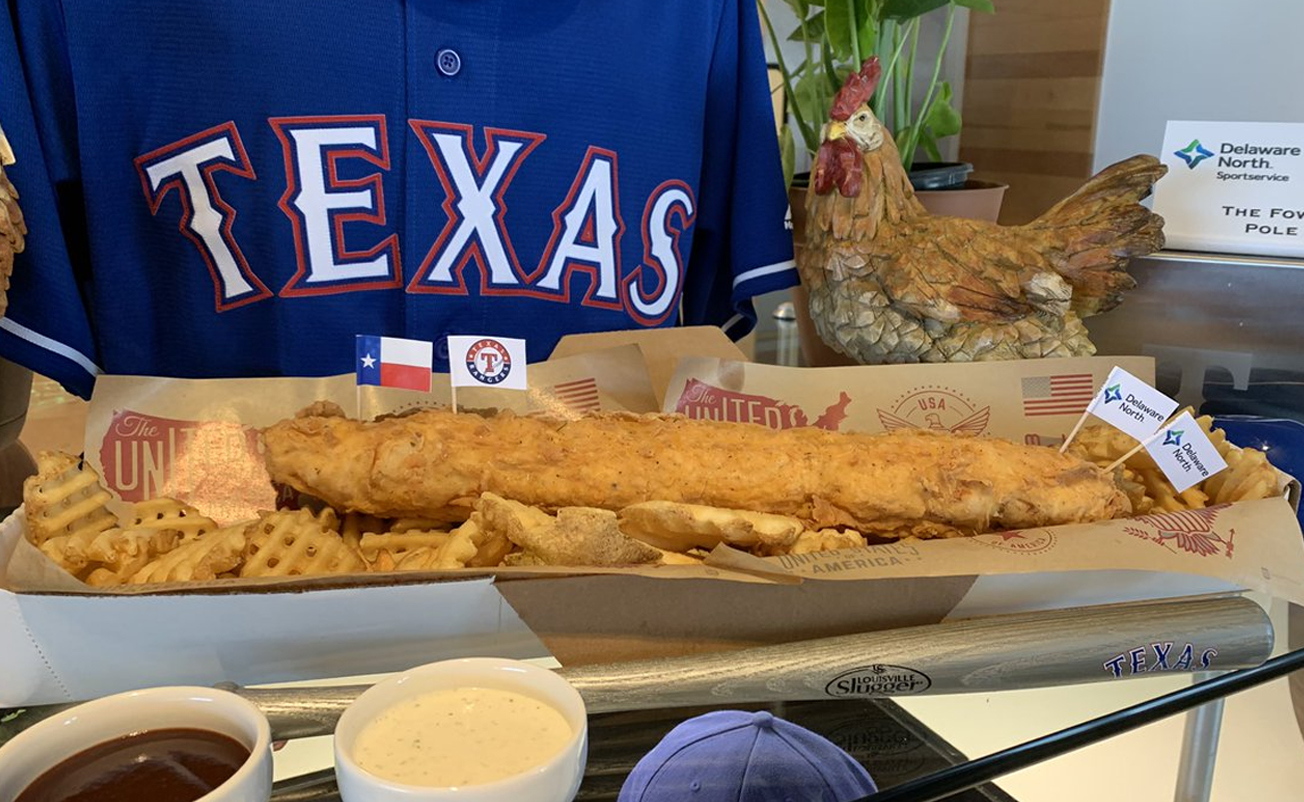 Our Sports Travel Experts are here to help you travel to see your team! Planning a trip in a city you aren't familiar with just got easier with Elite Sports Tours! We have a variety of hotel partners close to the game and access to a wide range of tickets that will ensure you have a great time even if your team doesn't get the win!
Let our experts know what game(s) you want to attend, what city you want to visit, along with how many people will be joining you to cross another city off your bucket list!

MLB Baseball Travel Packages