Vegas Hockey

Travel Packages
Let Elite Sports Tours help you experience the best party in hockey and see your team take on the Vegas Golden Knights in the Sin City! Whether it's a bachelor/bacherlorette trip, a family trip, couples retreat or just a hockey getaway in Las Vegas, Elite Sports Tours has you covered for hotels and ticket packages for each and every Vegas Golden Knights home game!
We specialize in Vegas Golden Knights Travel Packages sending fans from across the globe to Las Vegas to see their team play at T-Mobile Arena. Planning a hockey road trip to an unfamiliar city can be very difficult. Our staff have experience traveling to see games themselves and use that knowledge to provide the best Vegas Golden Knights travel packages for our clients. We focus on delivering the best recommendations when providing Vegas Golden Knights travel packages including hotel accommodations close to the event and all of the attractions the city has to offer.

Working one on one with a sports travel expert will ensure you have the best experience possible when booking your trip to Vegas, so you can focus on crossing a Golden Knights game off your bucket list! Our team focuses on providing you with the best sports trip for your group to see your team live.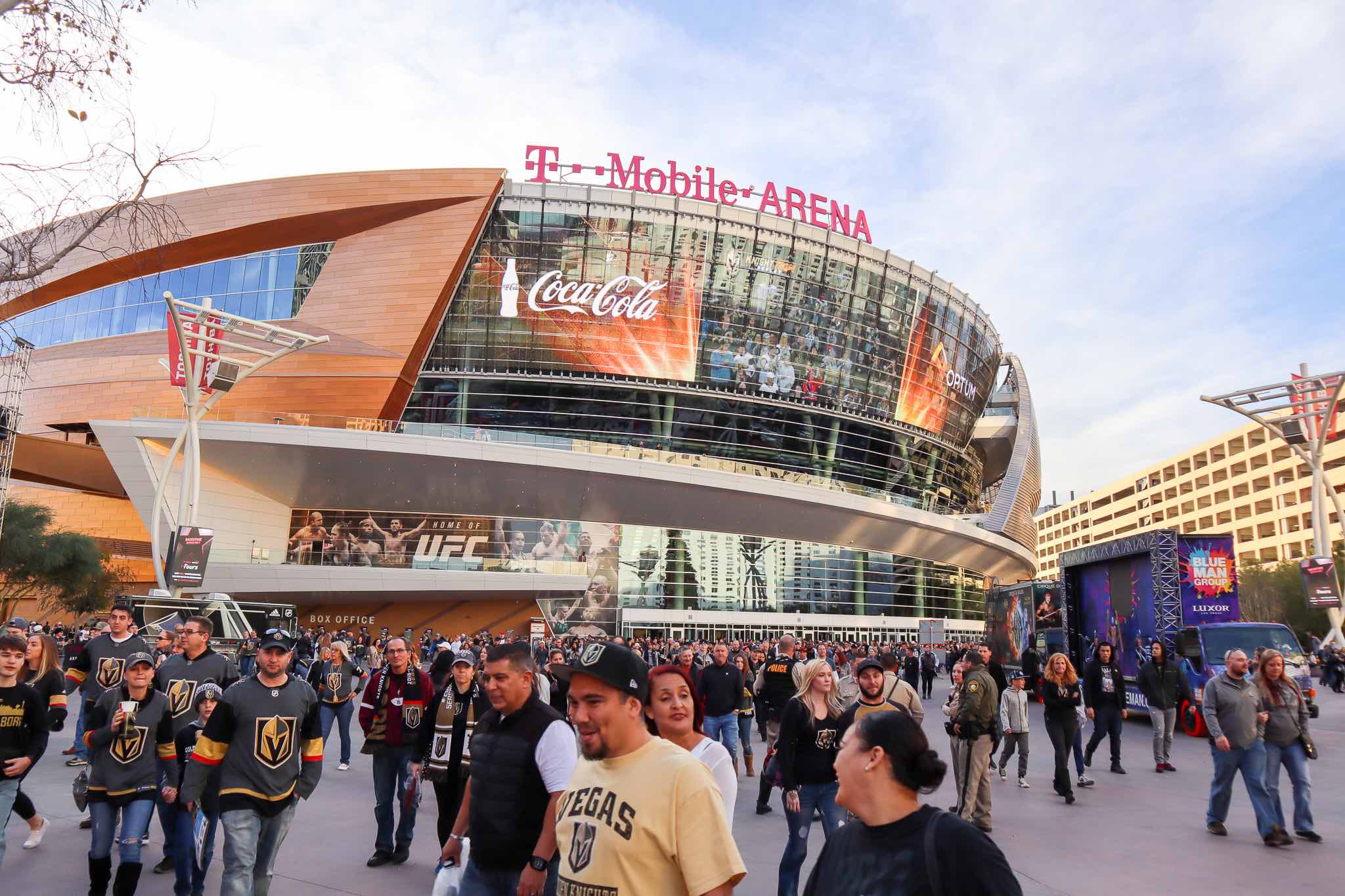 You have never experienced a hockey tailgate until you have experienced a pre-game party at T-Mobile Arena! The party is non-stop four hours until puck drop. DJ's and musical performers get the crowd pumped up for the game outside of the arena. Take a selfie with Chance, the Golden Knights' mascot or enjoy some pre-game drinks and food at the outdoor bar at California Pizza Kitchen, BeerHaus, Bruxie Chicken or Sake Rok ! 45 minutes before the puck drops, see the Vegas Golden Knights Ice Crew and Drum Line march from the Brooklyn Bridge to the T-Mobile Arena. You have never experienced tailgating until you have experienced Vegas-style tailgating!
Once you step foot into T-Mobile Arena, you'll experience a hockey game like no other. From the in-game entertainment, light show, music, food and drinks, the Golden Knights provide a Vegas style of hopitality at the arena. Despite having a capacity of 17,500 fans, T-Mobile Arena has an incredibly intimate, loud and electric atmosphere. If you really want the true "Vegas Hockey" experience, the Hyde Lounge is your spot. The lounge has a nightclub vibe and is perched high above ice level which features bottle service, premium cocktails and VIP sections to take in the game.