Toronto Maple Leafs at

Detroit Hockey Road Trip
Another awesome trip to Detroit is in the books! Elite Sports Tours headed down to the Motor City for an Original Six showdown on Friday between the Toronto Maple Leafs vs Detroit Red Wings at Little Caesars Arena.
It was an amazing group of passionate hockey fans enjoyed the bus ride down to Detroit with some movies, trivia, prize giveaways and a jersey raffle for an Auston Matthews jersey. We arrived to Detroit four hours before puck drop which allowed everyone to enjoy a pre-game meal and take in the sights and sounds of Motown.

Fans were in for a nice surprise before puck drop, as the Detroit Red Wings honoured legend Red Kelly by retiring his #4 jersey, becoming just the eighth number to hang in the rafters in Red Wings history.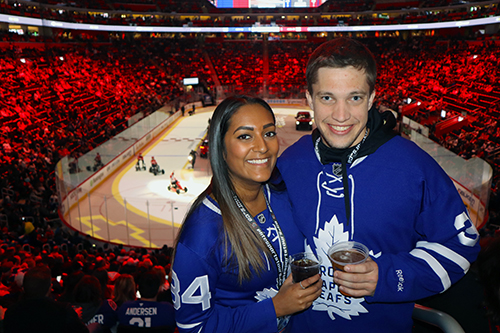 It was an electric atmosphere at the LCA with close to half of the arena being filled with Maple Leafs fans. Danny Dekeyser found the back of the net 2:40 in overtime to secure the victory for the Detroit Red Wings.
Take a look at our full photo album here on our Facebook page! We can't wait to be back at Little Caesars Arena for the Toronto Raptors at Detroit Pistons Road Trip on March 3rd and 17th 2019! If you want to join us in the future, sign up for the newsletter to be notified on the release of road trips.