RELEASE THE KRAKEN
Seattle Kraken reveal team name, logo and jerseys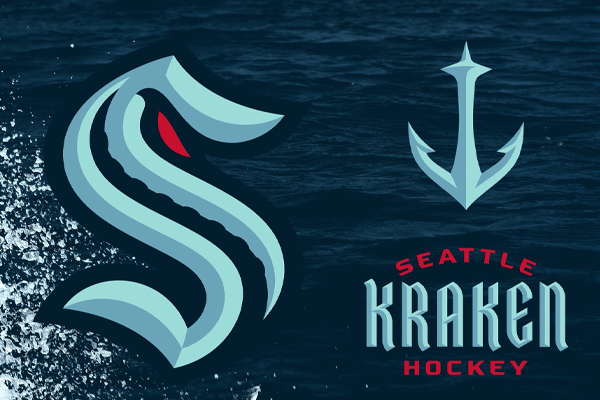 Seattle's National Hockey League team and the league's 32nd franchise finally has a name, the Kraken. On Thursday, the Seattle Kraken not only released its team name but they also revealed their logo and jerseys. The uniforms involve three shades of blue, described as "Deep Sea Navy", "Ice Blue" and 'Shadowy Blue" as well as "Red Alert" as an accent colour.

"The Kraken is a name born of the fans," said Seattle Kraken CEO Tod Leiweke when annoucing the team name at Climate Pledge Arena, the soon to be home of Seattle's NHL franchise. "It was suggested and championed by the fans."



What is a "Kraken" you ask? The Kraken is as a legendary gigantic squid in Scandinavian folklore. According to the Norse legends, the Kraken lives and terrorizes sailors off the coasts of Norway and Greenland in the Northern Atlantic Ocean. It has also been featured in modern pop culture including Pirates of the Caribbean and Clash of the Titans.

The logo itself is an homage to the old Seattle Metropolitans of the 1910s. In 1917, the Metropolitans became the first American based team to win the Stanley Cup. Within the "S" you can see a tentacle, representing the Kraken "stealthy" rising from the deep waters as well as the red eye of the monster. The secondary logo is a combination of an anchor and the iconic Seattle Space Needle, representing the city's skyline and strong marine ties.

The Seattle Kraken become the NHL's fourth franchise that does not end in 'S', joining the Colorado Avalanche, Tampa Bay Lightning and Minnesota Wild. The NHL and NBA now each have four teams that don't end in "S", the most in all North American Sports.

If you want a Seattle Kraken jersey but want a player and number on the back, you'll have to wait until the summer of 2021. Seattle General Manager Ron Francis will select his first slate of players during the expansion draft and will hope to have the same success the Vegas Golden Knights saw in 2017. The Seattle Kraken are set to play their inaugural season in 2021-22 at the brand new Climate Pledge Arena.