Blue Jays awaiting approval to host games at Rogers Centre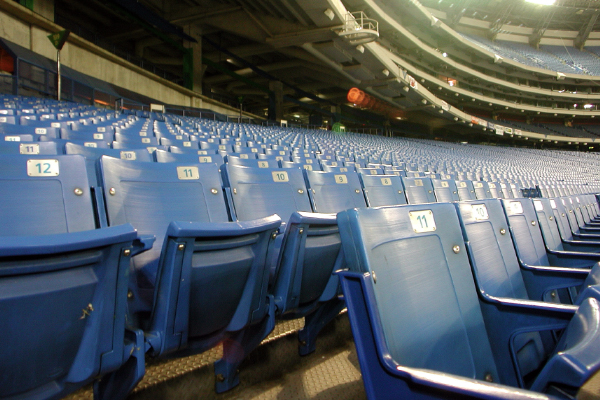 Pending an approval from the Canadian federal government, the Toronto Blue Jays will be hosting games for the 2020 MLB season at Rogers Centre. Reports surfaced on Monday morning that the club was loading up trucks at the Blue Jays spring training facility in Dunedin, Florida and are getting ready to head up north.

In his daily media briefing on Monday, Ontario Premier Doug Ford discussed the Blue Jays not only hosting games in Toronto but also staging their camp at Rogers Centre. "I know all the municipal, provincial and federal health folks kind of gave their approval," Ford told reporters. "I know there are a few tweaks here in the province that Dr. David Williams wants to work out with them. But we have to wait for approval on the federal government on the quarantine side of things."


Already, players are navigating all kinds of new challenges as they prepare to play in a pandemic. Would be a challenging few months for players & families regardless. Prolonging this period of uncertainty certainly isn't the club's preference. Puts players & staff in tough spot.

— Ben Nicholson-Smith (@bnicholsonsmith) June 30, 2020
Untill things get approved by the Canadian government, the Blue Jays have asked players to gather in Dunedin, so the club can start its league mandated intake process before camp begins.
"Upon the conclusion of intake and isolation, the team will either board a charter flight to begin training under a modified quarantine, isolated from the general public, or remain in Florida to conduct training," the organization said in a statement. "The Blue Jays are hopeful to stage training camp and play regular season home games in Toronto and will continue to work through this possibility."

Upon arrival at training camp players must first complete a pre-screening exposure and symptom questionnaire followed by an intake screening 48-72 hours before the initial July 1st reporting date. Players will undergo temperature checks, diagnostic/PCR testing and serology/antibody testing. Players are then to self-isolate for one to two days until they receive their rest results. This would allow the organization to ensure any COVID-19 carriers will not be able to enter Canada and join the team until the mandatory 14-day quarantine has been completed.

The Toronto Blue Jays' bubble includes the Rogers Centre and the hotel attached to the dome, where players and staff will stay during the 60-game season.
If Blue Jays get final approval to head north, players/staff will be staying at hotel attached to ballpark. They're required to quarantine, but can go to the field and back to rooms. There is direct access from hotel to ballpark.

— Hazel Mae (@thehazelmae) June 28, 2020
JUST NOW from Public Health Agency of Canada

"The federal government continues to be in discussion with the Blue Jays organization. Toronto Public Health and Ontario Ministry of Health are also actively engaged with the Blue Jays organization." @cbcsports

— Devin Heroux (@Devin_Heroux) June 30, 2020
By gathering in Dunedin, #BlueJays can get all these steps done while waiting for government decision, and be all systems go in Florida if federal government ultimately says no.

— Shi Davidi (@ShiDavidi) June 30, 2020