Where To Eat In Atlanta - Canoe
Canoe is an amazing farm-to-table restaurant in Vinings, just north of Downtown Atlanta. Serving New American cuisine in an elegant garden that overlooks the Chattahoochee River, Canoe is only a ten minute drive to Truist Park and a fifteen minute drive to Mercedes-Benz Stadium, the homes of the Atlanta Braves and Atlanta Falcons respectively. Canoe's riverside setting is unmatched in Atlanta. The front of the restaurant doesn't look like much but when you walk to the outdoor space you will be blown away with their massive garden leading down to the river. Believe it or not, the beautiful river views aren't the best part about Canoe.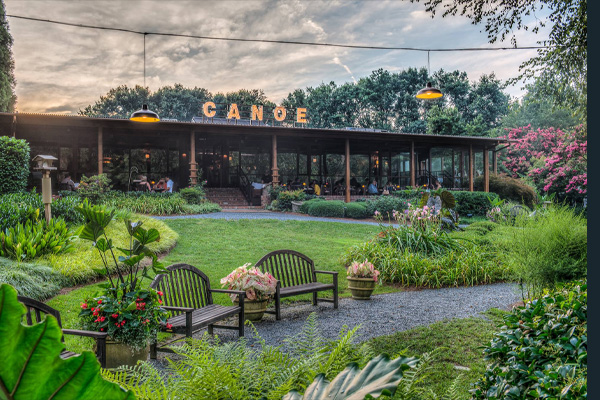 Located in Reynoldstown, a historic district near the eastside of Atlanta, lies Home grown GA. This down to earth food spot serves amazing breakfast and brunch and being only a ten minute drive from Mercedes-Benz Stadium, home of the Atlanta Falcons, it could not be any easier to get to. Offering their delicious and creative breakfast options that are served all day, every day and their generous brunch menu on the weekends has quickly allowed Home grown to "grow" into a favorite spot for residents and visitors alike. Anyone passing through the east Atlanta area makes it a priority to stop by.
The walls of the space are lined with local artwork for sale, adding to the décor. If you head here during brunch hours on the weekend you'll most likely have a short wait, but it is so worth it. Parking at the restaurant fills quickly, but street parking is plentiful and convenient. Be sure to stop by Home grown GA the next time you are in Atlanta, home of the best breakfast in the city!

When considering where to eat in Atlanta try Canoe! Always a popular destination for sports fans traveling to Atlanta for an Atlanta Falcons game at Mercedes Benz Stadium, Atlanta Hawks game at State Farm Arena or an Atlanta Braves game at Truist Park!