Where To Eat In New Orleans - Cafe Du Monde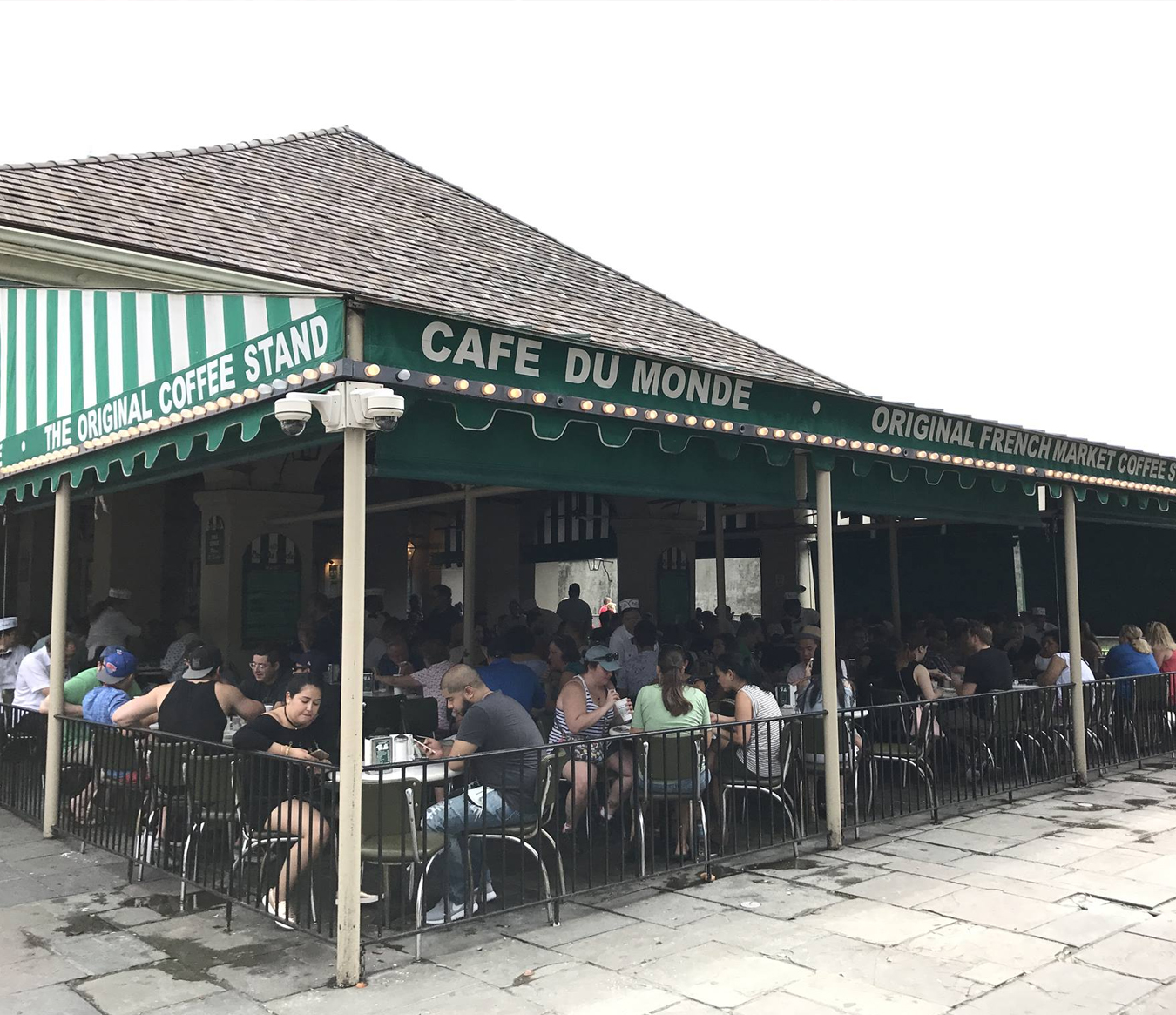 No trip to New Orleans is complete without a stop at the historic Cafe Du Monde. This 24/7 cafe only closes on Christmas and was established more than 150 years ago, way back in 1862 when they opened in the New Orleans French Market. Today, the coffee shop is still serving their world-famous beignets (french doughnuts) as well as their cafe au lait (coffee with milk) out of their location in the famous French Quarter. It's now one of the top tourist destinations and landmarks in New Orleans, serving about 30,000 beignets per day.
Cafe Du Monde is a traditional coffee shop. Their menu consists of just a few items, but here 'quality over quantity' is clearly king. On the menu you can find their dark roasted Coffee and Chicory, Beignets, Milk (white and chocolate), and freshly squeezed orange juice. If you order the coffee, it is served either black or au lait - meaning it will be mixed with 1 part coffee, 1 part hot milk. The taste of the coffee at Cafe Du Monde is unique with a chocolatey flavour. This is because Cafe Du Monde incorporates Chicory which is the root of an endive plant, to help add sweetness and boldness to the coffee. This was a technique that was developed during the civil war when coffee was scarce. We definitely recommend getting an order of Beignets, which comes with three square pieces of fried dough, finished with a generous helping of powdered sugar. To go along with that, we recommend their Cafe au Lait. If you are in The Big Easy to see the New Orleans Saints or New Orleans Pelicans, you can't leave without visiting Cafe Du Monde!
Being right in the heart of the French Quarter, you can bet that there might be a bit of a wait to get into Cafe Du Monde. But, with such a small menu and most people ordering the Beignets, the line goes by quickly. When you bite into one, the wait to get in becomes so worth it. If you're coming in for the New Orleans Saints or New Orleans Pelicans, give yourself some extra time in your schedule to visit Cafe Du Monde.

When considering where to eat in New Orleans try Cafe Du Monde! Always a popular destination for sports fans traveling to New Orleans for a New Orleans Saints game at Mercedes-Benz Superdome or a New Orleans Pelicans game at Smoothie King Center!

Where to eat in New Orleans?