PHILADELPHIA

SPORTS TRAVEL DESTINATIONS

Philadelphia, also known as 'The City of Brotherly Love" is one of the best sports cities in North America with argueably the most passionate and loyal fan base. Philadelphia is the home to four major sports franchises, including the Philadelphia Eagles (National Football League), Philadelphia Flyers (National Hockey League), Philadelphia 76ers (National Basketball Association) and Philadelphia Phillies (Major League Baseball). In 2014, Bleacher Report named Philadelphia the third best sports city in North America because of it's passionate sports fans, beautiful venues and the teams' successes in the past decade.

Not only are Philly's major sporting venues beautiful, but they are all located in the same area called the "South Philadelphia Sports Complex". Citiziens Bank Park (Philadelphia Phillies), Lincoln Finicial Field (Philadelphia Eagles) and Wells Fargo (Philadelphia 76ers and Philadelphia Flyers) are all located within steps from each other. Not to mention, XFINITY LIVE!, a state of the art dining and entertainment complex that features bars and resturants, making it the perfect spot to grab a bite and drink either before, during or after the big game.
The City of

Brotherly Love
Philadelphia was founded in 1682 by William Penn. Philadelphia is Greek for brotherly love. In Greek Philos - "love" or "friendship", and Adelphos - "brother". William Penn was a Quaker who experienced religious persecution and wanted Philadelphia to be a place where anyone could worship freely, regardless of religion. He also helped the planning and development of Philadelphia. His vision was place that wasn't crowded and embodied a mix of city and country. Penn envisioned Philadelphia as a spread out community. Philadelphia sports fans are some of the most passionate in all of the world, unfortunately it's a tough love. Philly fans have high expectations of their teams and the players that dawn their uniforms.

Philadelphia is not only full of history and great food, Philly is home to several professional sports teams worth seeing and crossing off the bucket list!
PHILADELPHIA

SPORTS TRAVEL PACKAGES
Philadelphia is home to some great sports franchises including the Philadelphia Phillies (baseball), Philadelphia Eagles (football), Philadelphia Flyers (hockey) and the Philadelphia 76ers (basketball). All of the sports teams play in a sports complex located in south Philly. A true sports city, with some of the most passionate fans.
With 3 venues located next door to each other, they are conveniently surrounded by ample parking for sports fans to park their vehicle and setup a tailgate outside of their car in traditional American fashion. The sports complex is also home to Xfinity Live a restaurant and bar complex located right in the heart of the sports venues. Xfinity hotel and casino is also opening up right in the heart of the sports complex.
The Philadelphia 76ers and Philadelphia Flyers share a home at Wells Fargo Center. Originally called the Spectrum II, it was built in 1996 on the former site of John F. Kennedy Stadium, with a cost of $210 million. Wells Fargo Center has a capacity of 19,500 people.
Lincoln Financial Field is located in south Philly and is home to the Philadelphia Eagles. The Temple Owls of Temple University also play at Lincoln Financial Field. Built in 2003, the venue also hosts a variety of concerts and other special events. Lincoln Financial Field has a capacity of 69,176 people.
In the summer, the sports don't stop! 'Phanatics' or Philadelphia Phillies fans can catch a game at one of the best baseball parks in the entire league. The best features that the builders discovered in other MLB ballparks were used as inspiration when building Citizens Bank Park. The ballpark was built in 2004 and has a capacity of 43,035 fans. Citizens Bank Park is also home to one of the most popular mascots in baseball, the Philly Phanatic.
THINGS TO DO IN

PHILADELPHIA
Philadelphia is a popular destination for sports fans. Home to several sports teams including football, hockey, basketball, baseball, lacross and NCAA college teams. The main purpose of traveling to Philly might be to catch a live sporting event and cheer on your team, but there is a lot more to see and do when visiting. Here are the top things we recommend checking out on your trip.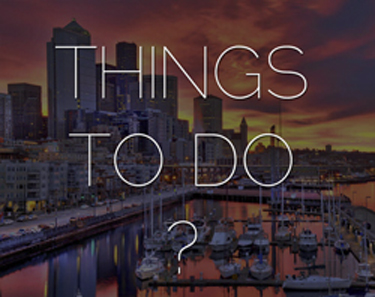 Things To Do In

Philadelphia
Visiting Philadelphia can be an overwhelming experience if you don't plan properly! Making a game plan of what you are going to see, where you are going to eat and the events you are going to see can be a difficult tast. Elite Sports Tours travel experts ave sent thousands of sports fans to see their team play live in every city! Let us help you plan the perfect trip when visiting Philly.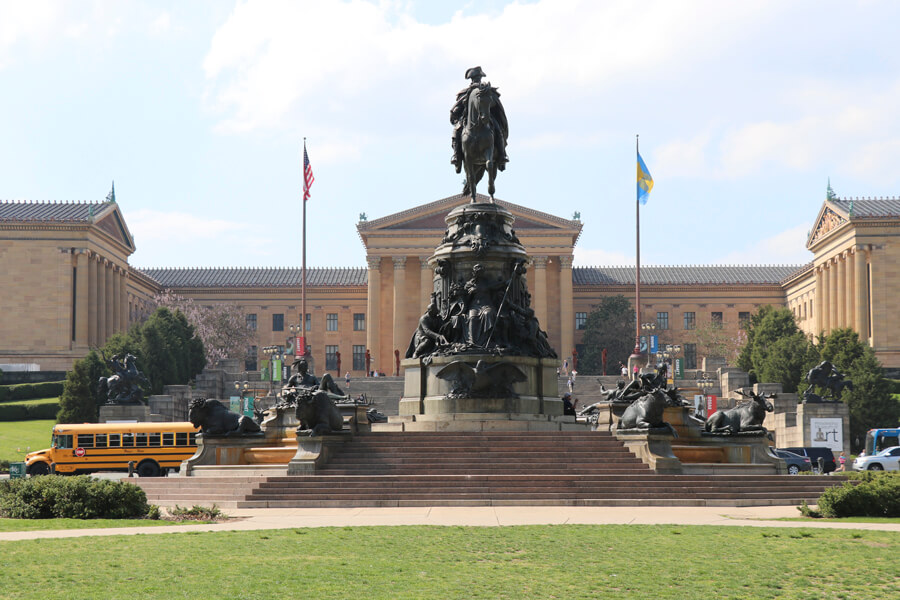 The Oval is located in front of the Philadelphia Museum of Art. The Oval features a large Washington Monument fountain. The public space is eight acres located on the Benjamin Franklin Parkway. The Oval+ is a seasonal pop-up space that transforms a parking lot and surrounding grass at 24th Street and the Benjamin Franklin Parkway. During the seasonal pop-up, people can enjoy a rotating roster of food trucks where you can grab some delicious food and a cold beer from the outdoor beer garden.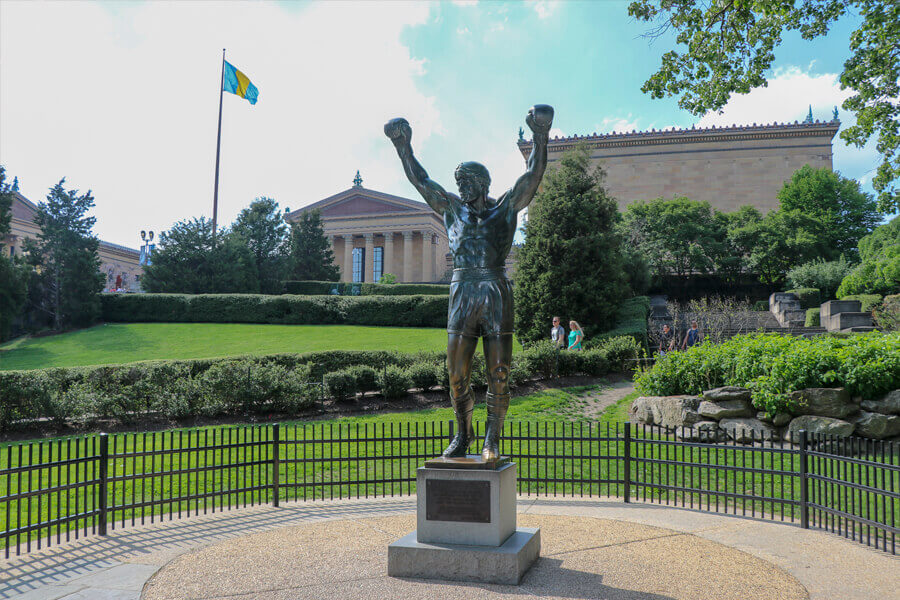 Rocky Statue

Philadelphia Museum of Art
The "Rocky Statue" is one of the more popular spots for tourists to take a selfie and recreate the famous scene from the fictional movie "Rocky" . Sylvester Stallone, who plays Rocky Balboa, runs up the stone steps outside the entrance of the Philadelphia Museum of Art. Be sure to pack your running shoes to go for a beautiful run down Benjamin Franklin Parkway, and finish off by climbing all 72 stone steps as if you were Rocky himself!
The famous run up the stairs is known as a metaphor for the underdog. The Rocky Statue can be busy at times due to it's popularity. Located at the Philadelphia Museum of Art, it is one of the more iconic buildings in Philly.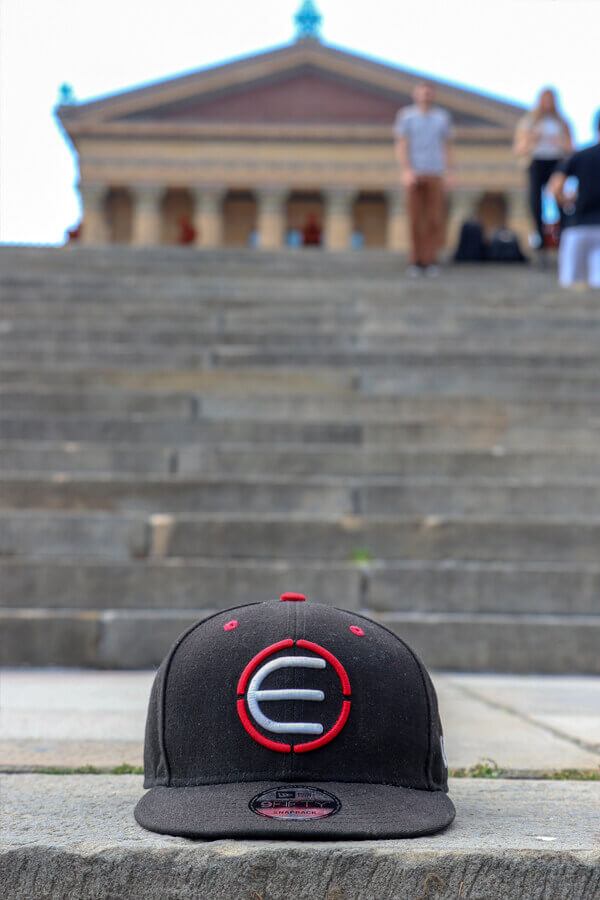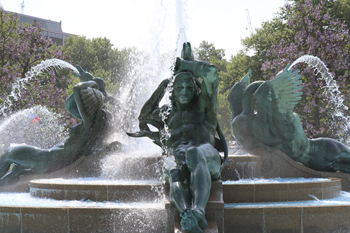 The Swann Memorial Fountain
The Swann Memorial Fountain is located in the center of Logan Circle. The Swann Memorial Fountain is a memorial for Dr. Wilson Cary Swann, founder of the Philadelphia Fountain Society. It was designed by architect Wilson Eyre and created in 1924.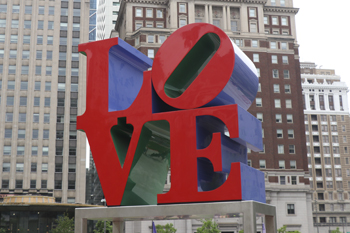 LOVE PARK
John F. Kennedy Plaza, or otherwise known as Love Park. The park is nicknamed Love Park for it's rendition of Robert Indiana's Love sculpture which is located in Centre City, Philadelphia. Edmond Bacon, famed city planner and father of actor Kevin Bacon, designed the plaza which was originally constructed in 1965 over an underground parking garage.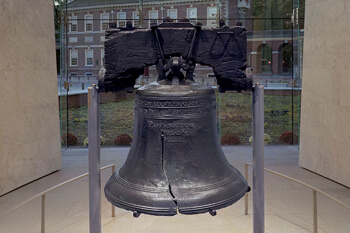 THE LIBERTY BELL
The Liberty Bell represents an iconic symbol of American independence. When it was first made, the Liberty Bell was used to make lawmakers come to legislative meetings. It was also used to call people to public meetings. Bells were rung when the Declaration of Independence was read on July 8, 1776.
WHERE TO EAT

IN PHILADELPHIA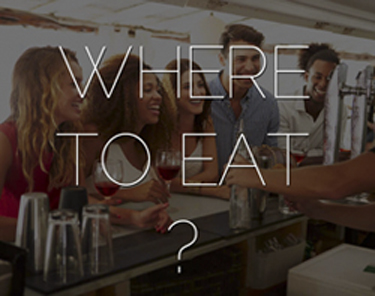 Best Philly Cheesesteak

Philadelphia
Asking locals where they felt The Best Philly Cheesesteak was located if we could only try one, we made a short list of some of the best Philly Cheesesteaks in the city. Eating at Jim's Steaks, Tony Luke's Cheesesteaks, Geno's Steaks, Pat's King of Steaks, Steve's Prince of Steaks and Dalessandro's Steaks.
Philadelphia is known for its food, especially their world-famous Philly Cheesesteak sandwiches. Our staff visited Philly and went to six different restaurants known for Philly Cheesesteaks! We have compiled a list of six locations you can check out when you travel to Philly. We tried 12 different Philly Cheesesteaks to see what we felt was the best of the best.