Toronto Maple Leafs

Scotiabank Arena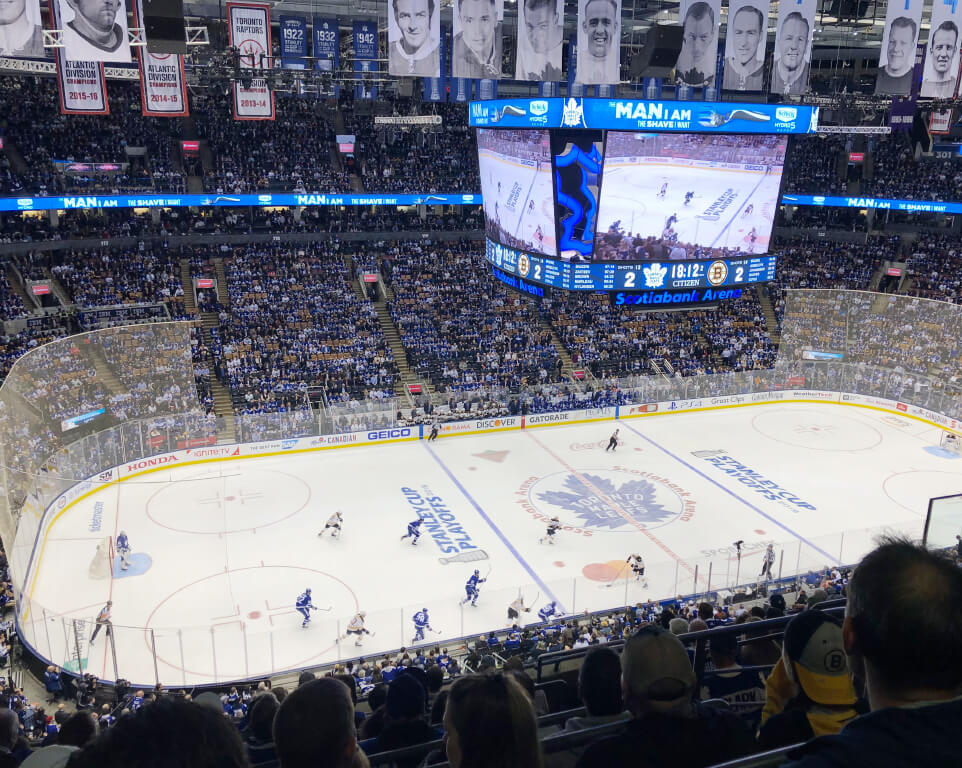 Where do the Toronto Maple Leafs play hockey?

Scotiabank Arena
Scotiabank Arena, formerly Air Canada Centre, is a multi-purpose arena located in downtown Toronto, Ontario and is the home of the Toronto Maple Leafs of the National Hockey League (NHL), the Toronto Raptors of the National Basketball Association (NBA) and the Toronto Rock of the National Lacrosse League (NLL). The arena is owned and operated by Maple Leaf Sports & Entertainment Ltd. (MLSE), the same group that owns both the Leafs and Raptors, as well as their respective development teams, and is 61,780.5 square metres in size. For basketball games, the SBA can hold 20,511 fans including standing room while in hockey it can facilitate 20,270 with standing room. In 2008, the Scotiabank Arena was the fifth busiest arena in the world and the busiest in Canada. It is also the most photographed location in Canada on Instagram according to BuzzFeed. Scotiabank Arena is connected to Toronto Union railway station, subway station and bus terminal via the PATH. In late 2005, Maple Leaf Sports and Entertainment announced that they would be renovating the western side of the Air Canada Centre during the 2008 off-season to connect it with the Maple Leaf Square development. The outside wall of the atrium features a 9.1-by-15.2-metre video screen overlooking the plaza, which often broadcasts games taking place inside the arena. During NHL and NBA playoff runs, the square attracts thousands of Leafs and Raptors fans, respectively, sometimes broadcasting away playoff matches featuring the Leafs and/or the Raptors as well. During Raptors playoff runs, the square has acquired the nickname "Jurassic Park".
The Toronto Maple Leafs play hockey at Scotia Bank Arena downtown Toronto. Originally names the Air Canada Centre in February 1999. Scotia Bank Arena is also home to the Toronto Raptors a professional basketball team in the NBA.
Do the Toronto Maple Leafs and Toronto Raptors play in the same arena?
Where can I find bus tour information for the Toronto Maple Leafs?
Where do you stay for a Toronto Maple Leafs game?
When is the best time to travel to Toronto?
Where is the best place to stay in Toronto?