Where to Eat In Montreal - Kazu
Kazu is Montreal's most recognized Japanese restaurant. Well-known for its innovative Japanese fusion cuisine and its home-like ambiance, Kazu is a favourite among locals and visitors alike. Located just a 20 minute walk from the Bell Centre in the Shaughnessy Village area of Montreal, this cozy nook of a restaurant is near Concordia University and as such, is always packed with students. But trust us when we say the lines are worth it. This little spot only holds about 20 people but that adds to the charm. Their Japanese inspired eats are cooked up in an open kitchen filling the restaurant with amazing aromas.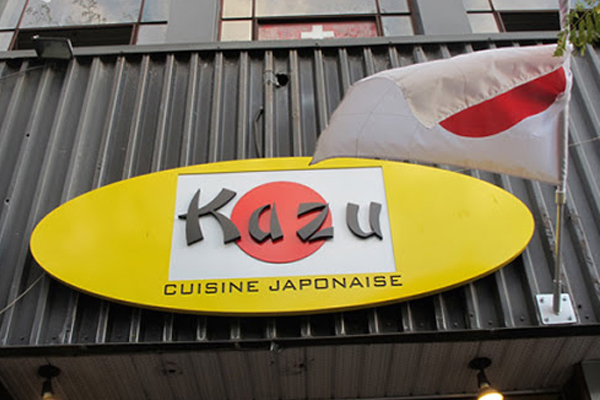 Kazu is a perfect place to visit in Montreal when you are in the mood for some delicious Asian fare. Their menu boasts a number of excellent starters, main courses, grill and seafood options, and desserts. To start their home-made kimchi tofu salad, pork cheeks, edamame, beef carpaccio and salmon pate are all great choices. Their delicious main course options include a number of different bowls, including their vegetable bowl, tuna salmon salad rice bowl and arguably their most popular dish, their 48-hour pork bowl. Their homemade shrimp burger and their beef kalbi plate are our recommendations for your main course, although their grilled options that include yakitori, pork neck and tuna belly are all amazing as well. If you are looking for traditional sashimi there is none better in Montreal than at Kazu. Their desserts, including their homemade soft ice cream in a range of different flavors, are not to be forgotten about and they are a great way to cap off any meal! There is a reason Kazu is known for making some of the best Japanese comfort food in the city, everyone always leaves happy!
With a number of beers, wines and sakes, to go along with some traditional non-alcoholic drinks such as their Yuzu soda, Kazu is the perfect place to bring the family, a group of friends or that special someone. The next time you are in Montreal to see a Montreal Canadiens game, make the time to stop by Kazu and you won't be disappointed!

When considering where to eat in Montreal try Kazu! Always a popular destination for sports fans traveling to Montreal for a Montreal Canadiens game at the Bell Centre!


Where to eat in Montreal?