2020 Las Vegas Raiders Football Trips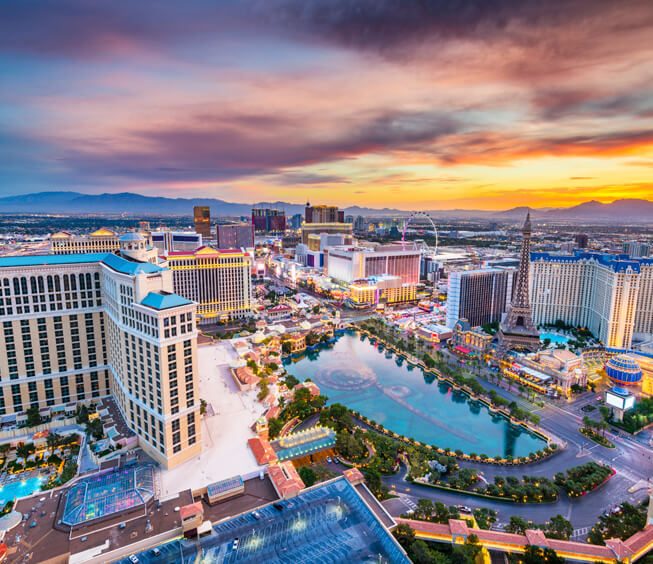 The 2020 football season will be the inaugural season for the Las Vegas Raiders after moving from Oakland. Las Vegas is already a popular destination and the recent arrival of the Vegas Golden Knights has seen the rise in tourism to the Las Vegas area. With the arrival of the NFL, Sunday's in Las Vegas just got a little more exciting.
Football fans travel extremely well and Las Vegas is sure to be on NFL football fans lists in the upcoming seasons. Fans will be wanting to cross Allegiant Stadium off the bucket list. The stadium is most recognizable by it's black exterior to match the iconic black and silver uniforms of the Raiders.
2020 Las Vegas Raiders Home Opponents
It cost $1.8 billion to build Allegiant Stadium which has a capacity of 65,000 for Las Vegas Raiders games, but can be expanded to 72,000 for special events. With so many great casino and hotel properties located on the Las Vegas strip, weekend trips to watch a Las Vegas Raiders game are going to be electric. Fly in on a Friday night, see a Vegas Golden Knights game on Saturday followed by a party at a nightclub with the hottest DJ's, then game day Sundays. All we know is that Monday is going to be extremely rough, so you might want to take a vacation day.

Denver Broncos @ Las Vegas Raiders

Kansas City Chiefs @ Las Vegas Raiders

Los Angeles Chargers @ Las Vegas Raiders

Buffalo Bills @ Las Vegas Raiders

Miami Dolphins @ Las Vegas Raiders

New Orleans Saints @ Las Vegas Raiders

Tampa Bay Buccaneers @ Las Vegas Raiders

Indianapolis Colts @ Las Vegas Raiders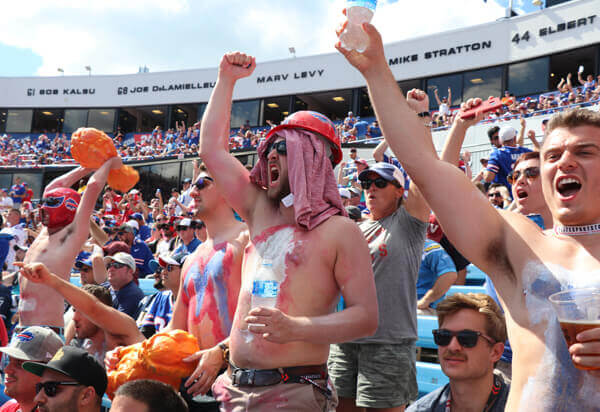 THE BILLS MAFIA TAKE OVER LAS VEGAS 
The first season at Allegiant Stadium will feature some absolutely amazing games. With the Buffalo Bills coming to Las Vegas, you can be certain that the Bills Mafia will be taking over the Las Vegas strip. The Bills Mafia travels as well as any fan base and will be looking to represent the team in a year that could see them win the AFC East with the departure of Tom Brady from New England.

Buffalo Bills at Las Vegas Raiders Travel Packages
SUPER BOWL CHAMPS COME TO TOWN
Also on the Las Vegas Raiders schedule in 2020 is the defending Super Bowl Champions. The Kansas City Chiefs make a stop in Las Vegas and Las Vegas will be buzzing with Kansas City Chiefs fans strolling the Las Vegas strip proudly wearing their new Super Bowl Champions gear. Every casino will be a sea of Kansas City red. Coming off a Super Bowl win, fans will be looking to travel to support their team in Nevada.

Kansas City Chiefs at Las Vegas Raiders Travel Packages
TOM BRADY & GRONK VISIT LAS VEGAS
Look out Las Vegas, Gronk is coming to Las Vegas with his buddy Tom Brady on the new look Tampa Bay Buccaneers. In what is sure to attract football fans from both the Tampa Buccaneers and New England Patriots fan base. This will be an exciting game and a very popular weekend in Las Vegas. The tables and sports books inside the casinos will be buzzing. Will Gronk be able to control himself the night before the game, or will Vegas get the best of him?

Tampa Bay Buccaneers at Las Vegas Raiders Travel Packages
DREW BREES AND THE SAINTS
The New Orleans Saints have been one of the most entertaining teams in the NFL. Drew Brees is 41 and it will likely be one of his final seasons in the NFL. With the New Orleans Saints looking to make one last push for a Super Bowl with Drew Brees as QB, this will be a marque game for Saints and Raiders fans. The New Orleans Saints fan base is going to bring some of that Bourbon Street flavour to the Las Vegas. When these two worlds collide in Las Vegas, it will be footballs version of Mardi Gras.

New Orleans Saints at Las Vegas Raiders Travel Packages
The Las Vegas Raiders have some amazing quarterbacks coming to town. The Indianapolis Colts are one of those teams, featuring their newly acquired starting QB, Phillip Rivers. One of the best quarterbacks in the NFL, the Colts will be looking to show off in Las Vegas. It will be interesting to see how Phillip Rivers and TY Hilton connect on the football field this season. After playing his entire career with the Los Angeles Chargers, Phillip Rivers will have to adjust to a new team.

Indianapolis Colts at Las Vegas Raiders Travel Packages
With some great games on the schedule and the excitement of NFL coming the Las Vegas, Sunday's are going to be extremely busy in Las Vegas. Be sure to plan your trip early when the NFL schedule releases. If you are interested in figuring out what teams come to Las Vegas in the upcoming seasons, take a look at the Las Vegas Raiders future schedules.
The Las Vegas Raiders are going to feature an exciting team with two first round draft picks in 2020. In Round 1 the Las Vegas Raiders drafted Henry Ruggs III 12th overall, a wide receiver from Alabama. Seven picks later in the 19th spot the Las Vegas Raiders drafted Damon Arnette, a talented Cornerback from Ohio State. The Las Vegas Raiders also added linebacker Cory Littleton from the Los Angeles Rams and wide receiver Nelson Agholor from the Philadelphia Eagles. The team will be looking to show off their new weapons on offence and defence this season.