How to get around in Atlanta?

What are the best ways to get around in Atlanta?
How to get around in Atlanta? One of the most common questions when traveling to a new city. Figuring out how to get around efficiently and cost effectively is important when traveling to a new city. Visiting a new city can be a ton of fun, but pricey if you don't know your way around. We have created a list of some of the most popular transportation options available in Atlanta during your sports trip. Plan the ultimate trip with the help of our travel experts and don't get caught unprepared when traveling to a new city!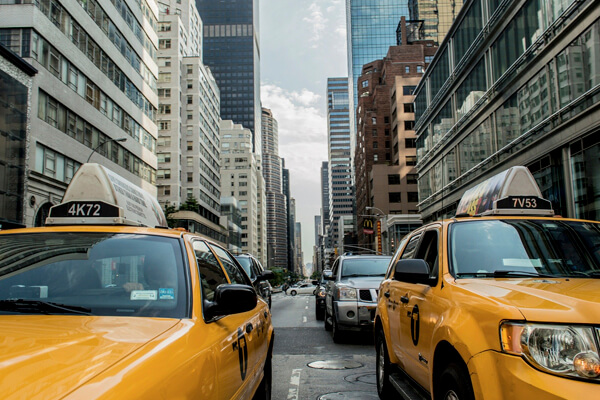 Driving in this city is an option although it can be notoriously hectic. If you aren't using a car as a visitor, we would recommend using Atlanta's public transportation system, MARTA. MARTA operates both bus and rail lines throughout the city and its nearby suburbs. If it's just attractions you're looking for, the Atlanta Streetcar is a great option as well. Although a couple of Atlanta's attractions are within walking distance to one another, we recommend against walking in this city as many of the other attractions are simply too far apart. We also do not recommend driving in Atlanta. The city is known to have terrible congestion, and locals can be very aggressive drivers. On top of that, the roads can be very confusing and parking is scarce
How to get around in Atlanta?
Here is a list of options on how to get around in Atlanta:
Rail

MARTA-Rail - quickest way to get around Atlanta. Has 4 lines.

Red and Gold lines run north to south and vice versa
Blue and Green lines run east to west and vice versa

Fare: $2.50 one way, $9 day pass

Up to two kids measuring less than 46 inches ride for free

For attractions, look out for these stations:

Peachtree Center

Georgia World Congress Center

Buckhead

Lenox

Arts Center

Midtown station

Georgia State

King Memorial





Bus

MARTA-Bus - This is your best option to reach anywhere in Atlanta that is not accessible by train.

Same fees as the rail system

Transfers are only available to Breeze smart cart and Ticket pass holders





Streetcar

Atlanta Streetcar - 2.7 mile loop stopping at 12 stops, servicing attractions located between downtown and Eastside.

Attractions located within walking distance of a stop include:

Centennial Olympic Park

College Football Hall of Fame

Martin Luther King, Jr. National Historic Site.

Kids under 46 inches ride free with an adult.

Tickets are bought through the Atlanta Streetcar mobile app





Ridesharing
Bikesharing
Scootersharing
These are some of the best transportation options when trying to figure out how to get around in Atlanta.
Airport (ATL) to Downtown Atlanta
# of Major Atlanta Airports: 1
Hartsfield – Jackson Atlanta International Airport (ATL)
How to get to and from ATL
Hartsfield – Jackson Atlanta International Airport (ATL) is the largest airport in Atlanta and the one most commonly used by tourists. This international airport has 192 gates: 152 domestic and 40 international. It covers over 4,700 acres of land with 5 runways.
Located only 11 miles from downtown Atlanta, which is about a 15 minute drive, it is quite easy to get to and from ATL. If you are flying in for an Atlanta Braves, or an Atlanta Hawks game be sure to get yourself some added time before the game(s), traffic around any major airport can be unpredictable and you don't want to miss being late to the game!
Below are your best available options for how to get to downtown Atlanta from ATL so you can start your sports getaway!
MARTA-Rail: This is the cheapest and most convenient option, especially during rush hour. If your hotel is close to MARTA-Rail stop, it is a great option. Be sure to check Google Maps to confirm. It will take 20 minutes to get to downtown, 25 minutes to Midtown, 35 minutes to Buckhead, and 40 minutes to the Perimeter Mall area. Tickets are $2.50 per trip or $9 for a day pass, kid less than 46 inches ride fore free. The rail station terminal can be found at the west end of the airport. Check MARTA's website for more information.
Taxi: Taking a cab from the airport to downtown Atlanta may be your best bet in terms of convenience. ATL has a taxi queue and they had fix rates to the city's major zones. Here are the cost of the flat rates:

Airport to Downtown ($30 USD)

Airport to Midtown ($32 USD)

Airport to Buckhead ($38 USD)

Airport to Other Areas (Standard Rates Apply)
Uber: Another convent way to get to downtown from ATL is ridesharing companies. Elite Sports Tours suggests Uber. Fares estimates will be provided via the app. Something to keep in mind Uber X rides are cheaper than the fix taxis rates. ATL do not have an Uber Stand, you will need to work with the driver after you call your Uber.
Sedan Service/Limo: There are limo and black car services available to pick you up at ATL and take you downtown. However, this is something you will need to arrange before you arrive. There are multiple local limo services in Atlanta so be sure to read the reviews to make the best decision for you.
Rental Car: ATL offers a couple different car rental counters offering options from Enterprise, Hertz, Avis, and more. Renting a car is a great way to explore a city at your own pace. Keep in mind rates will vary depending on demand, the type of car you want, and how many days you need it. If you want to rent a car for your trip, get an Elite Sports Tours representative to add it to you package before your trip!
Shared Ride Shuttles: You can find a list of shuttles on ATL's website. Shuttles are a great option to get to downtown however it could take you an addition 30 minutes while other passengers are dropped off if you are one of the last stop. This delay is made up in pricing. Here is are fix rates to the major areas when taking the Shared Ride Shuttles:

Airport to Downtown ($16.50 USD – 1 way / $29 USD – Round trip)

Airport to Midtown ($18.50 USD – 1 way / $33 USD – Round trip)

Airport to Buckhead ($20.50 USD – 1 way / $37 USD – Round trip)
Airport Shuttles: Some hotels in Atlanta offer a complimentary shuttle service to and from ATL for their guests. Be sure to ask your Elite Sports Tours representative about your hotel's shuttle service, if applicable. Pick-up times can be coordinated by communicating your flight information with your hotel.
For getting to downtown Atlanta from ATL we recommend either taking an Uber or MARTA-Rail (depending on your hotel). Uber, is an ever-reliable option. It is your most efficient choice and the cost is very reasonable. With that said if your hotel is located close to a MARTA-Rail stop, it will be your cheapest and most convenient way to get to downtown from ATL. The choice is yours.