How to get around in Calgary?

What are the best ways to get around in Calgary?
How to get around in Calgary? One of the most common question when traveling to a new city. Figuring out how to get around efficiently and cost effectively is important when traveling to a new city. Visiting a new city can be a ton of fun, but pricey if you don't know your way around. We have created a list of some of the most popular transportation options available in Calgary during your sports trip. Plan the ultimate trip with the help of our travel experts and don't get caught unprepared when traveling to a new city!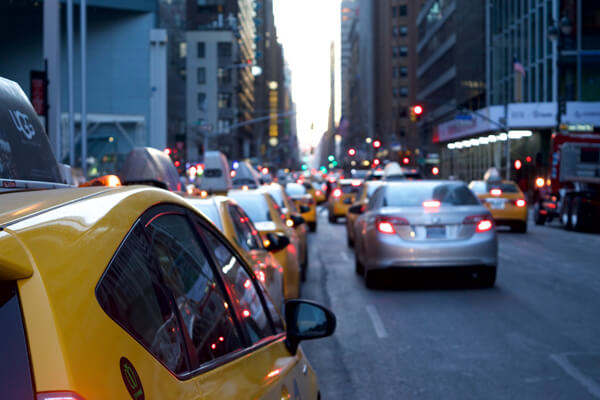 Getting around Calgary is easy. Many different transportation options are readily available to help you explore the city. Public transit, taxis, limousines, shuttles and rental cars are great ways to get around during your stay. With extensive cycle paths and pedestrian walkways Calgary is very easy to bike or walk as well! Calgary is divided into four quadrants, North West, North East, South West and South East. The downtown core is laid out in a grid with numbered streets running north-south and numbered avenues running east-west.
How to get around in Calgary?
Here is a list of a few of the different ways to get around Calgary
Transit & Bus Service: Calgary's public transit includes buses and two Light Rail Transit (LRT) lines, known as the C-Train.

Tickets and passes can be purchased with cash or credit card at all C-Train stations, with cash on the bus (change is not given), or at stores across the city.

Fares are valid for 90 minutes and passes are valid for one day only. Fares for adults are $3.40 ($10.75 for a day pass; for youth (6-17): $2.35 ($7.75 for a day pass); children five and under are free.

It is free for anyone to ride the CTrain throughout the downtown core ONLY between City Hall Station and Dowtown West/Kerby Station, on either line and in any direction.
Car Rentals & Car Sharing: Rental car offices are located throughout Calgary. A large amount can be found at YYC Calgary International Airport and in the downtown core.

If renting a car keep in mind that most parking in the downtown core is paid with machines only accepting credit cards and change, no debit*
RV Travel: If travelling in a RV there are multiple RV friendly routes that make it easy to navigate the city:
Taxis and Limousines: Taxis charge a base rate of $3.80 and an additional surcharge at the airport. Most taxi services offer online and mobile booking apps and most cabs accept credit, debit, and cash.

Limousines and luxury sedans are also available from YYC Calgary International Airport to downtown at a fixed rate of $46.60.
Ride sharing : Uber or TappCar (a regional ride share program)
Getting Around by Bike: Calgary has the most extensive urban pathway and cycle path network in North America, with approximately 850 kilometres of regional pathways and 95 kilometres of trails. Bike lanes run against many major streets in Calgary.

Dock less bike sharing program Lime Bike is available in Calgary, users can download the mobile application, locate, and rent bikes starting at $1.00.
Walking: the downtown core is very walkable.The +15 corridors connect several hotels, attractions, shopping centres, and buildings allowing people to travel indoors throughout the city centre.
Airport (YYC) to Downtown Calgary
Calgary International Airport (YYC)
How to get to and from YYC
Calgary International Airport (YYC) is the busiest airport in Alberta and the fourth busiest in Canada. The airport growth comes from the petroleum and tourism industries. It has great nonstop flights to an array of destinations across the world.
Located only 17 kms from Downtown Calgary, which is about a 15-minute drive, it is quite easy to get to and from YYC. If you are flying in for a Calgary Flames be sure to give yourself some added time before the game(s), traffic around any major airport can be unpredictable and you don't want to miss being late to the game!
Below are your best available options for how to get to Downtown Calgary from YYC so you can start your sports getaway!
Taxi: Taking a cab from the airport to downtown Calgary may be your best bet in terms of convenience. There are taxi stands located outside of doors 1 & 6 for the domestic terminal and outside of doors 16 & 17 for the international terminal. Estimated fares may vary depending on your destination however it will usually cost $40-$55 CAD. The ride to downtown will take 15 minutes one way. Taxi providers we suggest are Mayfair Taxi, Delta Cab, Checker Yellow Cab, and Associated Cabs.
Ridesharing (Uber/Lyft): Another convenient way to get to downtown from YYC is ridesharing companies. Elite Sports Tours suggests Uber or Lyft. It will take 15 minutes to get downtown from YYC with ridesharing. Fares estimates will be provided via the app. You can accept $26-$29 CAD. Something to keep in mind Uber X rides are cheaper than the taxis rates, usually. However, if you are interested in taking a different classification of Uber, you can expect to pay a little more. YYC doesn't has designated area for pickup simply exit your terminal and schedule a pick up with your driver. Keep in mind there is an airport surcharge fee for all rides to ($2.25) and from ($4.50) YYC. This is standard for ridesharing options during airport pick ups and drop offs.
Car/Van Service: There are town car services available to pick you up at YYC and take you downtown. However, this is something you will need to arrange before you arrive. There are multiple local car services in Calgary so be sure to read the reviews to make the best decision for you. Elite Sports Tours recommends "Jayride Private Transfers". The estimated price will be between $120-$180 CAD and you can purchase your tickets online. The ride should take 15 minutes depending on the time of day and traffic.
Rental Car: YYC offers a couple different car rental counters offering options from Enterprise, Hertz, Avis, National and more. Renting a car is a great way to explore a city at your own pace. Keep in mind rates will vary depending on demand, the type of car you want, and how many days you need it. If you want to rent a car for your trip, get an Elite Sports Tours representative to add it to your package before your trip!
Bus: Public Transit is a very reasonable price option however it can take much longer to get to your downtown. On average it will take around 40 minutes depending on the time of day. This is more than double the amount of time then some of the other options listed. Calgary Transit Bus service will take you downtown; your stop will be WB 4 Ave SW @ 2 St SW. You will have to wait 12 stops before arriving. Calgary Transit is very economical with fares being only $11 per rider. Buses run everything for 30 minutes. Be sure to check the Calgary Transit website so you can check the schedule.
Airport Shuttles: Some hotels in Calgary offer a complimentary shuttle service to and from YYC for their guests. Be sure to ask your Elite Sports Tours representative about your hotel's shuttle service, if applicable. Pick-up times can be coordinated by communicating your flight information with your hotel.
For getting to Downtown Calgary from YYC we recommend either taking an Uber or Taxis. Uber is an ever-reliable option. It is your most efficient choice and the cost is very reasonable. With that said if you feel more comfortable using a taxi because you aren't familiar with ridesharing services then that would work as well. The choice is yours.