How to get around in Memphis?

What are the best ways to get around in Memphis?
How to get around in Los Angeles? One of the most common question when traveling to a new city. Figuring out how to get around efficiently and cost effectively is important when traveling to a new city. Visiting a new city can be a ton of fun, but pricey if you don't know your way around. We have created a list of some of the most popular transportation options available in Los Angeles during your sports trip. Plan the ultimate trip with the help of our travel experts and don't get caught unprepared when traveling to a new city!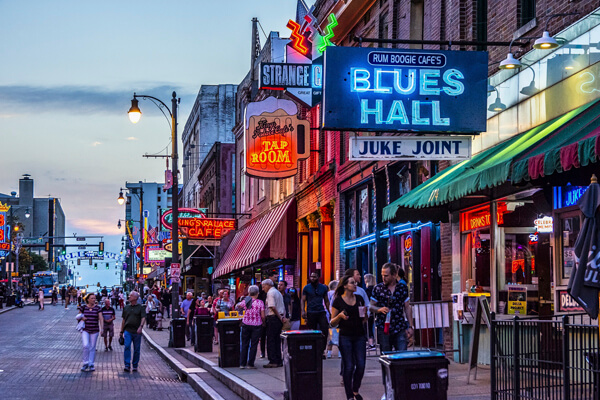 By most accounts, the easiest way of getting around Memphis is driving. Whether that may be using your own car, a rental, or ridesharing options such as Uber or Lyft. Many must-see attractions are located in different neighborhoods, which are not walking distance from one another.
How to get around in Memphis?
Here is a list of options on how to get around in Memphis:
Bus - Identifiable by their green color

3 main routes in the downtown area, they pass nota ble destinations such as:

South Main's Historic Art District

Sun Studio

Beale Street

The Mississippi River

Cook Convention Center

Fare: $1.75 single ride, $3.50 day pass



Trolley

The line that goes down Main Street is historic

Car is an authentic, vintage trolley with antique light fixtures and hand-crafted wood carvings.

2 lines that run downtown

Goes through Beale Street

National Civil Rights Museum

Peabody Hotel





Shuttle

Sun Studio Shuttle

Free of charge

Circulates between 3 top attractions:

Memphis Rock 'n' Soul Museum

Graceland

Sun Studio





Tour Bus

Memphis Hop

Makes stops at Memphis' top 10 attractions

Hop on, hop off bus tour

Price: $22 adults, $17 children



Bike
Walking

Big River Crossing

Largest pedestrian bridge in the US

Overton Park

2.5 mile paved path connecting the Memphis Zoo, Brooks Museum, and Old Forest Arboretum





Ridesharing
Taxis

Can be difficult to hail on the street, best to get one at a hotel.

These are some of the best transportation options when trying to figure out how to get around in Memphis.
Airport (MEM) to Downtown Memphis
# of Memphis Airports: 1
Memphis International Airport
How to get to and from the Memphis International Airport (MEM)
Memphis International Airport (MEM) is one of the largest airports within the state of Tennessee and the most commonly used for tourists traveling to Memphis. This international airport is one of the busiest in Tennessee United States serving 4,644,490 passengers in 2019.
Located just 7 miles southeast of Downtown Memphis, it is quite easy to get to and from MEM. If you are flying in for a Grizzlies game be sure to leave your self-plenty of time, traffic around any major airport can be unpredictable and you don't want be late to the game!
Below are your best available options for how to get to Downtown Memphis from MEM so you can start your sports getaway!
∙ Public Transit: You can get to downtown Memphis by taking the MATA Bus #64. Your total transportation time is 20 minutes, making it a little longer than alternative routes. Though with that being said, the bus is very affordable. Therefore though it will be the longest transportation option it will be the cheapest by a large margin. The bus picks up every hour outside of Terminal C at the baggage claim level.
∙ Taxi: Taking a cab from the airport to downtown Memphis may be your best bet in terms of convenience. Taxis from MEM are priced by the meter, but it is just a 15 minute drive and generally costs between $21 - $29 USD, depending on traffic of course. Memphis has plenty of individual cab companies, which help make getting a cab an easy task. Though with that being said it is recommended that you call a company ahead of time to avoid the hassle of flagging one down. Taxis pick up outside of the Concourse B Baggage claim.
∙ Rental Car: Be sure to ask your Elite Sports Tours representative to secure a rental car for you before your trip! MEM offers nine different car rental options, including Enterprise, Budget and National. All of the car rental companies are located at the Ground Transportation Center, located near the B Terminal.
∙ Ride Sharing: Both ride sharing giants Uber & Lyft service MEM to downtown. Ride sharing combines ease with affordability making for a perfect option when choosing how to head to Indianapolis from the airport. The ride takes just 15 minutes and you can expect it to cost from $15 to $18 USD, though this of course can vary dependant on time of day, etc. If you are going to request a ride from Uber or Lyft, you will find them outside of the A, B and C ticketing lobby exits, along with the 3rd floor of the economy parking garage.
∙ Airport Shuttles: There are various hotel in downtown Memphis that offer a complimentary shuttle service to and from MEM for their guests. Be sure to ask your Elite Sports Tours representative about your hotel's shuttle service, if applicable. Pick-up times can be coordinated by communicating your flight information with your hotel.
For getting to Downtown Memphis from MEM we recommend taking an Uber or Lyft. The new way of transportation offers you ease of service combined with affordability. Alternatively, if you prefer taking a taxi that is another great option to choose.