How to get around in Denver?
What are the best ways to get around in Denver?
How to get around in Denver? One of the most common question when traveling to a new city. Figuring out how to get around efficiently and cost effectively is important when traveling to a new city. Visiting a new city can be a ton of fun, but pricey if you don't know your way around. We have created a list of some of the most popular transportation options available in Denver during your sports trip. Plan the ultimate trip with the help of our travel experts and don't get caught unprepared when traveling to a new city!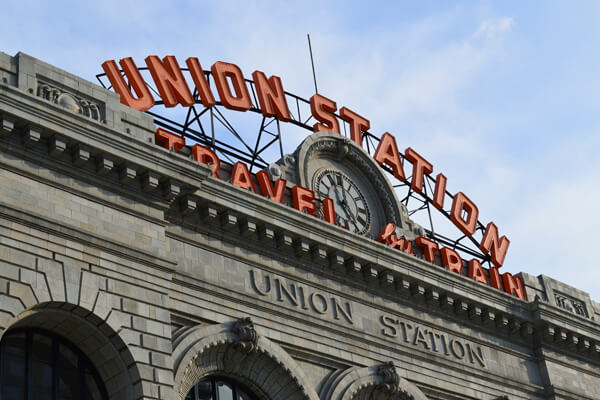 The best ways to get around Denver are on foot or by light rail. Many of Denver's most popular things to do can be found within walking distance of one another in the downtown area. And for attractions not easily accessible on foot, the Regional Transportation District's light rail routes can often get you close enough to walk. RTD also operates an extensive bus system, but routes can be difficult to navigate if you're not familiar with the area, but the system's Trip Planner services can help you get where you need to go. Relying on these forms of public transportation will allow you to dodge parking and car rental costs, and you'll get a better feel for the historic neighborhoods if you're not busy trying to navigate unfamiliar streets.
How to get around in Denver?
# of Major Denver Airports: 1
Denver International Airport (DEN)
How to get to and from DEN
Denver International Airport (DEN) is the largest airport in North America by land and second largest in the world behind King Fahd international Airport. DEN has the longest runway in North America at 16,000 feet. Denver International open in 1955 and offers direct flights to 215 destinations.
Located only 25 miles from Downtown Denver, which is about a 35-minute drive, it is quite easy to get to and from DEN. If you are flying in for a Denver Broncos, Denver Nuggets, and the Colorado Rockies game be sure to give yourself some added time before the game(s), traffic around any major airport can be unpredictable and you don't want to miss being late to the game!
Below are your best available options for how to get to Downtown Denver from DEN so you can start your sports getaway!
A Line Commuter Train: The Regional Transportation District (RTD), offer trains from DEN to Denver Union Station (downtown Denver). The ride will last 37 minutes and trains run every 15 minutes during peak times and every 30 minutes from 3am-5am and 6:30pm to 1am. Tickets can be purchased at the train station. Tickets are $10.50 per day from any station, tickets include unlimited rides during that day. There are a total of 8 stops allow the line of the A Line Commuter Train. Most downtown hotel properties have a stop within walking distance from A Line Train Stations.
Taxi: Taking a cab from the airport to downtown Denver may be your best bet in terms of convenience. There is a taxi stand located outside most terminals. Taxi are readily available and provide flat rates for multiple destinations around Denver and the great area. Here are the follow rates:
Downtown (Zona A) - $56.03 USD

Denver Tech, Center (Zone B) - $62.03 USD

Boulder (Zone C) - $89.03 USD

Tower Road (Zone D) - $29.09 USD

Broomfield and Louisville Area $71.03 USD (Yellow Cab only)
The ride to downtown will take 30 minutes one way. Taxi providers we suggest are Yellow Cab, Metro Taxi, and Denver Taxi Inc. Keep in mind there is an airport surcharge fee for all rides to and from DEN. This is standard for most airports across North America.
Ridesharing (Uber/Lyft): Another convent way to get to downtown from DEN is ridesharing companies. Elite Sports Tours suggests Uber or Lyft. Fares estimates will be provided via the app. You can except $50-$65 CAD one way. Something to keep in mind Uber X rides are cheaper than the taxis rates, usually. However, if you are interested in taking a different classification of Uber, you can except to pay a little more. DEN ridesharing pickup location is on Level 5, Island 5. You will need to work with the driver after you call your Uber to confirm your exact pick up location. Keep in mind there is an airport surcharge fee for all rides to and from DEN. This is standard for most airports across North America.
Rental Car: DEN offers a couple different car rental counters offering options from Enterprise, Hertz, Avis, and more. Car Rental agencies are located on airport property and they provided a free shuttle service to and from Jeppesen Terminal. Shuttles are available in Terminal Level 5, Island 4. From there you will you find the check in counters for over 10 rental car companies. Renting a car is a great way to explore a city at your own pace. Keep in mind rates will vary depending on demand, the type of car you want, and how many days you need it. If you want to rent a car for your trip, get an Elite Sports Tours representative to add it to you package before your trip!
Limo/ Town Car Service: There are limo/town car services available to pick you up at DEN and take you downtown. However, this is something you will need to arrange before you arrive. There are multiple local limo/town car services in Denver so be sure to read the reviews to make the best decision for you. You will need to check in at the limo booth located outside the "Jeppesen Terminal" Level 5. The estimated price will be between $120 - $140 CAD. This is commonly used by but not limited to business travelers or larger groups such as bachelor parties.
For getting to Downtown Denver from DEN we recommend either taking an Uber or the A Line Commuter Train. Uber is an ever-reliable option. It is your most efficient choice and the cost is very reasonable. With that said the A Line Commuter Train would be our first recommendation. It will be your cheapest and fastest way. It is also very easy to navigate as well. The choice is yours.
Airport (DEN) Downtown Denver
Elite Sports Tours recommends renting a car will come in handy if you're planning on traveling into the Rocky Mountains. Should you decide to pick up your own set of wheels, you can do so at the Denver International Airport (DEN), which sits about 25 miles northeast of the downtown area. From the airport, you can also rely on RTD's SkyRide bus or the light rail University of Colorado A line to get you into town; both one-way trips will cost $9. Meanwhile, if you opt for a cab ride, expect to pay between $55 and $75 each way.

Here is a list of options on how to get around in Denver:


Light Rail - One of the best ways to get around Denver

RTD Light Rail - 9 lines that service 53 stations across downtown Denver and its suburbs. Rail Fare Zone A is the city center. Zone C is the outskirts. Fare is dependent on how far you travel, but can cost up to $4.50 for one trip.

Stops include:

Sports Authority Field at Mile High

Pepsi Center

Coors Field

Elitch Gardens Theme and Water Parks

Denver Union Station





Bike - Biking is very popular in Denver as it is home to miles upon miles of dedicated bike pathways.

Denver Bcycle - The city's bikesharing program



Ridesharing
Trolley

Platte Valley Trolley - this route is all that remains of Denver's once-extensive network of trolleys. During the prime tourist season – from May through September – the trolley system offers the Riverfront sightseeing route that takes passengers along the South Platte River from Confluence Park (just north of Speer Boulevard on the eastern side of the river) to the children's museum, passing such sights as the Downtown Aquarium and Elitch Gardens Theme Park. Single rides cost $5 for adults and $2 for children. You can catch the trolley Thursday through Monday between 11 a.m. and 5 p.m.; it runs every 30 minutes.



Taxis

Can be difficult to hail on the street, best to get one at a hotel





These are some of the best transportation options when trying to figure out how to get around in Denver.