How to get around in San Antonio?

What are the best ways to get around in San Antonio?
How to get around in San Antonio? One of the most common question when traveling to a new city. Figuring out how to get around efficiently and cost effectively is important when traveling to a new city. Visiting a new city can be a ton of fun, but pricey if you don't know your way around. We have created a list of some of the most popular transportation options available in San Antonio during your sports trip. Plan the ultimate trip with the help of our travel experts and don't get caught unprepared when traveling to a new city!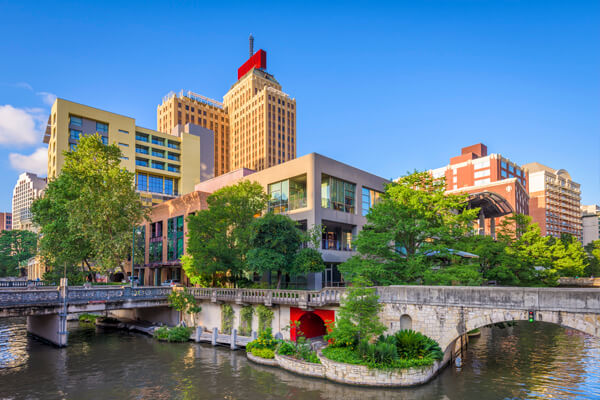 Although the 18th-century city planners did not plan their road networks for the cars of the future, still the best way to get around San Antonio is by driving. Of course there is public transportation, but it isn't the greatest even in Texas. Downtown San Antonio is great for walking, but if you're looking to see attractions sitting just outside the downtown core, it's best to take a car there. If you're a tourist looking only to see San Antonio's top attractions, the VIVA bus is an excellent option as its purpose is to service all the popular landmarks and attractions in the heart of the city. Alsom one of the best ways to see all 5 Spanish missions in San Antonio is by biking on the Mission Reach Trail.
How to get around in San Antonio?
# of Major San Antonio Airports: 1
San Antonio International Airport (SAT)
How to get to and from SAT
San Antonio International Airport (SAT) is an international airport in San Antonio, Texas. It is in Uptown Central San Antonio, about 10 miles north of downtown. SAT averages 260 daily departures and arrivals at its 24 gates.
Located under a 20 minute drive from Downtown San Antonio, it is quite easy to get to and from SAT. If you are flying in for a San Antonio Spurs game be sure to give yourself some added time before tip-off, traffic around any major airport can be unpredictable and you don't want to risk being late to the game!
Below are your best available options for how to get to Downtown San Antonio from SAT so you can start your sports getaway!
Public Transit: To get to downtown San Antonio from SAT a great option is taking the bus! VIA Metropolitan Transit runs from SAT daily, getting you to downtown San Antonio in only 30 minutes for a price of $1.30 USD. At SAT simply go to the Lower Roadway, on the Arrivals/Baggage Level in Terminal A and B, an walk across the marked crosswalk to the outer curb. Here you will find VIA's bus stop, located on the far West end of Terminal B. This bus stop is clearly marked and hard to miss. Then board VIA bus route 5 and you will be on your way!
Taxi: Numerous taxi companies service SAT. You can find available cabs at the outer commercial curbside at Terminal A. You can also find SAT Ground Transportation employees wearing red shirts here who can assist you in getting a ride. Getting to downtown San Antonio from SAT should range between $24 USD and $29 USD before gratuity. Taxi rates are all metered from SAT. With the drive to downtown San Antonio from SAT being under a 20 minutes without traffic, taking a taxi is always a convenient choice.
Sedan Service/Limo: There are numerous limousine and private car providers who service SAT. Limousine rates vary so if you want to proceed with this option we recommend pre-arranging your services to have your cost and other details already clearly communicated, but you can expect to spend anywhere between $60 and $90 USD for this relatively short drive. Pick-up is on the Commercial Outer Curb in front of Terminal A and B.
Rental Car: Be sure to ask your Elite Sports Tours representative to secure a rental car for you before your trip! There are several companies that service SAT with car rental counters being located in the lobby of the Consolidated Car Rental Facility. Simply take the elevator or escalator to the Mezzanine Level in Terminal B and cross the Sky Bridge to get there. The cost of your rental car will vary on the length of your trip and your car selection.
Ride Sharing: Uber, Lyft and Wingz are the only approved rideshare services at SAT. The cost of your ride would depend on a number of factors, so be sure to check the price and current surge rates before confirming your pick-up. Ride share passengers are picked up on the outer commercial curbside on the lower level of Terminal A.
Airport Shuttles: Some hotels surrounding SAT offer a free shuttle service. Be sure to ask your Elite Sports Tours representative about your hotel's shuttle service, if applicable. Hotel shuttles are located outside the SAT's baggage claim area. Pick-up times can be coordinated by communicating your flight information with your hotel via the SAT's courtesy phone in the baggage claim area.
Downtown San Antonio is so close to SAT that you really can't choose a bad option to get there. Our recommendations would all depend on your baggage. If you're in town for only a few nights, maybe to catch a San Antonio Spurs game, we would recommend taking Via bus route 5. For only $1.30 USD you'll get downtown only 10 minutes slower than you would taking a cab or an ride sharing service. Although, a cab or a ride sharing service would be a good choice if you have more baggage or if you are with a group of people willing to share the cost.
Airport (SAT) to Downtown San Antonio
Here is a list of options on how to get around in San Antonio:
Bike

San Antonio Bike Share

The best way to see the five Spanish missions is by biking on the Mission Reach Trail, a scenic 15-mile bike trail that runs along the river and connects all the missions





River Taxi

GO RIO river-taxi shuttles

Stops at locations long the Downtown Reach and Museum Reach sections of the River Walk





Scooter
Walking

The downtown core is very walkable, especially the areas around the River Walk. If you're in during the summer months, just be wary of the hot weather.





Bus

VIA

Regular bus service in San Antonio

Fare: $1.30, 15 cents for transfers

Requires exact change if not using the VIA goMobile app.

Day pass with unlimited use is $2.75





VIVA - Bus routes designed for tourists. All VIVA buses can be caught at Alamo Plaza. 3 routes available:


VIVA Culture Route (Buses 11, 11a, 11b)

Travels from downtown to the San Antonio Museum of Art, Japanese Tea Garden, San Antonio Zoo, Witte Museum, Brackenridge Park, Botanical Garden

VIVA Missions (Bus 40)

Travels from downtown to the four historic missions in the south

VIVA Centro (Bus 301)

Travels all around downtown, east and west side





Rideshare
Car Rental

Elite Sports Tours can assist you with a car rental reservation during your trip.





Taxis

Can be difficult to hail on the street, best to get one at a hotel.


These are some of the best transportation options when trying to figure out how to get around in San Antonio.