How to get around in St. Louis?

What are the best ways to get around in St. Louis?
How to get around in St. Louis? One of the most common question when traveling to a new city. Figuring out how to get around efficiently and cost effectively is important when traveling to a new city. Visiting a new city can be a ton of fun, but pricey if you don't know your way around. We have created a list of some of the most popular transportation options available in St. Louis during your sports trip. Plan the ultimate trip with the help of our travel experts and don't get caught unprepared when traveling to a new city!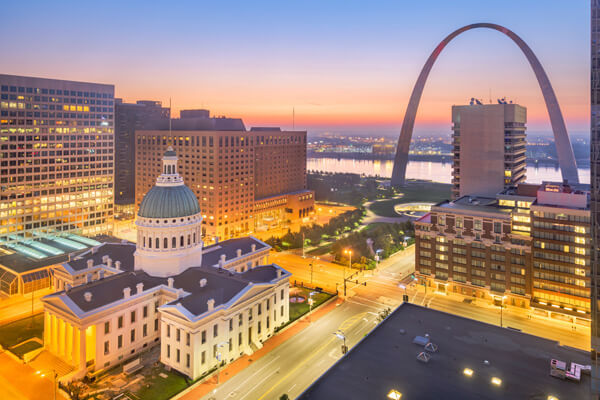 The best ways to get around St. Louis are either by car or by using MetroLink, the city's efficient light rail system. We would suggest using a combination of the two, by using the MetroLink in the core areas and using rideshare services to reach attractions that are removed from the main tourist areas. The trolleys are also a great option if you're just looking to see central sights or if you're heading down to the St. Louis Cardinals game.
How to get around in St. Louis?
# of Major St. Louis Airports: 1
St. Louis Lambert International Airport (STL)
How to get to and from STL
St. Louis Lambert International Airport (STL) is an international airport located 15 miles northwest of Downtown St. Louis in St. Louis County, between Berkeley and Bridgeton. One of the most historic airports in the United States, STL is named for Major Albert Bond Lambert who opened this airfield back in 1920. Major Lambert learned to fly with the Wright Brothers themselves.
Located only a 20 minute drive from Downtown St. Louis, it is quite easy to get to and from STL. If you are flying in for a St. Louis Cardinals or St. Louis Blues game be sure to give yourself some added time before the game starts, traffic around any major airport can be unpredictable and you don't want to risk being late to the game!
Below are your best available options for how to get to Downtown St. Louis from STL so you can start your sports getaway!
Light Rail (MetroLink): MetroLink is the St. Louis region's light rail system. MetroLink boasts 37 stations and stretches over 46 miles so you better believe it can get you where you need to go. The MetroLink station at Terminal 1 is at Exit Door 1 of the Ticketing Level, east of all of the ticket counters, and the MetroLink station at Terminal 2 can be found through the parking garage outside of Exit Door 12. The fare is only $4.00 USD for a one-way trip and tickets can be purchased through vendors, online or from ticket-vending machines. You will want to take the Red Line to Shiloh Scott, getting off at the Civic Center MetroLink Station. This trip only takes 30 minutes.
Public Transportation: STL boasts a "Bus Port", an area reserved to serve as the pickup location for all local MetroBus and Greyhound Bus Services. It is located just south of Terminal 1 on Lambert International Boulevard. The free shuttle from both Terminal 1 and 2 to this Bus Port can be found at Exit Door 12. You can also get to the Bus Port via the tunnel on the yellow level of the Terminal 1 Garage, outside of exit 16. A one way trip on the MetroBus currently costs $2.50 USD and you can pay directly on the bus. Be sure to check current rates before travelling if you are relying on this method to get into the city.
Taxi: There are a number of taxi companies that services STL, all of which are regulated by the Metropolitan Taxicab Commission. There are no flat rates and the exact fare depends on your destination, but each cab does charge an "airport use fee" of $4.00 USD per pick-up. You can find the taxi booth for assistance, as well as the taxi pick-up zones at Terminal 1 outside of Door 14 on the Yellow Level of the Garage, and at Terminal 2 outside out Door 12. You can expect a cab to run you around $30 and $40 USD for a one way trip that lasts 20 minutes without traffic.
Sedan Service/Limo: STL offers access to a number of local bus, limo, sedan and van services for customer pick-up. Depending on the supplier you choose and the car and level of service that you select, your rates will vary but you can expect to spend anywhere from $130 to $190 USD.
Rental Car: Be sure to ask your Elite Sports Tours representative to secure a rental car for you before your trip! Rental car counters in STL are located on the lower level of Terminal 1 between exit doors 12 and 17. National, Hertz and Enterprise, among other major car rental providers, have counters at STL while even more options are available off-site. A free shuttle service is provided 24/7 by all rental car companies to facilities off STL and you will be picked up at Terminal 1outside Exit 17 or at Terminal 2 outside Exit 12. The cost of your rental car will vary on the length of your trip and your car selection.
Ride Sharing: Lyft and Uber are the only ride-sharing apps that operate at STL. You can meet your driver at Terminal 1 Exit 6 on the Ticketing Level and at Terminal 2 Exit 15. The cost of your Lyft/Uber depends on a number of factors, so be sure to check the price on your app before confirming a ride.
Airport Shuttles: It may be possible that your hotel offers an airport shuttle service! Be sure to ask your Elite Sports Tours representative about your hotel's shuttle service, if applicable. Pick-up times can be coordinated by communicating your flight information with your hotel.
To get to Downtown St. Louis from STL we recommend taking the MetroLink. Not only is this method cost effective, but it is comparable in time to taking a cab or using a ride-sharing app such as Uber or Lyft, both of which are way pricier options. The MetroLink makes travelling through St. Louis easy and we wish all cities had such an efficient Light Rail system!
Airport (STL) to Downtown St. Louis
Here is a list of options on how to get around in St. Louis:

Light Rail - MetroLink

Red Line - Runs west to east, starting at Lambert Airport and runs further east than the Blue Line
Blue Line - Also runs west to east but runs further west than the Red Line

Both lines stop nearby popular downtown attractions, get off at 8th & Pine to see the Gateway Arch

Fare: $2.50 for adults, $1 for seniors and kids 5-12

Bus - MetroBus

More than 70 routes in the St. Louis area and on the Illinois side as well

If you don't want to rent a car or get an Uber to get to popular neighborhoods that MetroLink doesn't reach, MetroBus is your best bet.

Fare: $2 for adults, $1 for seniors and kids.



Trolley

Downtown Trolley

Runs daily every 20 minutes - stopping outside Busch Stadium and City museum, among other attractions

Forest Park Trolley

Seasonal trolley running in the summer

Fare: $2 adults, $1 seniors and kids, Includes unlimited rides



Bikeshare
Scooter
Rideshare
Car Rental

Elite Sports Tours can assist you with a car rental reservation during your trip.





Taxis

Can be difficult to hail on the street, best to get one at a hotel.


These are some of the best transportation options when trying to figure out how to get around in St. Louis.