How to get around in Cincinnati?

What are the best ways to get around in Cincinnati?
How to get around in Cincinnati? One of the most common question when traveling to a new city. Figuring out how to get around efficiently and cost effectively is important when traveling to a new city. Visiting a new city can be a ton of fun, but pricey if you don't know your way around. We have created a list of some of the most popular transportation options available in Cincinnati during your sports trip. Plan the ultimate trip with the help of our travel experts and don't get caught unprepared when traveling to a new city!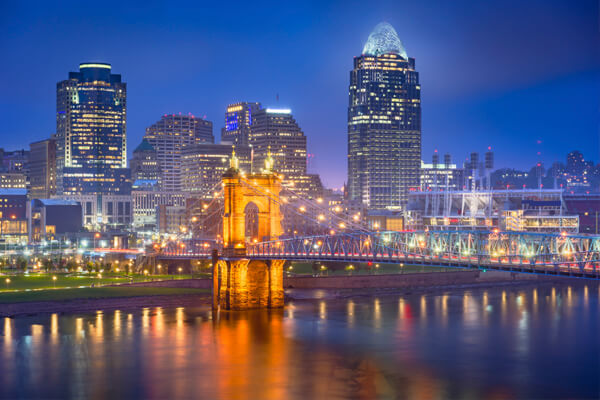 Cincinnati was named the best walking city in Ohio. Taking a taxi or uber is a close second for the most efficient way of getting around Cincinnati. Although they do offer public transportation in the forms of bus and streetcar. Depending on what you are looking to do, Cincinnati offers a variety of transportation options.
How to get around in Cincinnati?
Here is a list of options on how to get around in Cincinnati:
Streetcar

Cincinnati Bell Connector - The Cincinnati Bell Connector is a modern streetcar system offering a unique way to see all of the happenings in downtown Cincinnati. The 3.6 mile loop stops at popular destinations located in the Banks, the Central Business District, and Over-the-Rhine and runs every 12-15 minutes. Tickets are $1 for 2 hours or $2 for an all day pass. Purchase via the Cincy EZ Ride app or from vending machines at all streetcar stations. Free with Metro day pass or transfer.



Walking

Named the best walking city in Ohio, and the 20th most walkable city in the US. Explore unique neighbourhoods and the lively entertainment district. Or, traverse over one of the four pedestrian-friendly bridges that cross the Ohio river.



Bus

Southbank Shuttle - Easy access between Cincinnati and the riverfront cities of Covington and Newport in northern Kentucky. $1 per ride, and it makes stops near many popular attractions in Downtown and along the riverfront
Airporter - Fastest, easiest and least expensive way to get between downtown Cincinnati, Covington and the Cincinnati/Northern Kentucky International Airport. Just $2.



Rideshare
Bike/Scootershare

Red Bike - 50 easily accessible locations throughout Cincinnati and Northern Kentucky
Bird Scooters - Download the app
Lime-S Scooters - Download the app



Horse Drawn Carriages - Friday and saturday evenings you can find carriages stations near Fountain Square


Taxis

Can be difficult to hail on the street, best to get one at a hotel




These are some of the best transportation options when trying to figure out how to get around in Cincinnati.
Airport (CVG) to Downtown Cincinnati
# of Major Cincinnati Airports: 1
Cincinnati/Northern Kentucky International Airport (CVG)
How to get to and from CVG
Cincinnati/Northern Kentucky International Airport (CVG) is located in Hebron, Kentucky. The airport's code comes for the nearest city at the time of its opening Covington, Kentucky. CVG is a global hub for both Amazon Air and DHL Aviation so chances are if you have orders from Amazon before your packages make a stop at CVG.
Located only 14 miles from Downtown Cincinnati, which is about a 15-minute drive, it is quite easy to get to and from CVG. If you are flying in for a Cincinnati Reds, or a Cincinnati Bengals game be sure to give yourself some added time before the game(s), traffic around any major airport can be unpredictable and you don't want to miss being late to the game!
Below are your best available options for how to get to Downtown Cincinnati from CVG so you can start your sports getaway!
Taxi: Taking a cab from the airport to downtown Cincinnati may be your best bet in terms of convenience. There is a taxi stand located outside of Baggage Claim by Door 5. They offer flat rates to downtown Cincinnati for $34USD. Estimated fares may vary depending on your destination. Taxis are available 24 hours a day and handicap accessible vehicles can be reserved in advance. The ride to downtown will take 25 minutes one way. Taxi providers we suggest are Yellow Taxi Cincinnati, Towne Taxi, Riverfront, and Taxi Service
Ridesharing (Uber/Lyft): Another convenient way to get to downtown from CVG is ridesharing companies. Elite Sports Tours suggests Uber or Lyft. Fares estimates will be provided via the app. You can expect $26-$30 CAD one way. Something to keep in mind Uber X rides are cheaper than the taxi rates, usually. However, if you are interested in taking a different classification of Uber, you can expect to pay a little more. Keep in mind there is an airport surcharge fee for all rides to and from CVG. This is standard for ridesharing options during airport pick ups and drop offs. CVG does not have an Uber Stand, you will need to work with the driver after you call your Uber to confirm you pick up location.
Van & Car Service: There are car services available to pick you up at CVG and take you downtown, hotels, attractions, and other locations in Cincinnati. Walk ups are welcome however call to guarantee your reservation. Service available in Bag Claim via shuttle desks. Limo services available as well and you can even reserve a private coach for larger groups. Fare would be $26 to Downtown. We suggest arranging before you arrive. This will make your arrival smooth and you won't waste any time.
Rental Car: CVG offers a couple different car rental counters offering options from Enterprise, Hertz, Avis, and more. You will need to board a free, 24-hour shuttle from Bag Claim to the rental lots. Shuttles run every 5-10 minutes from Door 10. Renting a car is a great way to explore a city at your own pace. Keep in mind rates will vary depending on demand, the type of car you want, and how many days you need it. If you want to rent a car for your trip, get an Elite Sports Tours representative to add it to your package before your trip!
TANK (Buses): TANK is the Transit Authority of Northern Kentucky. TANK will bring you from CVG to downtown, daily from 5am to midnight. You can catch the bus from the east end of Bag Claim. Public Transit is a very reasonable price ($3 USD) option however it can take much longer to get to your downtown. On average it will take around 30 minutes depending on the time of day. This is more than double the amount of time then some of the other options listed. For more information on departure times visits "TANK" website.
For getting to Downtown Cincinnati from CVG we recommend either taking an Uber or the Taxi. Uber is an ever-reliable option. It is your most efficient choice and the cost is very reasonable. With that said if you feel more comfortable using a taxi because you aren't familiar with ridesharing services then that would work as well. The choice is yours.