How to get around in Las Vegas?

What are the best ways to get around in Las Vegas?
How to get around in Las Vegas? One of the most common question when traveling to a new city. Figuring out how to get around efficiently and cost effectively is important when traveling to a new city. Visiting a new city can be a ton of fun, but pricey if you don't know your way around. We have created a list of some of the most popular transportation options available in Las Vegas during your sports trip. Plan the ultimate trip with the help of our travel experts and don't get caught unprepared when traveling to a new city!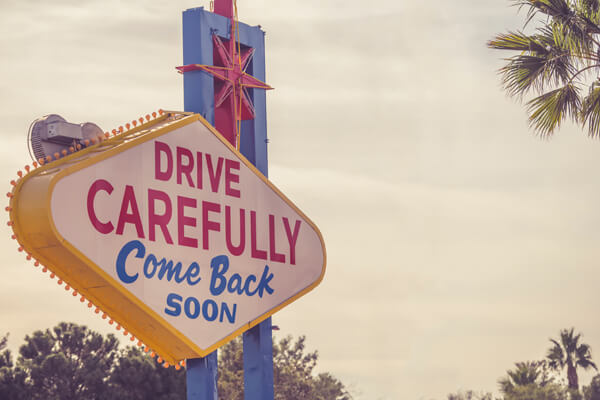 There are a lot of great options for getting around Vegas. If you're staying on the strip, walking or The Deuce are great options. The Las Vegas Monorail is also an excellent option to get up and down the strip. Taxi lines are available outfront of hotels, in additional to rideshare pickup locations.
How to get around in Las Vegas?
Get your steps in! The Las Vegas Strip is full of interesting people watching and a tons of entertainment. Walking is the most popular way to get around in Las Vegas for shorter distances. Here is a list of options on how to get around in Las Vegas:
Walking

Although the length of the strip is 4.2 miles long, you might not even realize how far you're walking.

Plenty of pedestrian walkways and bridges that allow you to get from property to property

Lots of walkable underground areas



Light Rail

Las Vegas Monorail

Makes 7 stops along the Las Vegas Strip

MGM Grand

Bally's/Paris

Flamingo/Caesars Palace

Harrah's/The LINQ Hotel

The Las Vegas Convention Center

Westgate

SAHARA Las Vegas

Fare: Single ride is $5, day pass for $13. Day passes for up to 7 days are available.
Keep in mind the Monorail does not run all night, so if you're out late plan ahead.



Bus

The Deuce - Las Vegas' public transportation. 2 main routes tourists should know: The Deuce on the Strip, and the SDX (Strip and Downtown Express)

Deuce on the Strip stops at or around most properties that are on the strip

SDX has 21 stops departing from Grand Central and ending in South Strip Terminal Bay 3.



Ridesharing
Taxis

Can be difficult to hail on the street, best to get one at a hotel. Taxi lines are available outfront of most hotels.





These are some of the best transportation options when trying to figure out how to get around in Las Vegas.
Airport (LAS) to Downtown Las Vegas
# of Las Vegas Airports: 1
McCarran International Airport
How to get to and from the McCarran International Airport (LAS)
McCarran International Airport (LAS) is one of the largest airports within United States and the most commonly used for tourists traveling to Las Vegas. This international airport is one of the busiest in the United States serving 51,537,638 passengers in 2019.
Located along the famous Las Vegas Strip, this airport is just under a 3 mile drive from some of the famous hotels along the strip, it is extremely easy to get to and from LAS. If you are flying in for a Golden Knights or Raiders game be sure to leave your self-plenty of time, traffic around any major airport can be unpredictable and you don't want to miss being late to the game!
Below are your best available options for how to get to the Las Vegas Strip from LAS so you can start your sports getaway!
∙ Taxi: Taking a cab from the airport to the strip may be your best bet in terms of convenience. LAS has curbside taxi lines that are organized by the airport staff. Taxis from LAS are priced by the meter with and generally cost around $20 USD, but it is just a 10 minute drive and which generally helps keep the cost down, depending on traffic of course. Taxis are located outside of doors 1-4 at Terminal 1 and you can find them at Terminal 3 on Level Zero. Keep in mind taxis can be of high demand in Las Vegas depending on the time there for you could potentially be in for a little wait.
∙ Sedan Service/Limo: There are various limousine companies that service LAS. You pay for the added luxury of riding in a limo in Las Vegas, with an average trip to the strip from the LAS costing $40.00 USD. The companies have options at your disposal including classic limos, sedans, SUVs and buses. Similar to a cab this option is just a 10 minute drive to the Las Vegas Strip, of course dependant on traffic. A limousine service is a great option for groups that are flying into LAS and need to get downtown with a premium style experience. Also, LAS has walk up limos available at terminal 1 and 3 which generally have low wait times.
∙ Rental Car: Be sure to ask your Elite Sports Tours representative to secure a rental car for you before your trip! LAS offers eleven different car rental options, including Enterprise, Budget and National. Though keep in mind if you don't plan on leaving the strip you likely don't require a rental car as everything is within distance while in Las Vegas.
∙ Ride Sharing: Both ride sharing giants Uber & Lyft service LAS to the Las Vegas Strip. Ride sharing combines ease with affordability making for a perfect option when choosing how to head to the strip from the airport. The ride takes just 10 minutes and you can expect it to cost from $10 to $15 USD, though this of course can vary dependant on time of day, etc. Pick up locations for ride sharing are at Terminal 1 & 2, Level 2M at 1 and the Valet Level at 2.
∙ Airport Shuttles: Las Vegas has plenty of shuttles that will take you from LAS to your hotel along the strip. Shuttles generally run you a one way fee of $7.00 USD which makes it the cheapest option for getting to you hotel. Though with it being your cheapest option comes some down fall, the strip shuttles are your slowest option as the tend to have long waits and make multiple stops along the strip.
For getting to the strip in Las Vegas from LAS we recommend taking an Uber or Lyft. The new way of transportation offers you ease of service combined with affordability. Another amazing money saving way to get to the strip is one of their strip hotel shuttles.