How to get around in Vancouver?

What are the best ways to get around in Vancouver?
How to get around in Vancouver? One of the most common question when traveling to a new city. Figuring out how to get around efficiently and cost effectively is important when traveling to a new city. Visiting a new city can be a ton of fun, but pricey if you don't know your way around. We have created a list of some of the most popular transportation options available in Vancouver during your sports trip. Plan the ultimate trip with the help of our travel experts and don't get caught unprepared when traveling to a new city!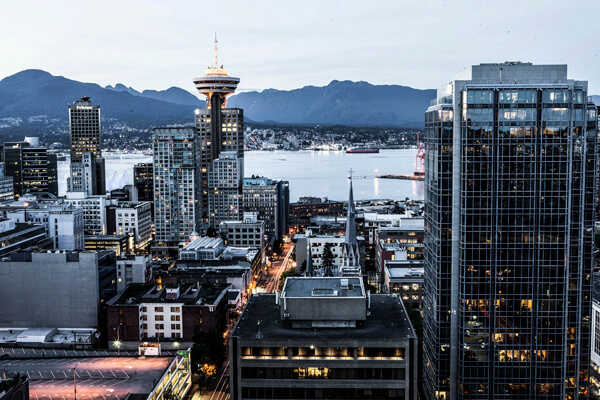 Walking or driving is the easiest and most efficient way of getting around Vancouver if you are staying downtown. The downtown core is compact, scenic, historic, and very safe. Although they do offer public transportation in the forms of bus and the SkyTrain, many of their attractions are spread out. Depending on what you are looking to do, Vancouver offers a variety of transportation options.
How to get around in Vancouver?
# of Major Vancouver Airports: 1
Vancouver International Airport (YVR)
How to get to and from YVR
Vancouver International Airport (YVR) is an international airport in Richmond, British Columbia. YVR is the second busiest airport in Canada by aircraft movements and by passengers annually, behind only Toronto's Pearson International Airport.
Located 12 km from Downtown Vancouver, YVR is just over a 20 minute drive away from the city centre. If you are flying in for a Vancouver Canucks game be sure to give yourself some added time before puck drop, traffic around any major airport can be unpredictable and you don't want to risk being late to the game!
Below are your best available options for how to get to Downtown Vancouver from YVR so you can start your sports getaway!
Public Transit: Vancouver offers the Canada Line, a rapid transit rail that connects YVR with the downtown core. This trip takes under 30 minutes and trains are accessible from both the International and Domestic Terminals. If you get lost just look for a Green Coat volunteer that are always located throughout the terminals, they'll happily point you towards the Canada Line.

All transit users travelling on the Canada Line leaving YVR are subject to a $5 Canada Line YVR AddFare in addition to the regular zone fare. AddFare is automatically added when a user purchases a fare card.

The fare from YVR to Vancouver is $9 CAD, less for seniors and children. Fares may be paid in cash or by credit/debit card, and the ticket can be used for 90 minutes to transfer to buses and other Vancouver Skytrain stations.
Taxi: Cabs are available at taxi stands located on Level 2 of the Domestic and International Arrivals Area at YVR. Zone fares apply from YVR to specified zones, costing $32 CAD to get to downtown Vancouver. This drive is only 20 minutes without traffic so this option is very un-intimidating at first, but Vancouver is famous for their gridlock traffic.
Sedan Service/Limo: Aerocar Service is YVR's only licensed sedan and limousine provider. They offer your choice of luxury sedans, stretch SUV's or limos. You can either request a curbside walkout service where your car will be waiting for you outside of the international and domestic terminal building or you can request their "meet and greet" service for an additional $50.00 CAD. Taking a sedan to downtown Vancouver from YVR costs $53.00 CAD with curbside pickup.
Rental Car: Be sure to ask your Elite Sports Tours representative to secure a rental car for you before your trip! Cost of your rental car will vary on the length of your trip and your car selection. YVR offers multiple car rental facilities just steps from their terminal on the ground floor of the parkade. Available companies include National, Alamo and Budget.
Ride Sharing: Both Lyft and Uber are authorized ride-share providers that service YVR. There are three designated pick up areas at YVR. Outside of both international and domestic arrivals on level 2 and at the south terminal.
Airport Shuttles: Your hotel may offer a complimentary shuttle service to and from YVR for their guests. Be sure to ask your Elite Sports Tours representative about your hotel's shuttle service, if applicable. Pick-up times can be coordinated by communicating your flight information with your hotel or by request a hotel shuttle bus with the direct dial phones located on Departures Level 3 of both the International and Domestic Terminals. Shuttle pick-up and drop-off areas are located outside of Departures Level 3 International Terminal near the transborder check in area and outside the Departures Level 3 Domestic Terminal.
We recommend taking the Canada Line to get to Downtown Vancouver. Free shuttles from downtown properties are rare, but this minimal $9 CAD fee is very easy to swallow. The guaranteed ride of under 30 minutes is a lot easier to plan for as well when compared to being stuck in a cab or Uber in Vancouver traffic.
Airport (YVR) to Downtown Vancouver
Here is a list of options on how to get around in Vancouver:

Ferries

BCFerries - Main transportation system between Vancouver and the nearby islands.
Aquabus - False Creek. Departs from the bottom of Hornby Street, Science World, David Lam Park, Yaletown at the Marina, the Plaza of Nations Casino, Olympic Village and Granville Island.
Seabus - a 12 minute passenger-only ferry the Burrard Inlet that separates downtown Vancouver from the North Shore



BUS - TransLink


SkyTrain - Transports you from the airport to downtown Vancouver in 26 minutes. Best value for speed, convenience and price. Tickets are available for purchase at the airport before you board the train.


Bikeshare

Mobi by Shaw Go. Vancouver has miles of bike lanes and pathways



Rideshare
Car Rental

Elite Sports Tours can assist you with a car rental reservation during your trip.





Taxis

Can be difficult to hail on the street, best to get one at a hotel.


These are some of the best transportation options when trying to figure out how to get around in Vancouver.