How to get around in Columbus?

What are the best ways to get around in Columbus?
How to get around in Cleveland? One of the most common question when traveling to a new city. Figuring out how to get around efficiently and cost effectively is important when traveling to a new city. Visiting a new city can be a ton of fun, but pricey if you don't know your way around. We have created a list of some of the most popular transportation options available in Cleveland during your sports trip. Plan the ultimate trip with the help of our travel experts and don't get caught unprepared when traveling to a new city!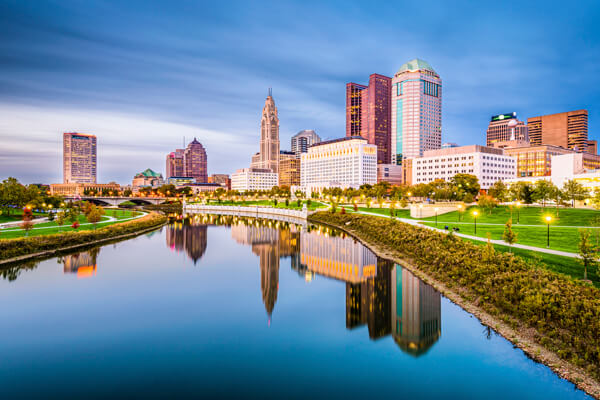 Driving is the easiest and most efficient way of getting around Columbus. Although they do offer public transportation in the forms of bus, you will need to plan what route to take based on the attraction. Depending on what you are looking to do, Columbus offers a variety of transportation options.
How to get around in Columbus?
Here is a list of options on how to get around in Columbus:


Bus

COTA

Provides bus service throughout the greater Columbus region

Many routes run every 15 minutes or less, 7 days a week

Offers commuter service for Franklin County and parts of Delaware, Fairfield, Locking and Union Counties


CBUS

Free downtown circulator bus

Every 10-15 minutes

Hop on and off at multiple stops in the heart of downtown


AirConnect

Service from the John Glenn Columbus International Airport to downtown

Runs every 30 minutes


Bike

CoGo Bike Share
Yay Bikes!



Scooter
Pedicab



Rideshare

Free Ride
Uber
Lyft
ZipCar



Taxis

Can be difficult to hail on the street, best to get one at a hotel




These are some of the best transportation options when trying to figure out how to get around in Columbus.
Airport (CMH) Downtown Columbus
# of Major Columbus Airports: 1
John Glenn Columbus International Airport (CMH)
How to get to and from CMH
John Glenn Columbus International Airport (CMH), CMH stands for "Columbus Municipal Hangar". CMH provides 148 non-stop flights to 31 airports via 9 airlines daily. It commonly used by tourists visiting the city of Columbus, as the airport is primarily a passenger airport.
Located only 6 miles from Downtown Columbus, which is about a 10-minute drive, it is quite easy to get to and from CMH. If you are flying in for a Columbus Blue Jackets or a Ohio State Buckeyes game be sure to give yourself some added time before the game(s), traffic around any major airport can be unpredictable and you don't want to miss being late to the game!
Below are your best available options for how to get to Downtown Columbus from CLE so you can start your sports getaway!
Bus: The Central Ohio Transit Authority (COTA) offers bus transportation direct from airport to downtown. Bus fare is only $2.75 USD making it the easy and most affordable way to get downtown from CMH. It is only 18 minutes to downtown because it is direct with no additional stops. The bus is called AirConnect, and service runs every 30 minutes. You can find the pick up location right next to the taxi stand on the ground level of the terminal. Once you reach downtown you can transfer from AirConnect to the rest of the bus lines around the city. You can even connect to the free CBUS that will bring you the Brewery District and other attractions around the city!
Taxi: Taking a cab from the airport to downtown Columbus may be your best bet in terms of convenience. There is a queue of taxi located on the ground transportation level of the terminal, 24 hours a day Estimated fares may vary depending on your destination however it will usually cost $25 USD to get to downtown. The ride to downtown will take 10 minutes one way. Keep in mind there is an airport surcharge fee of $4 USD for all rides to and from CMH. This is standard for most airports across North America.
Ridesharing (Uber/Lyft): Another convent way to get to downtown from CMH is ridesharing companies. Elite Sports Tours suggests Uber or Lyft. Fares estimates will be provided via the app. You can except $18-$21 CAD one way. Something to keep in mind Uber X rides are cheaper than the taxis rates, usually. However, if you are interested in taking a different classification of Uber, you can except to pay a little more. CMH do not have an Uber Stand; you will need to work with the driver after you call your Uber to confirm you pick up location. Keep in mind there is an airport surcharge fee of $4 USD for all rides to and from CMH. This is standard for most airports across North America.
Limo/ Town Car Service: There are limo/town car services available to pick you up at CMH and take you downtown. However, this is something you will need to arrange before you arrive. There are multiple local limo/town car services in Columbus so be sure to read the reviews to make the best decision for you. You must call your service once you have claimed your luggage. They will provide you with a license plate number. You will have to wait between 5-10 minutes for the vehicle to get to the designated pickup location depending on traffic. If you have a service that Drivers will meet you in Baggage claim, they can park close to the terminal. The Driver can assist with luggage and take you directly to their vehicle. The estimated price will be between $95-$140 CAD. This is used by business travelers or larger groups such as bachelor parties.
Rental Car: CMH offers a couple different car rental counters offering options from Enterprise, Hertz, Avis, and more. They have 8 in total. Their check in counters are located on the ground floor of the parking garage. This way you aren't fighting the weather when you are getting your rental car. Renting a car is a great way to explore a city at your own pace. Keep in mind rates will vary depending on demand, the type of car you want, and how many days you need it. If you want to rent a car for your trip, get an Elite Sports Tours representative to add it to you package before your trip!
For getting to Downtown Columbus from CMH we recommend either taking an Uber or the AirConnect. Uber is an ever-reliable option. It is your most efficient choice and the cost is very reasonable. With that said our number one option is the AirConnect, it is only $2.75 USD and it doesn't take much longer than an Uber because it takes you from CMH to downtown with no additional stop. Making it the easiest and most affordable option on this list. The choice is yours.