How to get around in Minnesota?

What are the best ways to get around in Minnesota?
How to get around in Minnesota? One of the most common question when traveling to a new city. Figuring out how to get around efficiently and cost effectively is important when traveling to a new city. Visiting a new city can be a ton of fun, but pricey if you don't know your way around. We have created a list of some of the most popular transportation options available in Minnesota during your sports trip. Plan the ultimate trip with the help of our travel experts and don't get caught unprepared when traveling to a new city!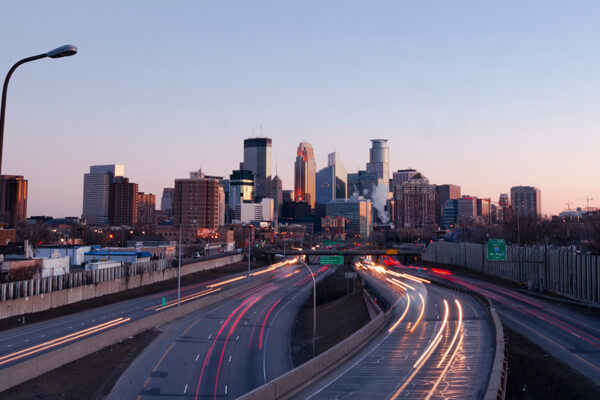 Minneapolis is home to great public transit. With a variety of different public transport modes available, including bus, bikeshare, and the light rail, cars are not necessary for a nice trip spent exploring the many neighborhood of Minneapolis. Furthermore, Minneapolis is a very walkable city. The Minneapolis Skyway, a system of enclosed heated walkways, allows visitors to meander the dense areas of town.
How to get around in Minnesota?
Here is a list of options on how to get around in Minnesota:


Minneapolis SkyWay

As each skyway is owned by the buildings they connect, they do not have uniform opening and closing times. Keep this in mind when making evening plans.

If you're lost, don't be afraid to ask someone who appears to be walking confidently for help. Skyway mastery is a point of pride for many Minnneapolitans.

Free bathrooms on skyway level are rare. Plan ahead.





Bikeshare - Nice Ride, a non-profit bike sharing system. Simply take a bike, and return it to any station in the system when you arrive at your destination. Passes can be purchased at any of the Nice Ride stations around the city. $2 for 30 minutes, $6 for 24 hours.


Rideshare

Zipcar - online or via the mobile app for a couple of hours or the whole day. Gas and insurance included.
Uber
Lyft



Light-Rail - Although it's still growing, the light-rail is an efficient public transit option. There are three lines, the blue line, the green line and the red line. The blue line offers service between the Mall of America and Target Field; the red line travels along Cedar Avenue, providing Bus Rapid Transit between the suburb of Apple Valley (where the Minnesota Zoo is located) and the Mall of America; the green line operates between downtown Minneapolis and St. Paul. It costs $2 normally and $2.50 during rush hours (6 to 9 a.m. and 3 to 6:30 p.m.). There is a "Downtown Zone" fare for only 50 cents, which allows you to travel on a bus or the light rail within central Minneapolis and St. Paul. Day and week unlimited passes for both the bus and train are also available.


Taxis

Can be difficult to hail on the street, best to get one at a hotel.


These are some of the best transportation options when trying to figure out how to get around in Minnesota.
Airport (MSP) to Downtown Minneapolis
# of Minneapolis Airports: 1
Minneapolis-Saint Paul International Airport (MSP
How to get to and from the Minneapolis-Saint Paul International Airport (MSP)
Minneapolis-Saint Paul International Airport (MSP) is the largest airport within the state of Minnesota and the most commonly used for tourists traveling to the Minneapolis area. This international airport is one of the busiest in the country serving 39,555,036 passengers in 2019.
Located just 10 miles south of Downtown Minneapolis, it is quite easy to get to and from MSP. If you are flying in for a sporting event be sure to leave your self-plenty of time, traffic around any major airport can be unpredictable and you don't want to be late to the game!
Below are your best available options for how to get to downtown Minneapolis from MSP so you can start your sports getaway!
∙ Light Rail Transit: You can get to downtown Minneapolis by taking the Metro Transit Light Rail: Blue Line. Your total transportation time is 30 minutes, making it a little longer than alternative routes. Though with that being said, the train would cost you only $2 - $2.50 USD. Therefore though it will be the longest transportation option it will be the cheapest by a large margin. Trains run every 15 to 30 minutes making them a great option. You can access the train at either the Terminal 1 platform located via a tram to the LRT Station or the Terminal 2 platform located near ticketing to the Orange Ramp skyway.
∙ Public Transit: You can also get to downtown Minneapolis by bus, along the Metro Transit Route 54. Your total transportation time is about 25 minutes. The bus would cost you only $2 - $2.50 USD. Keep in mind being that it is a city bus service there wouldn't be that much room for luggage. If you wanted to take this method of transportation it can only be accessed at Terminal 1. Therefore, if you arrive at Terminal 2 you would need to take the light rail train over to Terminal 1.
∙ Taxi: Taking a cab from the airport to downtown Minneapolis may be your best bet in terms of convenience. Taxis from MSP are priced by the meter, but it is just a 15 minute drive and generally costs between $39 - $49 USD, depending on traffic of course. Minneapolis has plenty of individual cab companies, which help make getting a cab an easy task. Though with that being said it is recommended that you call a company ahead of time to avoid the hassle of flagging one down. Taxis can be found at the Ground Transport Center, where you will find the taxi starter booth.
∙ Rental Car: Be sure to ask your Elite Sports Tours representative to secure a rental car for you before your trip! MSP offers many different car rental options, including Enterprise, Budget and National. The rental car companies can be located at the Ground Transportation Center.
∙ Ride Sharing: Both ride sharing giants Uber & Lyft service MSP to downtown. Ride sharing combines ease with affordability making for a perfect option when choosing how to head to Minneapolis from the airport. The ride takes just 15 minutes and you can expect it to cost from $20 to $40 USD, though this of course can vary depending on time of day, etc. If you are going to request a ride from Uber or Lyft, you will find them located at the Ground Transport Center, either at level 2 of the Green Parking Ramp or ground level of the Purple Parking Ramp.
∙ Airport Shuttles: There are various hotel in Downtown Minneapolis that offer a complimentary shuttle service to and from MSP for their guests. Be sure to ask your Elite Sports Tours representative about your hotel's shuttle service, if applicable. Pick-up times can be coordinated by communicating your flight information with your hotel.
For getting to Downtown Minneapolis from MSP we recommend taking an Uber or Lyft. The new way of transportation offers you ease of service combined with affordability. Alternatively, you are looking to save some money along with having a stress free commute consider the Light Rail Train.