How to get around in Nashville?

What are the best ways to get around in Nashville?
How to get around in Nashville? One of the most common question when traveling to a new city. Figuring out how to get around efficiently and cost effectively is important when traveling to a new city. Visiting a new city can be a ton of fun, but pricey if you don't know your way around. We have created a list of some of the most popular transportation options available in Nashville during your sports trip. Plan the ultimate trip with the help of our travel experts and don't get caught unprepared when traveling to a new city!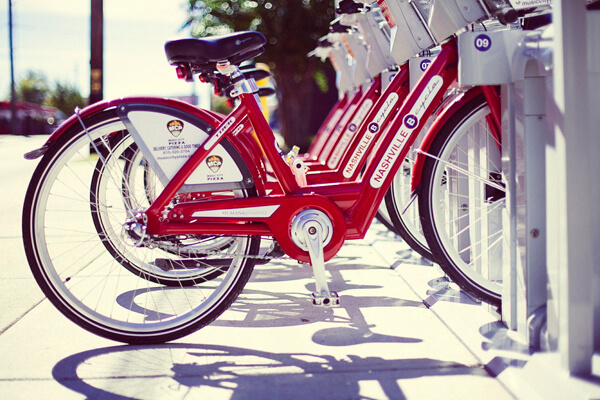 The best way to get around Nashville would be by car, whether it's a rental or if you're using rideshare services such as Uber or Lyft. This is because many of Nashville's attractions are too spread out to walk between, and Nashville's bus system is better suited for the residents commuting to work rather than the tourists. If you're just in Nashville to see the main area or go to a Tennessee Titans or a Nashville Predators game, the downtown area is certainly walkable with most destinations being within a mile of one another.
How to get around in Nashville?
Here is a list of options on how to get around in Nashville:


Car

Finding parking in the city isn't bad. Use Park It! Downtown app which provides information on parking in Downtown Nashville.





Bus

MTA

Music City Circuit

Free bus service running 3 routes through the downtown Nashville corridor every 10-15 minutes. It's possible to see many popular attractions this way.





Trolley

Music City Trolley Hop

1-Hour fully narrated tour with the option to hop off at any of the 7 attractions.

Starts from 2nd and Broadway at the Hard Rock Cafe





Bike

B-Cycle
Nashville GreenBikes



Scooters
Rideshare
Taxis

Can be difficult to hail on the street, best to get one at a hotel.


These are some of the best transportation options when trying to figure out how to get around in Nashville.
Airport(BNA) to Downtown Nashville
# of Nashville Airports: 1
Nashville International Airport (BNA)
How to get to and from the Nashville International Airport (BNA)
Nashville International Airport (BNA) is one the largest airports within the state of Tennessee and the most commonly used for tourists traveling to Nashville. This international airport is one of the busiest in Tennessee serving 18,273,434 passengers in 2019.
Located just 8 miles from Downtown Nashville, it is quite easy to get to and from BNA. If you are flying in for a Nashville Predators or Tenessee Titans game be sure to leave your self-plenty of time, traffic around any major airport can be unpredictable and you don't want to be late to the game!
Below are your best available options for how to get to Downtown Nashville from BNA so you can start your sports getaway!
∙ Public Transit: You can get to downtown Nashville by bus, along the line 18 bus. Your total transportation time is about 25 minutes. The bus would cost you just $3 USD, making it by far the cheapest option though that is balanced with a longer commute. Keep in mind being that it is a city bus service there wouldn't be that much room for luggage. If you wanted to take the bus, the pickup location is found at the Ground Transportation Center, on level 1 of the Terminal Garage.
∙ Taxi: Taking a cab from the airport to downtown Nashville may be your best bet in terms of convenience. Taxis from BNA do offer a fixed rate to downtown Nashville of $25 USD, and it is roughly a 15 - 20 minute drive, depending on traffic of course. Nashville is serviced by ten individual companies, which help make getting a cab an easy task. Though with that being said it is recommended that you call a company ahead of time to avoid the hassle of flagging one down. Taxis can be found at the Ground Transportation Center which is located on Level 1 on the terminal garage.
∙ Sedan Service/Limo: BNA is serviced by 25 different limousine companies. You pay for the added luxury of riding in a limo in Nashville. The companies have options at your disposal including classic limos, sedans, SUVs and buses. Similar to a cab this option is just a 15 – 20 minute drive to downtown Nashville, of course depending on traffic.
∙ Rental Car: Be sure to ask your Elite Sports Tours representative to secure a rental car for you before your trip! BNA offers ten different car rental options, including Enterprise, Budget and National. The rental car companies can be located at the Rental Car Facility which is across from the Valet Drop-Off area.
∙ Ride Sharing: Both ride sharing giants Uber & Lyft service BNA to downtown. Ride sharing combines ease with affordability making for a perfect option when choosing how to head to Nashville from the airport. The ride takes just 15-20 minutes and you can expect it to cost from $16 to $20 USD, though this of course can vary depending on time of day, etc. If you are going to request a ride the companies can be found at the Ground Transportation Center, Lyft picks up in Ride App Zone A and Uber picks up in Ride App Zones B & C.
∙ Airport Shuttles: There are various hotel in downtown Nashville that offer a complimentary shuttle service to and from BNA for their guests. Be sure to ask your Elite Sports Tours representative about your hotel's shuttle service, if applicable. Pick-up times can be coordinated by communicating your flight information with your hotel.
For getting to downtown Nashville from BNA we recommend taking an Uber or Lyft. The new way of transportation offers you ease of service combined with affordability. Alternatively, you are looking to save some money, the line 18 bus is a great option as well.