How to get around in Pittsburgh?

What are the best ways to get around in Pittsburgh?
How to get around in Pittsburgh? One of the most common question when traveling to a new city. Figuring out how to get around efficiently and cost effectively is important when traveling to a new city. Visiting a new city can be a ton of fun, but pricey if you don't know your way around. We have created a list of some of the most popular transportation options available in Pittsburgh during your sports trip. Plan the ultimate trip with the help of our travel experts and don't get caught unprepared when traveling to a new city!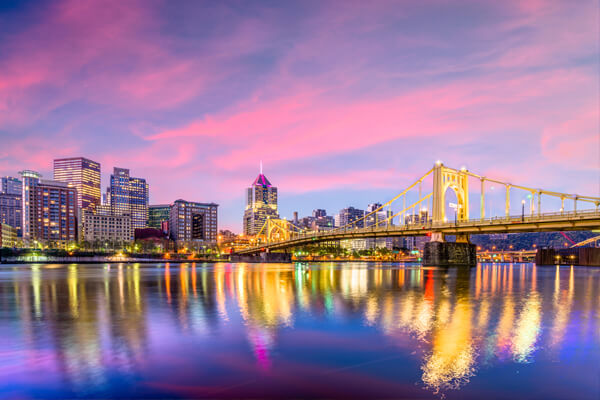 Driving is the easiest and most efficient way of getting around Pittsburgh. Although they do offer public transportation in the forms of bus and rail, many of the attractions can be spread out. Depending on what you are looking to do, Pittsburgh offers a variety of transportation options.
How to get around in Pittsburgh?
# of Major Pittsburgh Airports: 1
Pittsburgh International Airport (PIT)
How to get to and from PIT
Pittsburgh International Airport (PIT) is an international airport in Moon Township, Pennsylvania located about 20 miles west of downtown Pittsburgh. PIT is the primary airport for the Greater Pittsburgh Region and the second-busiest airport in the state, after Philadelphia International Airport.
Located around a 20 minute drive from Downtown Pittsburgh, it is quite easy to get to and from PIT. If you are flying in for a Pittsburgh Steelers, Pittsburgh Pirates or Pittsburgh Penguins game be sure to give yourself some extra time, traffic around any major airport can be unpredictable and you don't want to risk being late to the game!
Below are your best available options for how to get to Downtown Pittsburgh from PIT so you can start your sports getaway!
Public Transit: The Port Authority of Allegheny County offers service to PIT via the West Busway, the 28X Airport Flyer. This route runs to and from PIT to Downtown Pittsburgh with a new bus arriving approximately every 30 minutes outside of Baggage Claim Door #6. If you have a ConnectCard or ConnectTix you will be able to pay a discounted fare of $2.50 USD per ride, whereas customers paying cash will be charged $2.75 USD at the farebox. ConnectCards may be purchased in Baggage Claim next to Door #6. The bus takes around 50 minutes to get to downtown Pittsburgh.
Taxi: PIT is serviced by a number of approved taxi companies so you can feel comfortable in taking a cab to downtown Pittsburgh. You can expect to pay north of $40 USD for this drive but being only 20 minutes long without traffic, you really can't complain. To grab a taxi head to the lower level of the landside terminal and exit through the commercial doors. Here you'll see the taxi stand area on the curb.
Sedan Service/Limo: PIT offers a variety of different limousine, shuttle and private town car services to help get you to downtown Pittsburgh. We always recommend pre-arranging this service, that way you can truly take advantage of all of its benefits. This way you can also predetermine your cost, pick-up location and pick-up time. You can expect to pay a minimum of $70 USD for this 20+ minute drive, depending on the level of service and the car you request. Typically you meet your Chauffeur in the Baggage Claim Area near the Rental Counters.
Rental Car: Be sure to ask your Elite Sports Tours representative to secure a rental car for you before your trip! PIT offers car rental providers such as Alamo, Avis, Budget, Dollar, Enterprise, Hertz and National with rental counters being on the Baggage Claim level of the Landside Terminal. Rental car pick-up and return areas are located on the first level of the parking garage. The cost of your rental car will vary on the length of your trip and your car selection.
Ride Sharing: Only two ride-share companies service PIT – Lyft and Uber. After ordering your ride meet your driver outside of Baggage Claim Door #4 at the Commercial Arrivals Curb. Be sure to double check your price before confirming as a taxi may be your better bet if surge pricing is high!
Airport Shuttles: Be sure to ask your Elite Sports Tours representative about your hotel's shuttle service, if applicable. Pick-up times can be coordinated by communicating your flight information with your hotel. Your shuttle should meet you at the exit through commercial doors on the lower level of the landside terminal, but be sure to confirm that with your driver.
Unless you are staying in an airport property, chances are your hotel doesn't offer a free airport shuttle. If you're travelling to Downtown Pittsburgh from PIT we recommend checking your ride share app to start and if the price is high on that, head to the taxi stand area and take a cab. Although public transit is another great option that would save you money, we think it is worth paying a little more upfront to get your trip started earlier and on a better note.
Airport (PIT) to Downtown Pittsburgh
Here is a list of options on how to get around in Pittsburgh:
Walking - Pittsburgh is an excellent walking city. Walkers can reach one end of Downtown to the other in 25 minutes or less. Furthermore, many of Pittsburgh's top attractions are within walking distance to one another.

Three Rivers Heritage Trail - a pedestrian system of 24 miles of riverfront trails providing access to neighborhoods, business districts and attractions. It crosses both the Fort Pitt and Fort Duquesne Bridges with dedicated pedestrian walkways.



Biking
Scooter
Public Transit - Port Authority of Allegheny County

All of Pittsburgh's public transit are connected to Google Maps, if you type in your destination it will easily give you all of the options available for public transit, along with their times

Fares are $2.50 one way with a ConnectCard or $2.75 with cash.




Bus

97 different routes.

Port Authority suggests finding your destination first then working backwards from the arrival time you want, to determine when to board.





Light Rail/Subway - Used by many commuters, the 26.2-mile T light-rail system runs from the south suburbs and becomes a subway Downtown, then tunnels under the Allegheny River to the North Shore, where it stops at the baseball and football stadiums and Rivers Casino. You can ride around Downtown and the North Shore for free.

53 Stations along the Red Line and Blue Line





Incline - Cable cars running every 15 minutes between Mt. Washington and Station Square. One-way fare is the same as Port Authority, however round trip is $3.50 with a ConnectCard or $5.25 with cash. This ride provides beautiful views of the city.

Monongahela Incline (aka Mon Incline)
Duquesne Incline



Rideshare
Car Rental

Elite Sports Tours can assist you with a car rental reservation during your trip. One of the more efficient ways to get around without racking up huge fees.





Taxis

Can be difficult to hail on the street, best to get one at a hotel.


These are some of the best transportation options when trying to figure out how to get around in Pittsburgh.