How to get around in Raleigh?
What are the best ways to get around in Raleigh?
How to get around in Raleigh? One of the most common question when traveling to a new city. Figuring out how to get around efficiently and cost effectively is important when traveling to a new city. Visiting a new city can be a ton of fun, but pricey if you don't know your way around. We have created a list of some of the most popular transportation options available in Raleigh during your sports trip. Plan the ultimate trip with the help of our travel experts and don't get caught unprepared when traveling to a new city!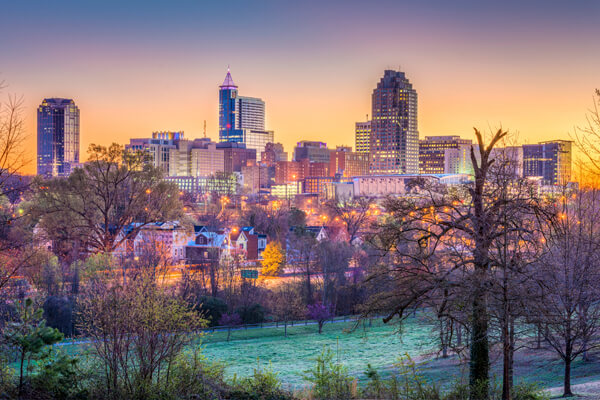 We recommend the use of a car when in Raleigh just because driving in the city isn't too difficult and there is ample parking whether it's in garages, lots or metered on the street. Plus, it'll give you the freedom to explore the city and its surroundings on your own clock. If driving isn't an option for you, their bus line called the R-LINE is free and circulates the downtown area.
How to get around in Raleigh?
# of Major Raleigh Airports: 1
Raleigh-Durham International Airport (RDU)
How to get to and from RDU
Raleigh–Durham International Airport (RDU) , is the main airport serving Raleigh, Durham, and the surrounding Research Triangle region of North Carolina. RDU is surprisingly large and busy, serving nearly 13 million passengers per year. RDU's modern terminals and great facilities offer an easy-to-navigate layout.
Located in Wake County, RDU is only a 20 minute drive from Raleigh. If you are flying in for a Carolina Hurricanes game be sure to give yourself some added time before puck drop, traffic around any major airport can be unpredictable and you don't want to risk being late to the game!
Below are your best available options for how to get to Raleigh from RDU so you can start your sports getaway!
Public Transit: RDU is located in the center of the Research Triangle Region so as such, the GoTriangle Route 100 bus provides public bus service from RDU to its Regional Transit Center. From here riders can connect to bus routes throughout the region. At Terminal 1, you can find GoTriangle service between Zone 2 and 3 and at Terminal 2 you can pick up GoTriangle service at Zone 6 and 7. The public transportation from RDU isn't great, you'll have to take a connecting bus wherever you want to go, but it only costs $3.00 USD for a one way fare.
Taxi: Only RDU Taxi, Inc. provides taxi service at RDU. Taxi dispatchers are located outside the terminals at RDU. The Terminal 1 Taxi Dispatch Booth is located outside Bag Claim 3. At Terminal 2, the booth is located on the lower level outside Bag Claim 1. Although reservations are not necessary, you can always pre-arrange your cab as well. Drivers charge a meter rate for trips within Durham, Orange and Wake counties, which includes rides to Raleigh. All rides from RDU start at a $4 USD drop charge with an additional $1.95 USD per mile and $0.50 USD for each piece of luggage over 3 items per passenger. A ride to PNC Arena from RDU would cost you around $24 USD.
Sedan Service/Limo: Private transportation services, including town cars and limousines, are available from RDU. They pick up from the brown limo zones outside of baggage claim in each terminal. The rates of your service would vary on a number of factors so be sure to communicate price with your preferred provider prior to pick-up.
Rental Car: Be sure to ask your Elite Sports Tours representative to secure a rental car for you before your trip! Cost of your rental car will vary depending on the length of your trip and your car selection. RDU offers a shuttle bus to its rental car centre, all of which leave at the green Rental Car shuttle stops that can be found outside baggage claim at Zone 5 in Terminal 1 and Zone 18 in Terminal 2.
Ride Sharing: Rideshare services such as Uber pick up from RDU from both Terminals. At Terminal 1 the pick-up area is directly outside the baggage claim in zone 1 and at Terminal 2 the designated pick-up area is outside of baggage claim in zone 17. Rates for your rideshare will vary.
Airport Shuttles: Be sure to ask your Elite Sports Tours representative about your hotel's shuttle service, if applicable. Pick-up times can be coordinated by communicating your flight information with your hotel. When you arrive at RDU, visit the Accommodations and Reservations board in each terminal's bag claim and use the interactive touch-screen to contact your hotel to let them know you've arrived. Hotels drop off and pick up from the red zones outside of the terminals.
We highly recommend either taking a taxi or using a ride-share service from RDU to get to Raleigh. Be sure to compare the price quoted on your ride share app with the approximate price of around $24 USD that a taxi would charge you to get to Raleigh to make the right decision. Public transit, although inexpensive, is far from convenient with it being necessary to catch a connecting bus no matter where you are headed.
Airport (RDU) to Downtown Raleigh?
Here is a list of options on how to get around in Raleigh:
Bus

GoRaleigh

Residential buses, good for Raleigh suburbs

Raleigh R-LINE

Free circulator line that services 20 stops around downtown

Stops at all top destinations such as the best things to do, restaurants, shopping, hotels

Catch a bus roughly every 15 minutes

GoTriangle

Bus service between the Research Triangle (Raleigh, Durham, Chapel Hill)





Bike

Citrix Cycle - Raleigh's bike share program

Download the Bike Raleigh app for all the pathway maps

Most bikes are equipped with electric-assist motors





Rickshaw

Paid rickshaws can give you a great adventure through the city





Scooters

Gotcha - Raleigh's dockless scooter program



Rideshare
Car Rental

Elite Sports Tours can assist you with a car rental reservation during your trip. One of the more efficient ways to get around without racking up huge fees.





Taxis

Can be difficult to hail on the street, best to get one at a hotel.


These are some of the best transportation options when trying to figure out how to get around in Raleigh.