How to get around in New Orleans?

What are the best ways to get around in New Orleans?
How to get around in New Orleans? One of the most common question when traveling to a new city. Figuring out how to get around efficiently and cost effectively is important when traveling to a new city. Visiting a new city can be a ton of fun, but pricey if you don't know your way around. We have created a list of some of the most popular transportation options available in New Orleans during your sports trip. Plan the ultimate trip with the help of our travel experts and don't get caught unprepared when traveling to a new city!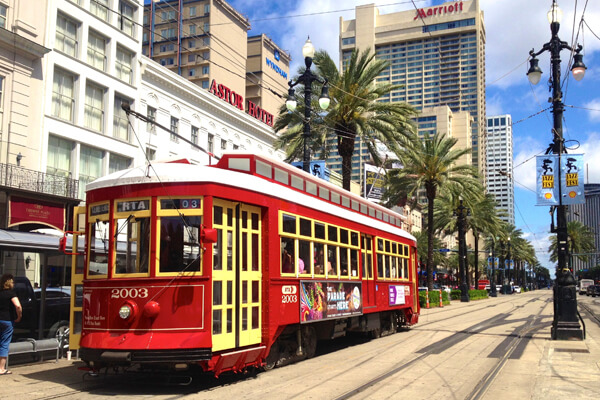 Getting around New Orleans is made simple by walking through their small, compact neighborhoods or taking public transportation. We wouldn't recommend driving in New Orleans as roads can be narrow and there are an abundance of one-way streets. Also, the city is fairly flat, which makes biking another great option to explore the area if the weather is right. The streetcars, however, are a must-ride for visitors. The dark green streetcar on the Saint Charles Streetcar Line is the oldest running streetcar in the entire world.
How to get around in New Orleans?
# of New Orleans Airports: 1
Louis Armstrong New Orleans International Airport (MSY)
How to get to and from the Louis Armstrong New Orleans International Airport (MSY)
Louis Armstrong New Orleans International Airport (MSY) is the largest airport within the state of Louisiana and the most commonly used for tourists traveling to New Orleans. This international airport is one of the busiest in the country serving 13,122,762 passengers in 2018.
Located just 11 miles west of Downtown New Orleans, it is quite easy to get to and from MSY. If you are flying in for a New Orleans Pelicans or New Orleans Saints game be sure to leave your self-plenty of time, traffic around any major airport can be unpredictable and you don't want to be late to the game!
Below are your best available options for how to get to Downtown New Orleans from MSY so you can start your sports getaway!
∙ Public Transit: You can get to downtown New Orleans by bus, along the Airport Express 202 bus. Your total transportation time is about 40 minutes. The bus would cost you just $1.50 USD, making it by far the cheapest option though that is balanced with a longer commute. Keep in mind being that it is a city bus service there wouldn't be that much room for luggage. If you wanted to take the bus, the pickup location is at the outer curb outside the Level 3 Ticket Lobby.
∙ Taxi: Taking a cab from the airport to downtown New Orleans may be your best bet in terms of convenience. Taxis from MSY do offer a fixed rate to downtown New Orleans and the French Quarter of $36 USD for two passengers, for three or more passengers the fare is $15.00 per passenger. It is roughly a 20 minute drive, depending on traffic of course. MSY has a dedicated taxi loading zone outside of the Level 1 Baggage Claim, Door 7.
∙ Sedan Service/Limo: MSY is serviced by many different limousine companies. You pay for the added luxury of riding in a limo in New Orleans, with the average trip costing $100 USD. The companies have options at your disposal including classic limos, sedans, SUVs and buses. Similar to a cab this option is just a 20 minute drive to downtown New Orleans, of course depending on traffic.
∙ Rental Car: Be sure to ask your Elite Sports Tours representative to secure a rental car for you before your trip! MSY offers nine different car rental options, including Enterprise, Budget and National. The rental car companies can be located at the MSY Rental Car Center, accessed via the Rental Car Lot Shuttle.
∙ Ride Sharing: Both ride sharing giants Uber & Lyft service MSY to downtown. Ride sharing combines ease with affordability making for a perfect option when choosing how to head to New Orleans from the airport. The ride takes just 20 minutes and you can expect it to cost from $21 to $25 USD, though this of course can vary depending on time of day, etc. If you are going to request a ride the companies can be found at the Level 1 Baggage Claim middle curb, Lyft picks up at the exit Doors 7-9 and Uber picks up at the exit Doors 9-11.
∙ Airport Shuttles: MSY offers airport shuttles to hotels and various locations in downtown New Orleans. The airport shuttle costs $24.00 per person for one way, the fare also includes three bags per passenger. You are able to purchase tickets for this shuttle at the Airport Shuttle ticket booth which is located on Level 1 Baggage Claim between Doors 3 & 4.
∙ Hotel Shuttles: There are various hotel in downtown New Orleans that offer a complimentary shuttle service to and from MSY for their guests. Be sure to ask your Elite Sports Tours representative about your hotel's shuttle service, if applicable. Pick-up times can be coordinated by communicating your flight information with your hotel.
For getting to Downtown New Orleans from MSY we recommend taking an Uber or Lyft. The new way of transportation offers you ease of service combined with affordability. Alternatively, the Airport Shuttle provided by MSY is one of the most convenient and stress free options to get Downtown New Orleans.
Airport (MSY) to Downtown New Orleans
Here is a list of options on how to get around in New Orleans:


Streetcar

Charming and convenient way to experience New Orleans.

5 Different lines, all originating Downtown

Fare: $1.25 and must be exact change. Unlimited ride "Jazzy Passes" are available for one, three, and 31-days

Saint Charles Streetcar Line

Oldest continuously operating streetcar line in the world

Runs along a 6-mile crescent from Carondelet at Canal Street in the Central Business District through the oldest section of Uptown New Orleans

Passes dozens of antebellum mansions, Loyola and Tulane universities, Audubon Park and many hotels, restaurants and bars

Canal Street Line

5.5 mile route from the foot of Canal Street, through the Central Business District and in the Mid-City area.

Line ends at the historic cemeteries, home to the city's most interesting architecture.

Riverfront Line

Will take you from the French market to the Aquarium of the Americas and beyond

This is the best streetcar for shopping destinations

Loyola/UPT Line

Starts at the Union Passenger Terminal

First stop is at Julia street, then Poydras street in the center of the Financial District

Third stop is at Tulane ave, hub of the Medical District

Rampart/Saint Claude Streetcar Line

Passes by St. Louis Cemetery No. 1, where Voodoo Queen Marie Laveau's tomb can be found, and Louis Armstrong Park

Visit the St. Claude Arts District in the culturally rich Marigny/Bywater





Bus

Good for getting to neighborhoods that the streetcars don't reach. As a tourist, the streetcars will be adequate.





Bike
Ferry

Canal Street Ferry

From the French Quarter/CBD to the Algiers Point neighborhood across the Mississippi River.

Fare: $2 cash when boarding, or on the NORTA app



Rideshare
Taxis

Can be difficult to hail on the street, best to get one at a hotel.


These are some of the best transportation options when trying to figure out how to get around in New Orleans.