How to get around in Edmonton?

What are the best ways to get around in Edmonton?
How to get around in Edmonton? One of the most common question when traveling to a new city. Figuring out how to get around efficiently and cost effectively is important when traveling to a new city. Visiting a new city can be a ton of fun, but pricey if you don't know your way around. We have created a list of some of the most popular transportation options available in Edmonton during your sports trip. Plan the ultimate trip with the help of our travel experts and don't get caught unprepared when traveling to a new city!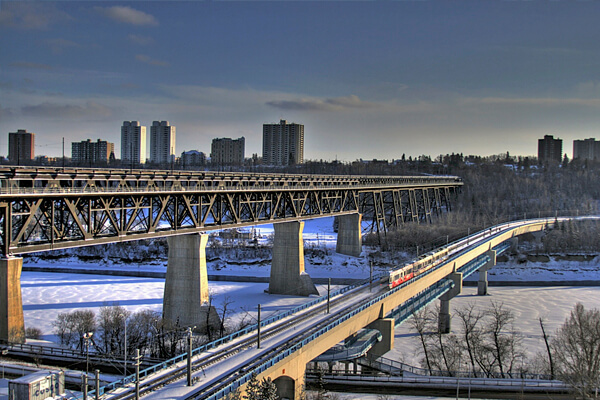 The streets in Edmonton are easy to navigate as they are numbered up going north and west. In the center of the numbering system, located downtown, is 100 Street and 100 Avenue. Skyshuttle provides transportation to and from the Edmonton International Airport.
How to get around in Edmonton?
# of Major Edmonton Airports: 1
Edmonton International Airport (YEG)
How to get to and from YEG
Edmonton International Airport (YEG) is a hub for Northern Alberta and Northern Canada. YEG is Canada's largest airport by total land and the 5th busiest in Canada. YEG opened in 1960, the first terminal was an arch hangar and is still used today!
Located only 30 kms from Downtown Edmonton, which is about a 30-minute drive, it is quite easy to get to and from YEG. If you are flying in for an Edmonton Oilers game be sure to give yourself some added time before the game(s), traffic around any major airport can be unpredictable and you don't want to miss being late to the game!
Below are your best available options for how to get to Downtown Edmonton from YEG so you can start your sports getaway!
Taxi: Taking a cab from the airport to downtown Edmonton may be your best bet in terms of convenience. There is a taxi stand located outside of Floor 9 on the Arrivals level. Estimated fares may vary depending on your destination however they offer flat rates to downtown Edmonton for $55 CAD. Taxi providers we suggest are Leduc Yellow, LA Cabs, Easy Ride Taxi and Capital Regional Taxi.
Ridesharing (Uber/Lyft): Another convent way to get to downtown from YEG is ridesharing companies. Elite Sports Tours suggests Uber or Lyft. Fares estimates will be provided via the app. You can except $42-$47 CAD one way. Something to keep in mind Uber X rides are cheaper than the taxis rates, usually. However, if you are interested in taking a different classification of Uber, you can except to pay a little more. You will need to work with the driver after you call your Uber to confirm your exact pick up location.
Limo/ Town Car Service: There are limo/town car services available to pick you up at YEG and take you downtown. However, this is something you will need to arrange before you arrive. There are multiple local limo/town car services in Edmonton so be sure to read the reviews to make the best decision for you. You must call your service once you have claimed your luggage. You can catch your limo outside of Door 9 on the arrivals level. They offer flat rates to downtown Edmonton for $66 CAD.
Rental Car: YEG offers a couple different car rental counters offering options from Enterprise, Hertz, Avis, and more. Car Rental agencies are located on the ground level of the parkade outside of Door 8. Renting a car is a great way to explore a city at your own pace. Keep in mind rates will vary depending on demand, the type of car you want, and how many days you need it. If you want to rent a car for your trip, get an Elite Sports Tours representative to add it to you package before your trip!
SkyShuttle: The Skyshuttle offers over 70 stops. They make stops at downtown hotels, Via Rail station and other locations around the Edmonton area. You must reserve your spot on the shuttle before you arrive. You can book you trip online or by phone. Skyshuttle rides can take 1-1.5 hours depending on traffic, weather, and other schedule stops. Once you arrive head to the skyshuttle check-in desk near door 7 on the Arrival Level. Shuttles depart every 60 minutes. Fare is $18 CAD.
For getting to Downtown Edmonton from YEG we recommend either taking an Uber or a Taxi. Uber is an ever-reliable option. It is your most efficient choice and the cost is very reasonable. With that said if you feel more comfortable using a taxi because you aren't familiar with ridesharing apps then that would work as well. The choice is yours.
Airport (YEG) to Downtown Edmonton
Here is a list of options on how to get around in Edmonton:


Walking

Pedway

Indoor links between buildings in the downtown core

13 km of year-round climate-controlled tunnels and walkways





Public Transit

Fare: $3.50 CAD
Light rail

2 Lines

Capital Line - Northeast Edmonton to South Edmonton

Metro Line - Connecting downtown with Northwest Edmonton





Bus


Bike

200km of bike and walking trails to explore





Rideshare
Scooters
Taxis

Can be difficult to hail on the street, best to get one at a hotel




These are some of the best transportation options when trying to figure out how to get around in Edmonton.