How to get around in Sacramento?

What are the best ways to get around in Sacramento?
How to get around in Sacramento? One of the most common question when traveling to a new city. Figuring out how to get around efficiently and cost effectively is important when traveling to a new city. Visiting a new city can be a ton of fun, but pricey if you don't know your way around. We have created a list of some of the most popular transportation options available in Sacramento during your sports trip. Plan the ultimate trip with the help of our travel experts and don't get caught unprepared when traveling to a new city!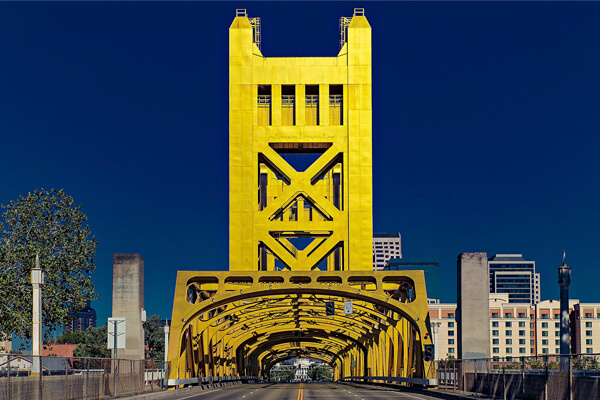 The main areas in Sacramento lay their streets out in a grid formation with numbered streets running north and south and lettered streets running east and west. South of the city center, the streets are named "Avenue" when the lettered streets run out. Because of this, it makes Sacramento simple to get around whether it is by car, bike or on foot. We think any of these options are great for exploring Sacramento.
How to get around in Sacramento?
Here is a list of options on how to get around in Sacramento:
Bike - Sacramento is a great biking city, with many streets in the grid having designated bike lanes.

JUMP Bike - the city's bike sharing program





Walking

Old Sacramento, the Riverfront and the California State Railroad Museum are all within a 5 minute walk of the nearest train station

The Capitol is a 15 minute walk from Old Sacramento





Bus - covers what the light rail doesn't.


Light Rail - 3 Lines:

Blue Line - runs north and south through downtown
Gold Line - runs from downtown to East Sacramento to Rancho Cordova and Folsom
Green Line - runs from downtown to the River District

Fare: $2.75 for a single trip, $7 day pass



Rideshare
Car Rental

Elite Sports Tours can assist you with a car rental reservation during your trip. Sacramento has an abundance of parking in the city (metered or in parking garages) and most of which is walking distance from many of the top attractions.





Taxis

Can be difficult to hail on the street, best to get one at a hotel.


These are some of the best transportation options when trying to figure out how to get around in Sacramento.
Airport (SMF) to Downtown Sacramento
# of Major Sacramento Airports: 1
Sacramento International Airport (SMF)
How to get to and from SMF
Sacramento International Airport (SMF) is 10 miles northwest of Downtown Sacramento. Serving all of Northern California, SMF is the common airport to use when flying into Yosemite National Park, Napa Wine Country and Lake Tahoe.
Located only a 15 minute drive without traffic from Downtown Sacramento, it is quite easy to get to and from SMF. If you are flying in for a Sacramento Kings game be sure to give yourself some added time before tip-off, traffic around any major airport can be unpredictable and you don't want to risk being late to the game!
Below are your best available options for how to get to Downtown Sacramento from SMF so you can start your sports getaway!
Public Transit: The Sacramento Regional Transit District (SacRT) and Yolobus both offer service from SMF. Route 142 is a SacRT express bus that runs from SMF to downtown Sacramento every 20 to 30 minutes, 7 days a week along with Yolobus Routes 42A and 42B. Public transit would take you about 30 minutes, with a basic fare for riders aged 19 to 61 being $2.50 USD for a single ride and $7.00 USD for a daily pass.
Taxi: SMF offers an on-demand taxi service from several different companies. All registered cabs are white and carry airport branding, very easy to notice. Taxis are always available in the ground transportation area next to the baggage claim area. A typical trip starts at $3 USD with an additional $2.50 USD per mile, but round-trips between SMF and downtown Sacramento are available for a flat rate of $66 USD. If you are planning to take the cab back to SMF for your flight home, that could be a great option.
Sedan Service/Limo: Private cars and limousines can be pre-arranged for pick-up at SMF but they are also available on demand in the ground transportation area next to baggage claim. You can expect a limo to run you around $80 USD for the one way trip from SMF to downtown Sacramento.
Rental Car: Be sure to ask your Elite Sports Tours representative to secure a rental car for you before your trip! All rental car companies at SMF are at the rental car terminal. A shuttle arrives at designated stops on ground level curbs outside both terminals approximately every10 minutes to bring you to the rental car terminal. Avis, Budget and Hertz are among the available rental car companies to choose from. The cost of your rental car will vary on the length of your trip and your car selection.
Ride Sharing: Lyft, Uber and Wingz are the only ride share transportation services that pick up from SMF. SMF offers specific designated areas for pick-up. At Terminal A they pick up from the west curb and at Terminal B they pick-up on the curb along Lindbergh Drive. The cost of your ride share service will vary on a number of factors, but based on price it can be a great option.


Airport Shuttles: Be sure to ask your Elite Sports Tours representative about your hotel's shuttle service, if applicable. Pick-up times can be coordinated by communicating your flight information with your hotel. Shuttle services typically pick up at Terminal A from the west curb but be sure to communicate that information with your hotel and your driver.
For convenience and comfort we recommend taking a taxi or utilizing a ridesharing service. Though the cost is more than public transit, the ease of getting to Downtown Sacramento when using a taxi or a ride sharing service is worth it. Public transit isn't a bad option either, especially if you are wanting to save money, but organizing a round trip taxi for only $66 USD seems like a no-brainer to us. A easy trip to your hotel and an easy trip back to SMF – well worth the money.