How to get around in Seattle?

What are the best ways to get around in Seattle?
How to get around in Seattle? One of the most common question when traveling to a new city. Figuring out how to get around efficiently and cost effectively is important when traveling to a new city. Visiting a new city can be a ton of fun, but pricey if you don't know your way around. We have created a list of some of the most popular transportation options available in Seattle during your sports trip. Plan the ultimate trip with the help of our travel experts and don't get caught unprepared when traveling to a new city!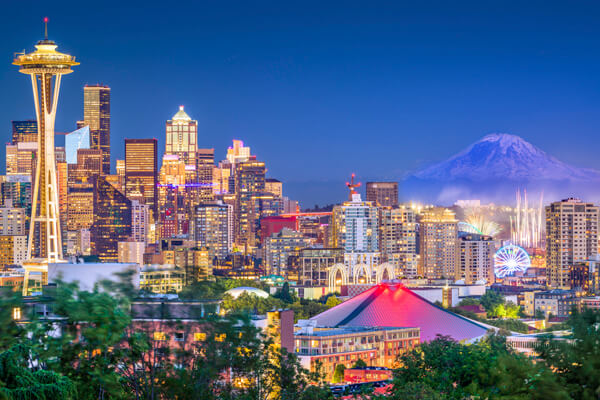 Seattle can be full of hills and a difficult walk at times. Depending on where you are going, a cab or rideshare would be your best option. Unless you are staying downtown and walking to Pike's place market or somewhere close. Seattle also has a monorail which will take you directly to the Space Needle.
How to get around in Seattle?
# of Major Seattle Airports: 1
Seattle-Tacoma International Airport (SEA)
How to get to and from SEA
Seattle–Tacoma International Airport (SEA) is the primary commercial airport serving the Seattle area. SEA is located in the city of SeaTac, about 14 miles south of Downtown Seattle. In 2019, SEA surpassed 50 million passengers making it the 28th-busiest airport in the world and the eighth-busiest in the United States.
SEA is located only a 15 minute drive, which we stress is without traffic, from downtown Seattle and there a number of transportation options to choose from that make it easy to get to and from SEA. If you are flying in for a Seattle Seahawks, Seattle Mariners or soon to be a Seattle NHL game be sure to give yourself some added time before the game starts, traffic around any major airport can be unpredictable and you don't want to risk being late to the game!
Below are your best available options for how to get to Downtown Seattle from SAT so you can start your sports getaway!
Public Transit: SEA is served by the King County Metro. To get to the stops is take the walkway through the north end of the fourth floor of the Airport Parking Garage to the Sound Transit Link Light Rail Station and exit to International Boulevard. Departure times are shown on information signs at the bus stop but you also can pick up printed bus timetables at the Ground Transportation Information Booth on the Baggage Claim level near door number 16, right across from baggage carousel 12. You can pay with cash while boarding (exact fare needed) or with a preloaded ORCA Card​. The current adult fare is $3.75 USD.
Link Light Rail: SEA is connected to the Link Light Rail. You can get to the SeaTac / Airport Station through the fourth floor of SEA's parking garage or via the walkway from International Boulevard. In order to access the garage from the terminal, you will have to use the skybridges. Stopping everywhere from South Seattle neighborhoods, the stadium district, the International District/Chinatown and downtown locations, the Link Light Rail is a great option for travelers. Adult fares range from $2.25 USD to $3.25 USD depending on how far you travel and tickets must be purchased prior to boarding.
Taxi: SEA offers both flat rate taxis and metered taxis. Flat rate taxis are painted two colors while the metered cab is one solid color. All taxis can be found on the 3rd floor of the parking garage on the north and south curb and all taxis accept cash and major credit cards. This drive can run long with the unpredictable Seattle traffic so we typically recommend going with a flat rate cab. This trip should run you around $50 USD.
Sedan Service/Limo: STILA Limousine and Town Car are stationed at and service SEA. On-Demand Limousines are available on the North and South Curb of the 3rd Floor Ground Transportation plaza and pre-arranged rides offer pick up on the Baggage Claim level. The flat-rate charge to downtown Seattle is only $45 USD before tip, with an additional fee charged for parties with over 4 passengers.
Rental Car: Be sure to ask your Elite Sports Tours representative to secure a rental car for you before your trip! All rental car companies that operate at SEA do so at an off-site facility. There are free shuttle buses running to this facility 24/7 with two passenger pick-up areas located outside on the lower drive on the baggage claim level. The cost of your rental car will vary on the length of your trip and your car selection.
Ride Sharing: Uber, Lyft and Wingz are the three app-based rideshare providers at SEA. To get to the designated rideshare pick-up area simply go across the skybridges and go down one level to the 3rd floor. Your ride will pick you up on the 3rd floor of the on-site parking garage in parking rows G thru J in the orange and purple sections of the garage. Premium Uber rides meet at the baggage claim-level door that you select.
Airport Shuttles: Hotels offering shuttles will pick up and drop off on the courtesy island shuttle lane located on the 3rd floor of the parking structure on Island 1 and 3. Be sure to ask your Elite Sports Tours representative about your hotel's shuttle service, if applicable. Pick-up times can be coordinated by communicating your flight information with your hotel. You can also use the courtesy phones located along the courtesy islands to contact your hotel.
Door to Door Services: Shuttle Express is located on the 3rd floor of the Parking Garage. This shuttle service gets you from SEA to certain downtown Seattle hotels, such as the Crowne Plaza, Fairmont Olympic, Grand Hyatt, Hilton, Renaissance, Sheraton, Warwick and Westin. This shuttle service groups guests going to the same area so you can be left waiting a while for a ride, but their goal is always to get you on your way within 30 minutes. Their price starts as low as $31 USD per person.
To get to Downtown Seattle from SEA we recommend taking the Light Rail. The majority of the time, taking a rail system from an airport is your best bet and the Light Rail is no different. Taking around 30 minutes and costing a max of $3.25 USD*, you really can't go wrong. Although the walk to the Light Rail Station may be more trying than finding a cab or ordering an Uber, you will be much better off with the money you save and the time you spend not stuck in traffic.
*Be sure to check current rates before your trip. Rates are always subject to change.
Airport (SEA) to Downtown Seattle
Here is a list of options on how to get around in Seattle:


Seattle Streetcars

South Lake Union - The line connects the South Lake Union neighborhood to Seattle's vibrant downtown core, consisting of 1.3 miles, nine stops, and full of shops and restaurants as well as Lake Union's 12-acre waterfront park.
First Hill - This line consists of 10 stops and stretches 2.5 miles, connecting to Link light rail at the Capitol Hill and International District stations, the Sounder Commuter Rail and Amtrak intercity rail at the King Street Station, and Metro Transit buses at several points. Fare: $2.25 (coins, credit, ORCA cards); $4.50 (all-day pass);

Seattle Center Monorail - The iconic Seattle Center Monorail travels between Westlake Center in downtown and Seattle Center at the base of Queen Anne hill. Regular operating hours are between 7:30am and 11pm, Monday-Friday, and from 8:30am to 11pm, Saturday & Sunday. Trains depart every 10 minutes and the trip takes only 2 minutes each way. One-way fare for adults is $2.50.



Light Rail - Link. Sound Transit's Link light rail makes trips from Angle Lake Station to the University of Washington through downtown Seattle making 14 stops along the way, including downtown Seattle and Sea-Tac Airport. Trains arrive every 6 to 15 minutes, depending on the time of day, and take about 40 minutes to travel between Sea-Tac International Airport and Westlake Station in downtown Seattle. Adult fare: $2.25 - $3.25.


Buses - King County Metro Transit. King County Metro Transit provides bus service in downtown Seattle and outlying neighborhoods in King county. Download the mobile app for on-the-go transit information, available for iPhone and Android.


Bikesharing

JUMP Bikes - Seattle is a bike-friendly city. If you're visiting, it's easy to find a ride no matter where you are. Open your Uber app and select the Bike option from the top menu to quickly and easily reserve a nearby JUMP bike. All bikes are dockless and include an electric assist that provides a boost up to 15mph. JUMP bikes are free to unlock and charge $0.15 per minute.
Lime App - Unlock any Lime bike for $1 plus varying rates per minute


Rail

Five train routes service Seattle's King Street Station, just south of downtown. Sound Transit's Sounder commuter train spans Everett, north of Seattle, to Lakewood, south of Tacoma. Amtrak has three routes: Coast Starlight travels between Seattle, Portland, and Los Angeles. Amtrak Cascades travels between Vancouver, BC; Seattle; Tacoma; Portland; Salem; and Eugene. Empire Builder travels between Chicago; Minneapolis/St. Paul; Spokane; Portland; and Seattle. Rocky Mountaineer offers a high-end travel option between Seattle; Vancouver, BC; and the Canadian Rockies.





Rideshare
Car Rental

Elite Sports Tours can assist you with a car rental reservation during your trip.





Taxis

Can be difficult to hail on the street, best to get one at a hotel.


These are some of the best transportation options when trying to figure out how to get around in Seattle.