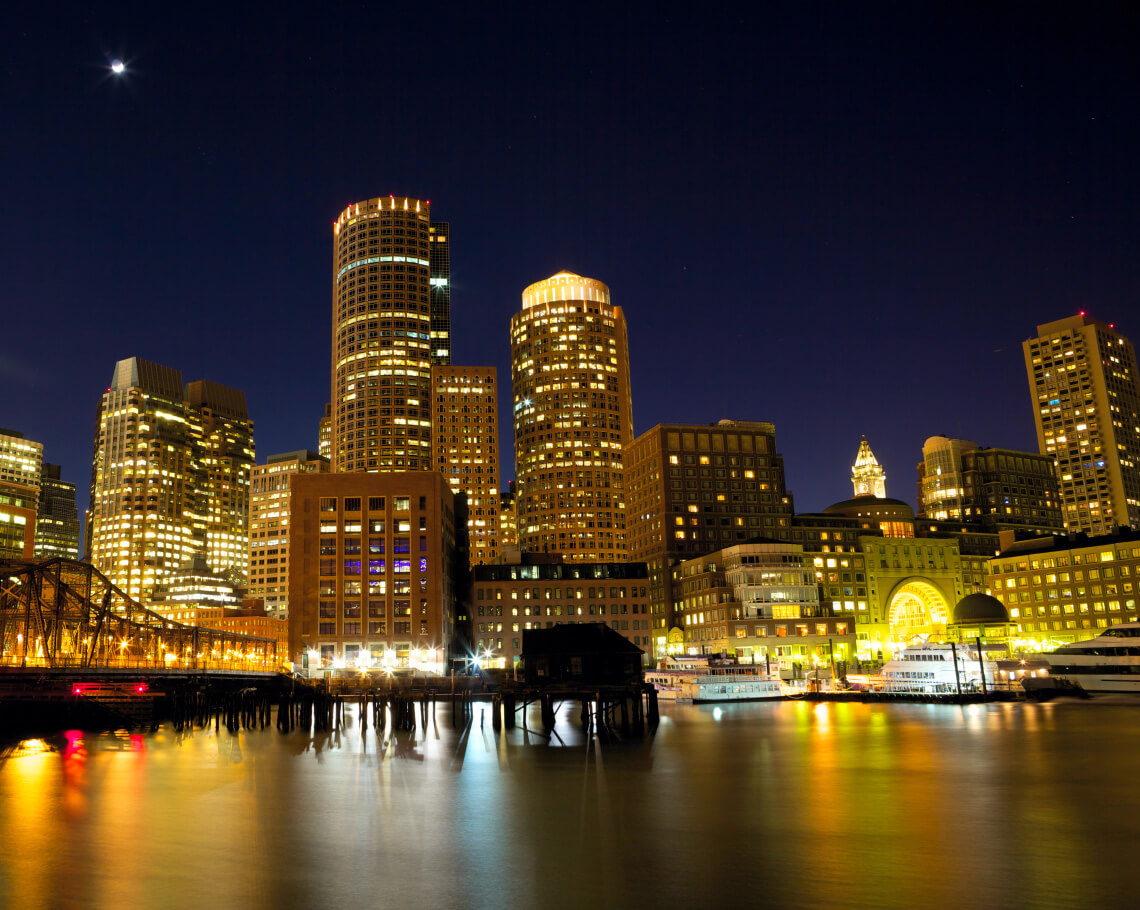 With the combination of it's sports franchises incredible success, outstanding sports venues and passionate fan base, Boston is one of the premier sports cities in the entire world.

"Beantown" is the home to some of the most historic and winning franchises in all of sports; the Boston Red Sox (MLB), the Boston Celtics (NBA), Boston Bruins and the New England Patriots (NFL). The Boston Bruins are the oldest American NHL team, the Boston Celtics have won 17 championships, the Boston Red Sox have been around since 1901, and although the New England Patriots don't have the history to match the others, they have one of the biggest dynasties in the history of North American professional sports.

The Boston Bruins and Celtics play at TD Garden located in downtown while the Boston Red Sox play at historic Fenway Park near Kenmore Square. The New England Patriots play thier home games at Gillette Stadium in Foxborough, Massachusetts 40 minutes south of Boston.



Outside of the the "Big 4" the New England Revolution (Major League Soccer), Boston Cannons (Major League Lacrosse) also call Titletown home. Although Boston is not home to any major college football or basketball programs, they still have many NCAA DI schools in the city. Boston College, Boston University, Northeastern University, College of Holy Cross, University of Massachusetts Amherst, University of Massachusetts Lowell, Merrimack College, American International College and Bentley University are all located in Boston.

It's time to ship up to Boston and let Elite Sports Tours plan the perfect Boston Travel Package today!

Boston Celtics Travel Packages
See the Boston Celtics play live at TD Garden in downtown Boston! TD Garden is a modern arena that embodies some of the charachteristics of the forrmer Boston Garden to give the building an old school feel. With great sidelines and an amazing atmosphere, TD Garden is one of the best arenas in all of basketball. Let Elite Sports Tours help you plan the perfect Boston Celtics travel package today!

New England Patriots Travel Packages
As they say, "Everything is bigger in Texas" and AT&T Stadium is certainly no exception! See the Dallas Cowboys in action at Jerry's World and experience one of the biggest and most unique stadiums in the country. Since AT&T Stadium is so big it's impossible to see everything in a single trip. We suggest arriving a few days early, and take a stadium tour to get the full Cowboys experience.

Dallas Cowboys Travel Packages
Boston Red Sox Travel Packages
In 2020, the Texas Rangers will have a new home in Globe Life Field! The ball park's retractable roof will be the first of its kind in baseball, with portions made of a transparent material, fans can enjoy an outdoor atmosphere with air-conditioned comfort. Don't forget to show up early and grab a drink and a bite to eat at Texas LIVE!, right next door to Globe Life Field. Book your Texas Rangers travel package with Elite Sports Tours today!
Boston Bruins Travel Packages
Despite being built in 2001, American Airlines Arena is one of the best arenas in all of hockey! The AAC has some of the best food and drink options in the entire NHL with mouthwatering Mexican cuisine, gourmet cookies, Texas barbeque and of course traditional hockey arena food. Watch the Dallas Stars play live and cross American Airlines Center off your bucket list!
Where do the Boston Sports Teams Play?

Located steps away from the Boston waterfront, Faneuil Hall Marketplace is a must see for everyone traveling to Beantown.

Faneuil Hall Marketplace is four historic buildings located in one place – Faneuil Hall, Quincy Market, North Market and South Market, all set around a cobblestone promenade where musicians and buskers entertain locals and tourists walking by.

In 1742, Boston's wealthiest merchant Peter Faneuil built Faneuil Hall as a gift to the city. Faneuil Hall Marketplace, also known as the "The Cradle of Liberty" features over 70 retailers and 40 office tenants in it's 200,000 square feet of retail and 160,000 square feet of space in Boston's iconic festival marketplace.

Enjoy locally loved and international recognized shops while also tasting mouthwatering food at the world-famous Quincy Market Colonnade and other resturants and pubs, including "Cheers", a replica bar from the hit TV show.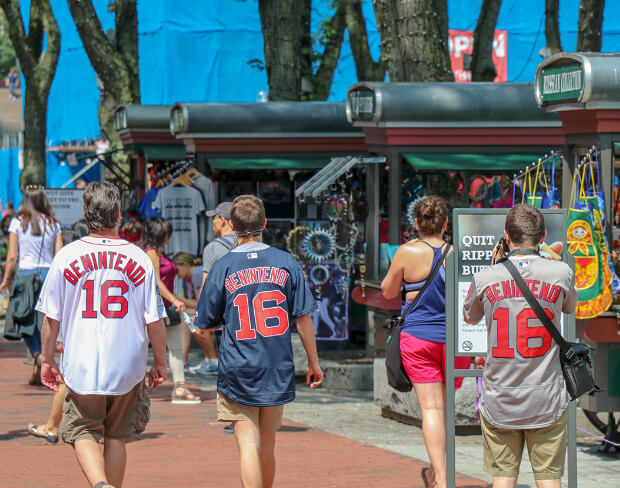 Mon - Thurs:
10 a.m. - 9 p.m.
10 a.m. - 7 p.m. (Winter)
Fri - Sat:
10 a.m. - 9 p.m.
Sun:
11 a.m. - 7 p.m.
11 a.m. - 6 p.m. (Winter)

*Holiday & resturant hours may vary